I'm enjoying an afternoon of Orioles baseball with my sister and the kiddos today so I figured what better time to share some things that I'm currently loving for running. I have a series of "What I'm…" posts to share so lets just call this "What I'm Wednesday" and start the trend with my current go-tos for my runs.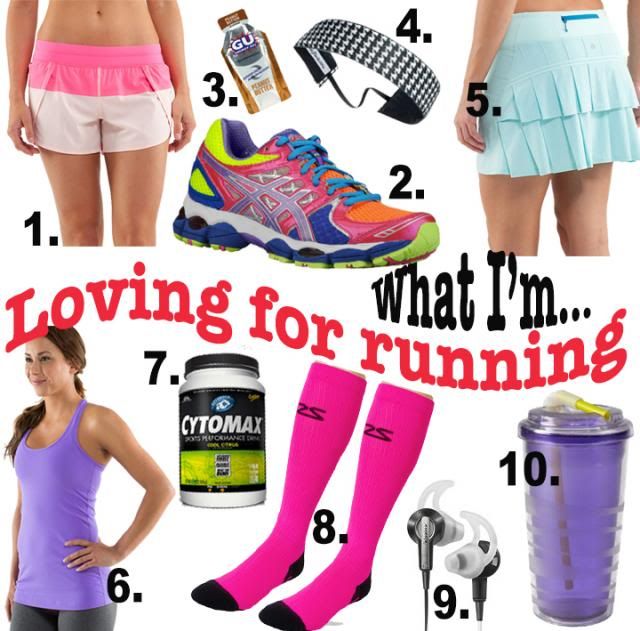 1. Breeze By Short
2. Gel Nimbus 14
3. Peanut Butter GU
4. Houndstooth Sweaty Band
5. Pace Setter Skirt
6. Cool Racerback Tank
7. Cytomax Cool Citrus
8. Zensah Compression Socks
9. Bose IE2 Earbud Headphones
10. Copco Lock n Roll
Clothing: I recently went on a mini shopping spree at Lululemon and the focus of the trip was "running gear". I came home with two of the Racerback Tanks, two skirts and the Breeze By Shorts. With the weather warming up, the less coverage I have for running, the better. These shorts and skirts are all so light and breathable and the tanks are long enough to stay put and not ride up and have a great cut around the shoulders.
Shoes: Nothing new here, still sporting the Asics Gel Nimbus running shoes but just have a new pair in flashy, neon colors.
Socks: For my shorter runs I'm still wearing my everyday ankle sport socks but for my weekend races and long runs, I've been breaking out the Zensah compression socks or sleeves. Fresh legs and quick recovery a must for races and training!
Fuel: I shared my thoughts on Cytomax after my first few runs using it my opinion hasn't changed – it is awesome for keeping hydrated on long runs! I usually don't use a water bottle on outdoor runs but when on my treadmill, the Cytomax goes right into the Copco Lock n Roll. I don't have to worry about any spills on my treadmill and the straw itself is plastic but has some give so I don't knock my front teeth out while trying to run and drink at the same time. As for the GU, I first tried peanut butter GU while training for the Runner's World Half Marathon last year. I used to stick to beans or chomps because the thought of GU just, well, "goo-ed" me out but once the peanut butter flavor was released, I gave it a shot. Tastes like peanut butter to me, so its my go-to now.
Head Gear: Ever since I cut my hair, head bands have been a must during runs so that I'm not constantly tucking stray hairs behind my ears. And if you know headbands, you know Sweaty Bands are the way to go. No slip – for real. In my ears my Bose headphones are still my go-tos. I don't hit the pavement without them. They never slip from my ears, don't hurt my ears after extended wear and have amazing sound.
Question:
What are you currently loving for running?
{ 2 comments }