Long runs for me require two things, fuel and water. If I don't have designated water stops or access to water on a long run, I fade pretty quickly, especially in the hot summer months.
Gift #22: Water Access
There are two different options that I use for water during my runs. A handheld water bottle and a water belt.
The handheld bottle is one that I use for runs as long as they aren't over ten miles. I can't get myself to want to hold water bottle that much longer, even though I have one that basically requires no effort to hang on to.
The Nathan Hydration Bottle ($12.00-$16.00)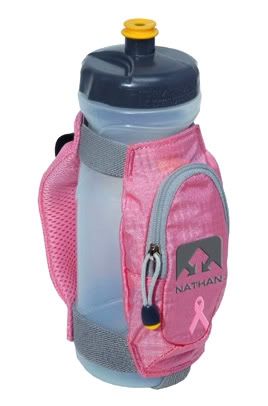 (click image for source)
Once you slip your hand through the padded, adjustable strap, it is beyond effortless to hold the bottle without having to strain your hand muscles as you keep them wrapped around it.
If I am setting out for a super long run, I always wear my water belt. Since I usually have my iFitness belt on, I just simply exchange one for the other.
The Nathan Speed 2 Belt ($35.00)

(click image for source)
The water belt holds two water bottles (available with four bottles as well) and also has a pouch for my fuel, iPhone, camera, keys, whatever I may want to bring along.
I will say, the water belt takes some getting used to in the sense of it is a lot more weight around your waist than just your smaller iFitness band but once you get into a rhythm with it during your run, you won't even notice it is there.
That is, until you reach for those water bottles and thank yourself for having such easy access to a hydration tool.