Recently I have been practicing a lot of yoga. Before I left for Oklahoma City, back in July, I was on a streak of pretty consistently making it to 5 classes of hot yoga per week. Once I was in OKC, I started my half marathon training and shifted gears a little. I still managed to work in one yoga class per week but it just wasn't the same.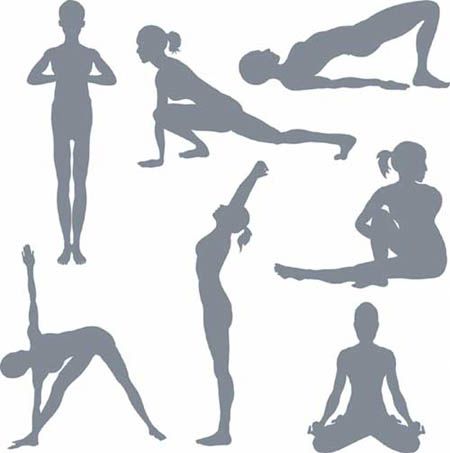 (click image for source)
Now that we have been back home for about a month now, yoga has definitely become more of a focal point for me once again. The best part is that I have even gotten Brian involved and asking to join me for classes – love!
With the increase in my yoga attendance and the often mentions of it on LoveEatRun, a reader requested a post on the benefits of yoga (from my personal standpoint) and I am more than happy to share my thoughts.
A few of the things I love about hot yoga are:
The temperature in the room. I like utilizing yoga poses in my daily stretching, pre and post run, however, a yoga class in room-temperature studio doesn't keep me as intrigued or as willing to participate in the session. I think that the hot room in hot yoga is one of the factors that keeps me coming back. The increased temperature helps my body to completely relax – allowing for my muscles to become more flexible. In addition, the heat leads to an insane amount of sweating for me, which helps me feel cleansed and also ups the intensity of the class.
The increased flexibility. I haven't always been the most flexible of individuals and once I became an avid runner, I felt as if my flexibility decreased even more. I was never great at pre and post run stretching and the more miles I asked my legs to put into each week, the tighter my hamstrings, quads, calves and ankles became. Mixing yoga in with my running helps my body get the complete, deep stretch that it do desperately needs. Instead of a couple of static stretches before a run, my body now gets an intense, full body stretch 4-5 times a week. The difference in my hamstrings and hips is unbelievable.
The challenge. I like having a challenge presented in front of me to keep me working hard and pushing even harder. I started running and then challenged myself with training for half marathons and a marathon – I pushed myself to shave minutes off of my PRs and to run distances and courses that I never thought possible. Yoga now does the same for me. Even after practice yoga for months now, I still am presented with a challenge in each and every class that I attend. New poses, taking old poses further, or maybe just stiff muscles that don't want to participate on that given day and the challenge of working my body within the limits it has set for itself in that certain class. I've gone from looking around the room trying to mimic others poses to being comfortable in my practice – easily getting into birds of paradise, crow and even side crow. Other poses still present a challenge and I feel myself getting closer and closer with each practice.
The relaxing renewal. After each yoga class I feel a sense of calmness. I'm relaxed, my body is loose and my mind has stopped racing. The deep breathing, and the focus on staying in the practice and following your breath really helps to take those 60 or 90 minutes out of the rest of your day. The grocery shopping, to-do lists and daily demands can wait – you deserve it.
The workout. I love strength training, lifting weights, tabata workouts, circuit training, etc. however, with my running I don't always have the desire to do any of them as well. Yoga now acts as a strength builder for me along with the best thing I have found for toned muscles. My arms have never felt stronger and the core workout offered in a yoga class really is awesome.  The shakes that my leg muscles experience are even more intense than do a set a weighted squats.  As long as you are engaging your body in each pose and getting the most out of it, your entire body comes out of a yoga class being worked, elongated and refreshed all at once.
The one thing I don't like about yoga? How much easier it is for Brian to be able to do more challenging poses! I swear, watching him get into a headstand on his first attempt made me want to cry! However, ask him to do some of the more simple, balancing poses and I definitely have him beat.
(click image for source)
As you can probably tell, I really have become quite the little yogi! I'm looking forward to taking some time off of a distance running after this next race weekend and focusing more on daily yoga classes with short runs worked into my weeks. I seriously can't wait for then!
And with that…I'm off to 90 minutes of hot Vinyasa yoga!!
Question:
What do you love/hate about yoga?