Besides the fact that I finally made it to a regular season baseball game tonight, it was a pretty lackluster day here in Incheon.
Brian and the team didn't make it into town until around 1:30 a.m. this morning so by the time he was at the hotel and settled in for bed, it was pretty late. And of course I was up late reading waiting for him and couldn't sleep once he was finally here.
Regardless of being up pretty late, we both were still up at a reasonable hour this morning but spent the majority of the day lying low in the hotel room.
Breakfast
We ordered room service for breakfast and didn't have many options. We got to choose between the American Breakfast or the Continental Breakfast. Basically assorted breads, juice and if you went with the American, you got to add eggs, meat, and hash browns.
We both opted for the American and I went with two over easy eggs and sausage (which they put on Brian's plate and I didn't eat anyhow).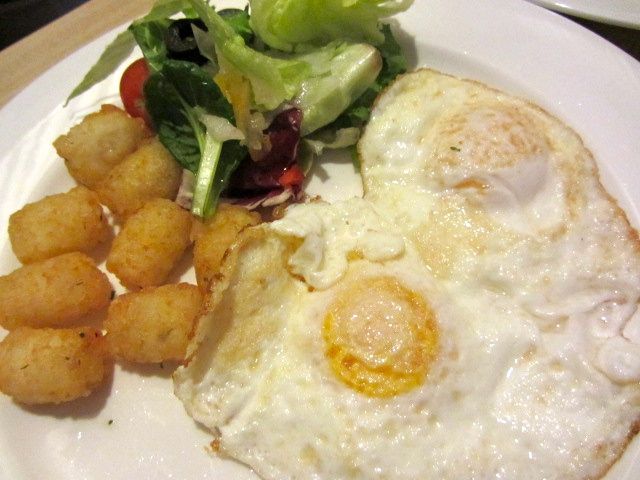 I used one of the small rolls and one piece of bread with jelly to make two eggs sandwiches with my eggs.  I was disappointed that tater tots were ice cold.  Womp. Womp.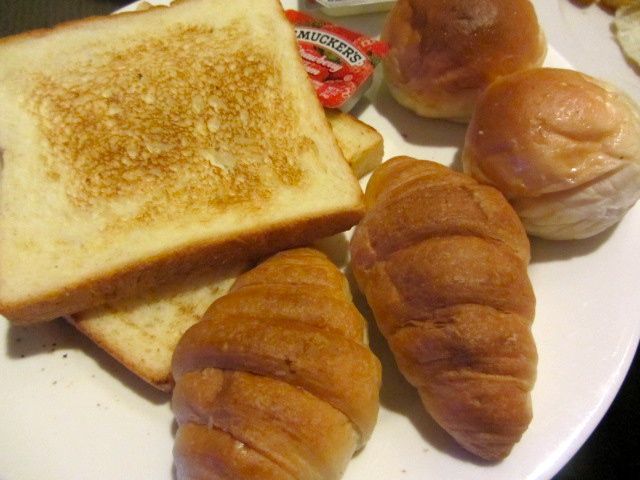 After breakfast, Brian watched a ton of CSI and I couldn't be torn away from Water for Elephants. I finally finished mid afternoon and I am so excited for our next free evening to rent the movie from iTunes! What a great read!
Workout
After I read the last page of the book and had no other reason to keep me lying in bed, I got my butt up and popped Body Revolution, Phase 3, Workout 9 into the DVD player on my computer.
Some interesting new moves pop up in this workout but overall, I didn't find it THAT difficult. I think Workouts 7 & 8 were harder in my opinion. Don't get me wrong though, Workout 9 still had me pushing myself and working up a sweat.
Lunch
By the time I finished working out it was lunch time (yep, this day consisted of food and mostly laziness!). We took advantage of the restaurant in the hotel lobby since we aren't really sure of what is around the area of this hotel but definitely plan to find out tomorrow since room service and the restaurant don't have all that much to offer.
We shared shrimp fried rice.
And I went with the burger, which was good but definitely no burger from room service in the hotel in Cheongju.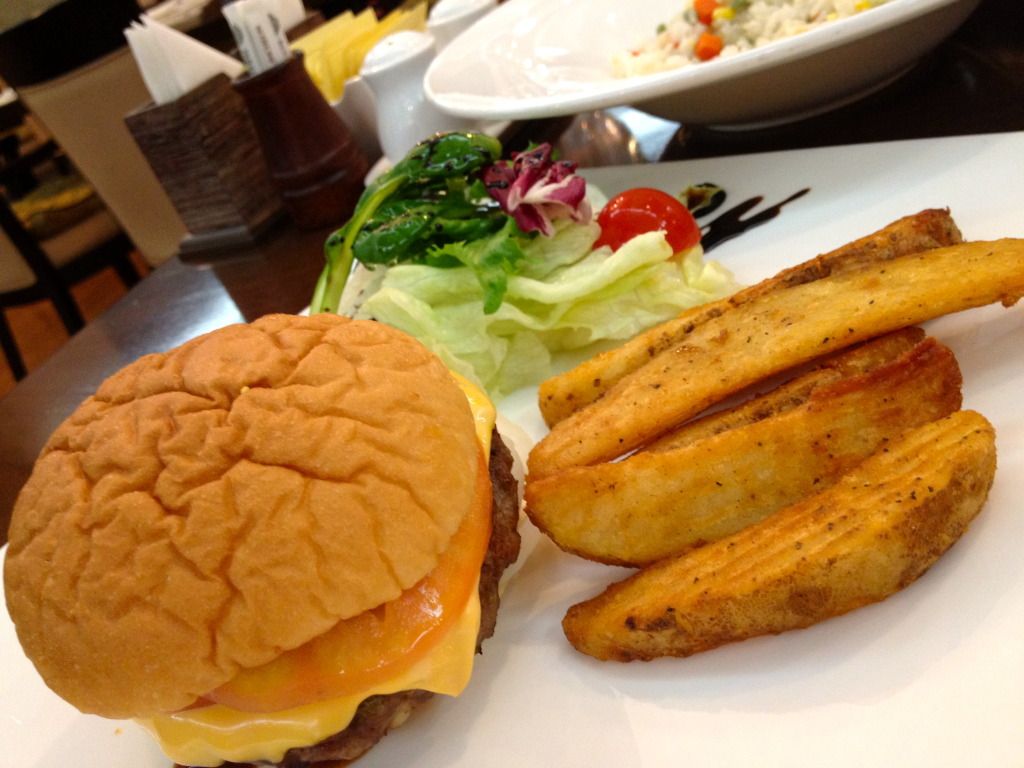 I ended up eating the burger with half of the roll, the salad, fries and a bit of the rice before calling it a meal and heading back up to the room (B had to leave for the field).
I had plans to hit the fitness center for a treadmill walk to stretch my legs out from yesterday's track workout but ended up taking a much-needed nap.
I woke up an hour and a half later and after a hot shower and a cup of instant coffee, I felt like a new person and just in time for BASEBALL!
I got all Eagled out in my new Hanwha hoodie and headed to the game!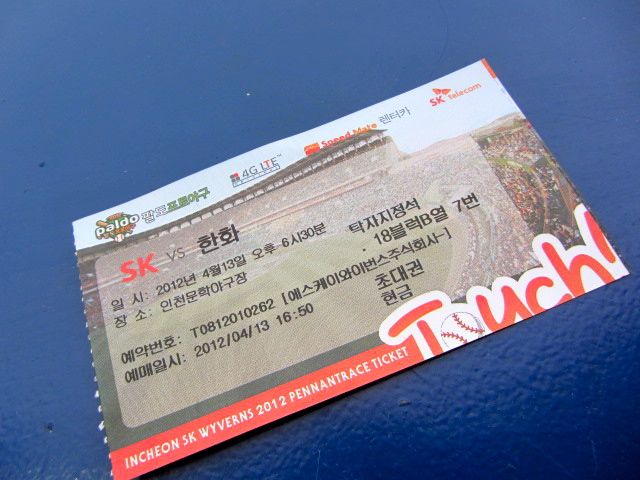 I loved seeing that they have pregame ceremonies just like back home (even though I couldn't understand what they were saying) and the little leaguers that took the field with the team prior to the game were adorable.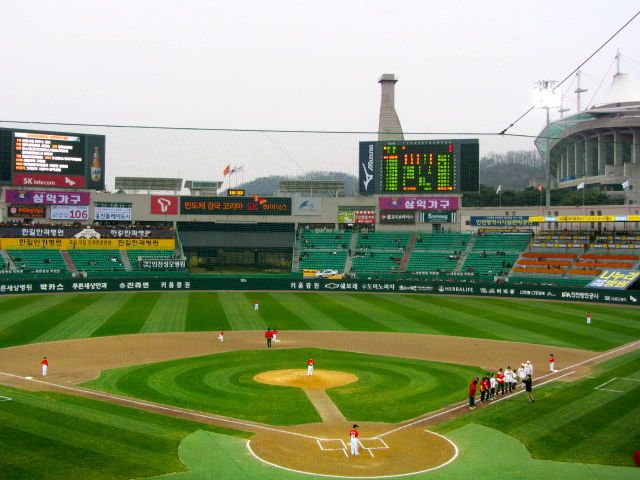 Another thing they have that is just like home? The kiss cam! And the couples that were plastered on the video-board for the in-between inning fun were just as entertaining as some I have seen back at Camden Yards (like my sister and brother-in-law!).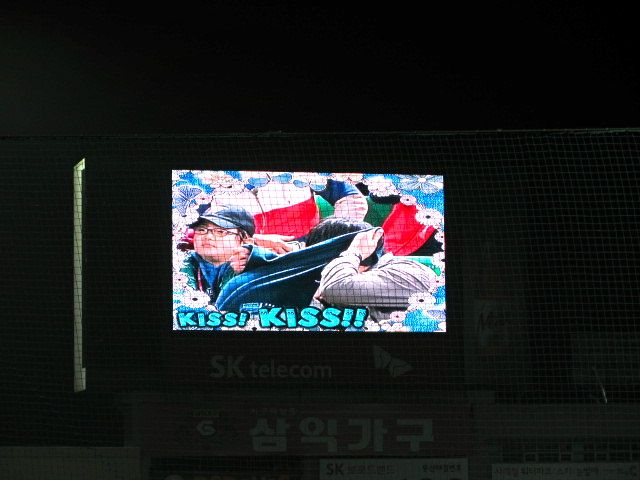 One thing that is different here than back home? Look how the ballgirls (who are also the bat girls, clearing the bats and gathering gear from the plate after each batter) bring new balls out to the umpire.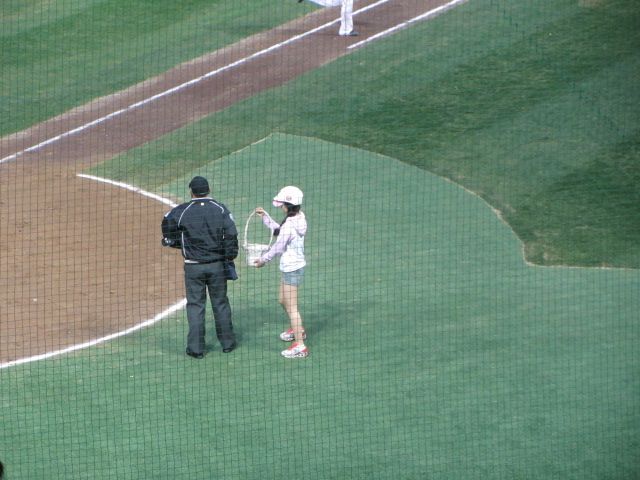 Nope, this isn't just because it's Easter season! It's their regular ball baskets.
It was a little chilly at the game and I'm glad I had both my jacket and my new Eagles hoodie. However, one of the front office staff members also brought me an Eagles fleece blanket to keep my legs warm.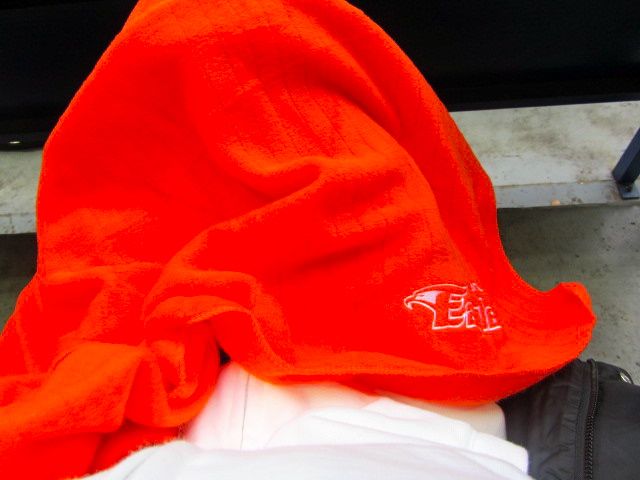 And it came in a cute little carrying case which is easy enough to shove in my purse and bring to future games as well.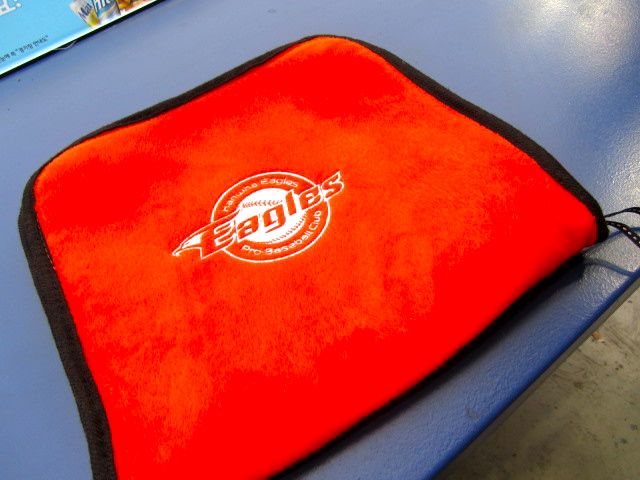 I left the game after the 5th inning so that Phil could get me a cab and things wouldn't be too crazy with the fans leaving the stadium. The game was tied 0-0 when I left and currently still is and is in extra innings. Come on Eagles!!!
It actually was a lot of fun being at the game tonight and I loved the atmosphere and the intensity of the fans. Each team had their own cheering section on their side of the field, with the cheerleaders leading chants and cheers while their respective team was up to bat.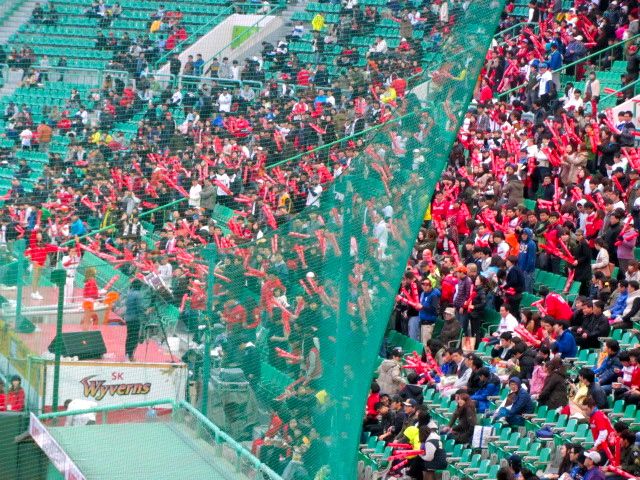 Tonight really made me miss work and taking in the baseball atmosphere on spring and summer nights. However, I'm happy baseball is still a huge part of my life and that I have the access to nightly games like I do. I'm already excited to get back to the stadium tomorrow night and to spend some time exploring it.
And then Sunday is Brian's first regular season start!
I cannot wait to watch him out there on the mound!!
Question:
What is your favorite part of going to a baseball game?
Have you read Water for Elephants?  Like?  Dislike?