Since first posting about Brian and my pending move from the States to South Korea, I have been giving all of you LoveEatRun readers some insight into the experience from my perspective.  I've discussed the decision process in general, Brian finally signing with the Hanwha Eagles and leaving to meet the team, the lonely house and the hard – yet easy -  decision for me to leave my current job to join him on this journey.
Seeing that so far everything about this process has come from my point of view, I wanted to share some things from Brian's point of view and share the details of what he has been experiencing first-hand with his new team.  I'm going to try to do these short question/answer sessions with him on a regular basis to give some life to what being an American on an international professional sports team is really like!
Interview #1

:  A New Experience with Spring Training and Getting to Know the Team and Korean Customs
What is the biggest difference between spring training for the Eagles and spring trainings that you have participated in back here with MLB?
This spring training has been nothing like I've ever seen in the states. There is activity on the field from 8:30 in the morning until camp breaks at 3 and then another session from 7-9. I've never seen a group of guys work as hard as they do here. It's been seriously impressive and I look forward to seeing how it plays out during the season.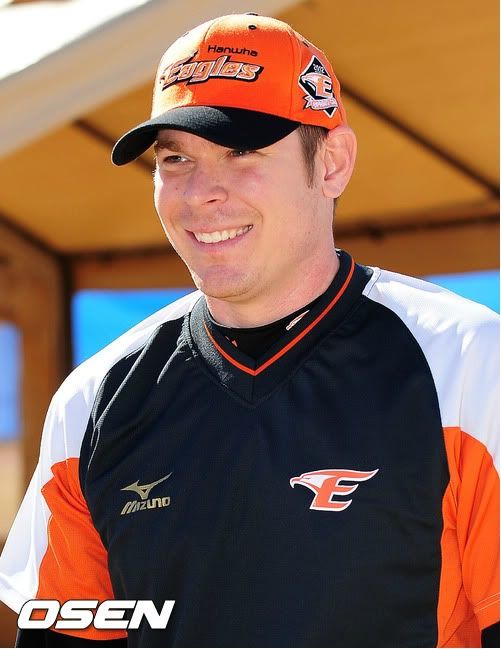 (click image for source)
Have you found it difficult to communicate with your teammates and coaches because of the language barrier?
Communication has actually been very easy. Baseball has it's own language so it's not hard to follow what's going on during drills. Also, quite a few of the players speak English and most know enough words to get their points across. They're even helping me out with my Korean. I learned my first phrase today, An-nyeong-ha-se-yo, which means "good morning". I plan on using it to greet my new teammates at our pre-breakfast stretch in the morning!!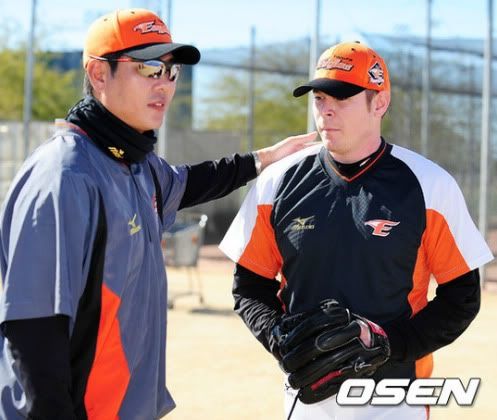 (click image for source)
What have you learned so far from your teammates about South Korea?
Well aside from a few Korean phrases, they've been teaching me a little bit about the culture. Koreans are a very polite people, always greeting and bowing to each other in respect. It's really impressive watching the younger players interact with older players and even older coaches. Respecting your elders takes on a new meaning here. Really makes me realize how informal we are in the states. I've also learned that I really had no idea how to use chop sticks. There were quite a few laughs at the site of me attempting to eat rice with them, haha. But after some pointers and very vigilant observation I think I almost have the hang of it!!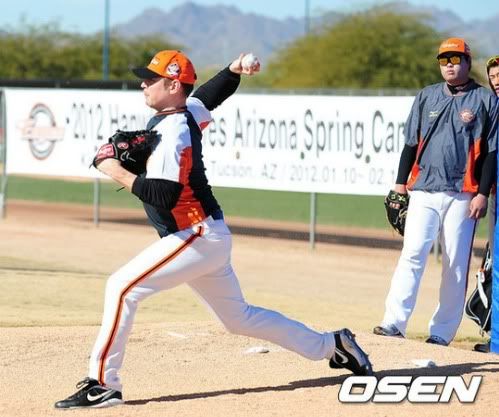 (click image for source)
What or who have you found most helpful in making your transition from American baseball to Korean baseball easier?
The great group of people this organization has assembled here. From the staff, to the players, to the assistants. Everyone has been amazing in helping make me feel comfortable and a part of the team. I'm extremely grateful to have been given the chance to work with such great guys.

(click image for source)
What were the reasons that you chose to pursue baseball in Korea? Did you have any specific things that you were particularly excited or nervous about with the opportunity?
Ever since my first experience with international baseball in the Olympic qualifier in '05, I've wanted the opportunity to go abroad and play. I had my first real taste of it in '07 when I played winter ball in Venezuela. I fell in love with the atmosphere and the intense passion the fans have for the game. And from everything I've heard, baseball in Korea is just as amazing, if not more so, than the winter ball experience. I'm beyond excited for opening day!!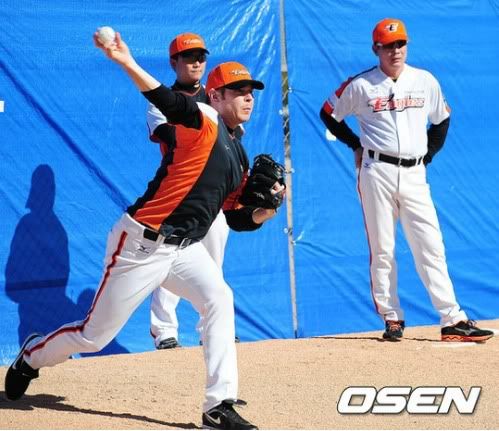 (click image for source)
What were some of your fears going into training with the Eagles?
I think my biggest fear was, and somewhat still is, the language barrier. Not knowing a single word of a language you are going to be engulfed in for the better part of a year is a pretty scary proposition. Luckily one of the guys on the staff speaks fluent English and has made himself available to me whenever I need him. (Thanks Phil, you've been a life saver!!)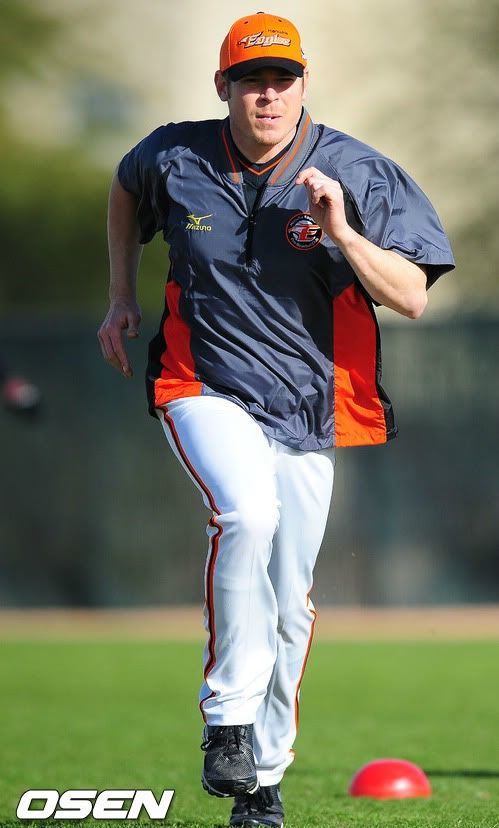 (click image for source)
By now you have had your fair share of Korean meals with the team? What has been your favorite food thus far? Anything that you haven't liked?
I've been absolutely astonished by Korean food. All I'd ever heard about was kimchi and korean bbq and believe me, I was NOT looking forward to kimchi. Granted, there is PLENTY of kimchi at every meal, there are also plenty of other dishes that are DELICIOUS. I've had 3 meals a day and have yet to run into anything that I didn't finish, and wouldn't eat again. I'm a super picky eater and Korean food gets 2 thumbs up from me YUM!!!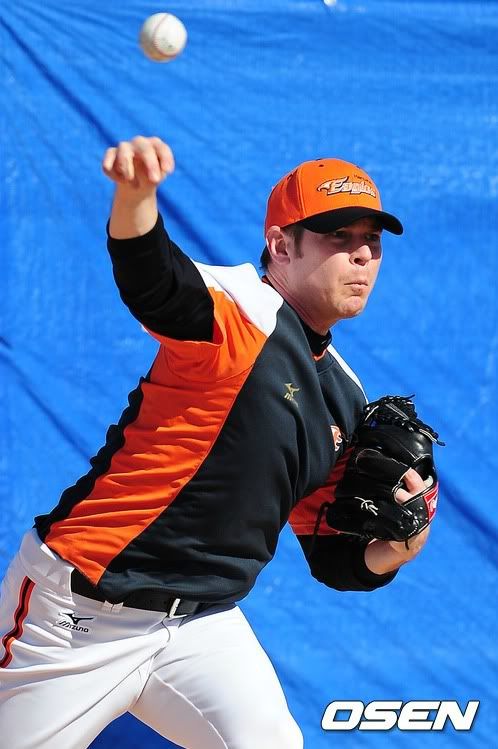 (click image for source)
What are you most looking forward to about the move to South Korea and the upcoming season?
I think I'm looking forward to the experience more than anything. I've never been to the Far East before and I'm excited to learn a new culture and see their way of life. It's always fascinating to experience things I've only seen on television and in books. I'm also really excited to get to know my teammates better. They've been so great to me thus far, I'm really looking forward to starting the season and getting to know them better.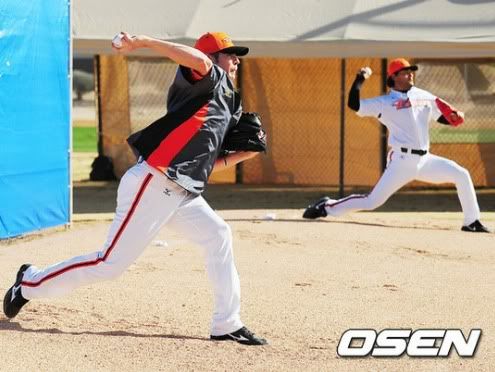 (click image for source)
GO EAGLES!!