After Brian had been in Arizona with the Hanwha Eagles for about a week, I did my first "inside interview" with him on getting to know his new teammates and Korean baseball.
Now that the team made the trip from Arizona to Korea and from there on to Japan for the remainder of spring training, I figured it was the perfect time for my second interview.
This interview sums up Brian's overall experience in Arizona and highlights his hopes for his upcoming time in Japan!
Interview #2: The End of Arizona Spring Training and Travel to Seoul & Japan
Now that Spring Training in Arizona is complete, what is your overall comparison of it to MLB spring training?
I think the biggest difference is the workload. Spring training days in the states are usually done by noon before games start. Our days started at the same time and ended around 3. These guys are in SERIOUS shape!!

(click image for source)
You have been in Spring Training for close to one month now and MLB team are just reporting to theirs. How has the early start affected you?
The biggest challenge for me has been getting my arm in shape so much earlier than I ever have before. This whole thing [signing with the Eagles] came up so suddenly I didn't have a chance to prepare for the early start. Luckily the staff has been patient with me and are letting me work at my own pace. But once April rolls around, it's go time!!
What do you think the conditioning in training has done for you this early on?
I'm not really sure yet. I'm used to having a solid base of distance running before spring training starts. But this year it's been a ton of volume and no distance. I'm a little nervous as to how my legs are going to react once my pitch count gets up over 70.

(click image for source)
What was your favorite part of your time in Arizona?
Aside from super bowl weekend, getting to know my new teammates and their culture was probably the best thing about my time in Tucson. They've been amazing so far and I'm really excited to get to experience their country.
What was your least favorite thing about Arizona Spring Training?
Definitely the dry southwestern desert. My allergies did NOT enjoy my time there. Between the nose bleeds, the sneezing, and not being able to breathe I'm really glad to be out of there!!

(click image for source)
Now that you have had a few ST games, have you picked up on any difference between Korean baseball games and American baseball games?
There's definitely a lot more "small ball" played in this league. They put a huge emphasis on moving runners and stealing bases. Also, they take a 5 minute break after the 5th inning to "clean the field". I was thoroughly confused the first time I saw it. No one from either team is anywhere near the infield dirt until they are totally done dragging and raking the field. During one such break, the entire visiting team went into left field and ran sprints. Definitely a new one for me.
What are you looking forward to about getting finishing spring training up in Japan?
I'm looking forward to real games. Absolutely love getting the competitive juices flowing, which is really hard to do when you're pitching against your own team. Also, looking forward to crossing another country off the list. Can't wait to see what Japanese life and culture is all about!!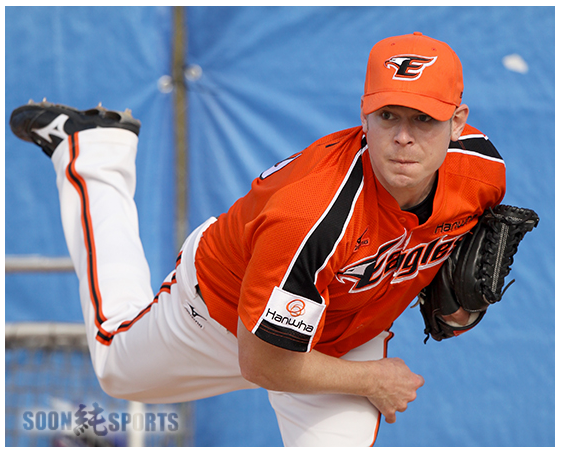 (click image for source)
Stay tuned for interview #3 after the conclusion of Spring Training in Japan!