Interview #1 about Brian's time playing international baseball focused on his first couple of weeks of Spring Training in Arizona and meeting and getting adjusted to the team.  A few weeks later, interview #2 gave a peek into his time in Arizona on the whole and the start of his travels from the States to Japan for more Spring Training.
Now, we are back with interview #3 as the team's time in Japan just concluded and they traveled back to Korea to settle into Daejeon for the last few weeks of the preseason.
Interview #3:  Spring Training in Japan, Getting Adjusted to the Time Difference and Moving on to Korea
Now that you are finished your spring training time in Japan, how was it different from ST in Arizona?
The biggest difference was not having a clubhouse. Since we weren't ever at the same field for more than a few days at a time, we weren't able to call anywhere "home". We left the hotel each morning fully dressed in our uniforms with all our baseball gear. Something I haven't done since high school.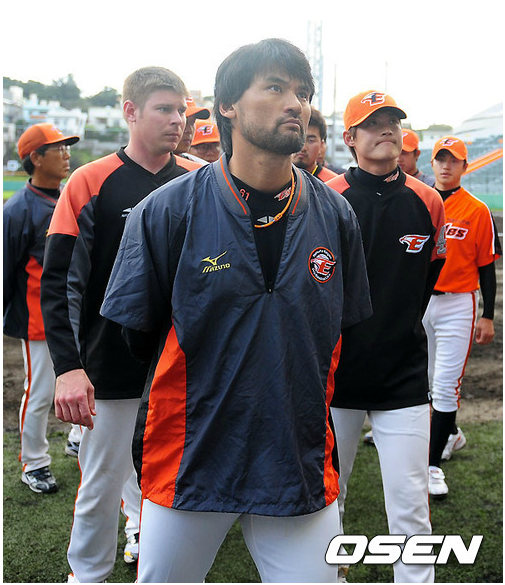 (click image for source)
After pitching some real innings in games against other teams, how do you feel you are adjusting to the style of baseball?
The style of play is definitely different here. But I made it a point during the games to really pay attention and try to learn the way they play. I've gotten over the initial shock of the differences and have definitely learned a few things about the hitters and their approach at the plate.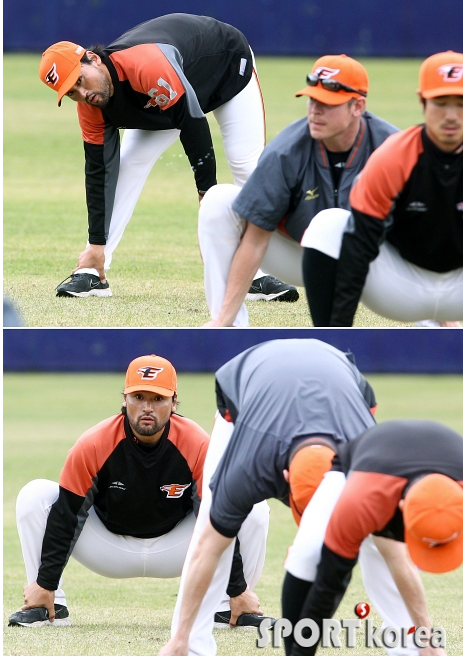 (click image for source)
What was your favorite thing about your time spent in Japan?
I think the best part was getting to know the guys better. Our hotel was in a pretty remote area of Okinawa so there was absolutely nothing to do outside. Most afternoons were spent sleeping or wandering the halls randomly walking into people's rooms to see what they were up to. Since the hotel put us all on the same floor, it was kind of like a dorm setting. It was definitely an interesting experience.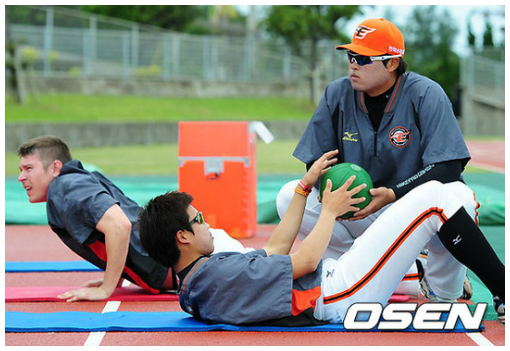 (click image for source)
Did you learn anything new about the Japanese culture while there?
I didn't really get to see too much Japanese culture since we couldn't really get out and go anywhere. I wish we had stayed in a different part of town so I could have explored a little bit. I hear there is an amazing aquarium in Okinawa, but it was an hour away from the hotel.
Are you excited to finally get to Korea? What are you most looking forward to?
Yes FINALLY!!!! I'm most looking forward to March 15th when you join me!! It's always exciting to get to a new city, but this time it's even more so because it's in a whole different country. Definitely ready to get settled and get to know the place we get to call home for the next 8 months!!

(click image for source)
With still about 3 weeks until the real season starts, what are you going to focus on to make sure you are ready in April?
Well the hardest thing so far has been the schedule. Unlike the states, we don't have games every day so the pitching schedule is almost impossible to coordinate. There are so many guys and so few innings to go around that work is hard to come by. I'm really looking forward to the start of "preseason games" so I can get on my 5 day schedule and really start preparing for the season.
How has (if at all) all of the travel and time differences affect you and your body?
The first week was extremely rough for me. I was a walking zombie most of the time and my body felt TERRIBLE!! It wouldn't have been so bad any other time of year, but spring training is a huge physical drain in itself. Then right in the middle you throw in a 15 hour flight and a 14 hour time difference and it's rough. It took about 2 weeks for my body to catch up, but now that it has, everything is fine. I also get confused about what time and day it is back home. I catch myself having to stop and think about it before making calls haha.
Interview #4 will be coming in the beginning of April at the final conclusion of Spring Training and start of the real season! And this one I get to post from South Korea myself! Woohoo!!!