I woke up this morning in Pennsylvania feeling quite hungry. The second Brian said, "good morning!", my only response was, "I'm hungry!".
Good thing he loves me!
After laying in bed playing Words with Friends and Hanging with Friends (against each other) for a bit, my stomach finally decided it couldn't take anymore so we made our way to the kitchen for breakfast.
Breakfast
I had NO idea what I wanted to eat and totally forgot that I have a box of my favorite cereal here, which made my decision even harder.
In the end, I went with a little of everything to satisfy every craving I was having.
A cinnamon Alternative Bagel toasted with peanut butter and frozen banana slices on half and Country Crock and raspberry jelly on the other.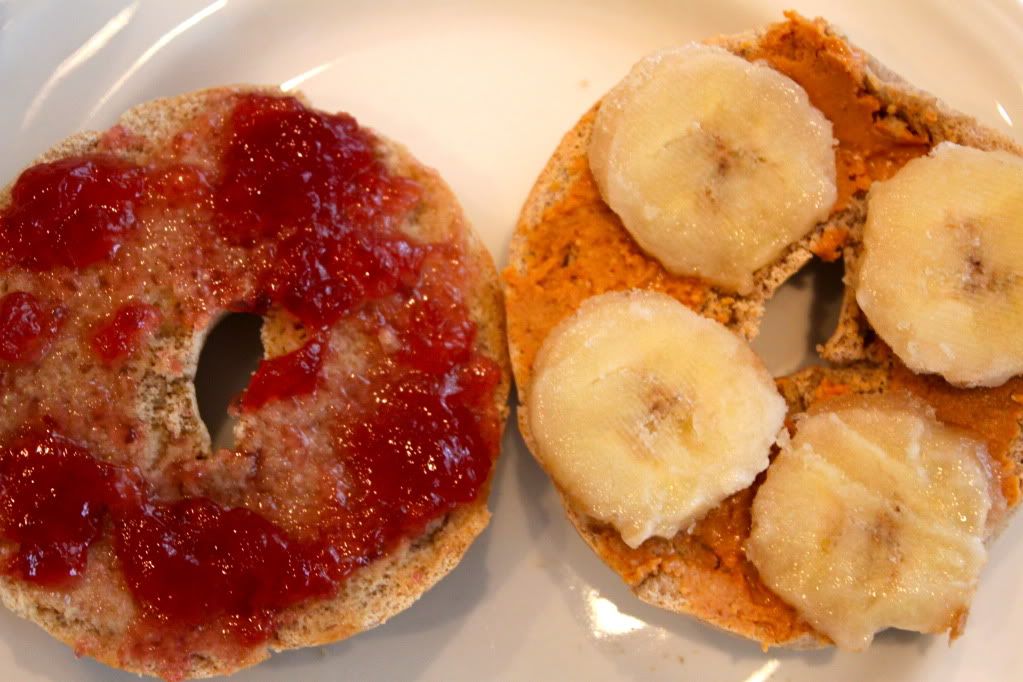 On the side I had a bowl of FiberOne Honey Squares (so in love ever since the sample I received at FitBloggin – I killed that box off in a weekend – whoops) with additional frozen banana slices and almond milk.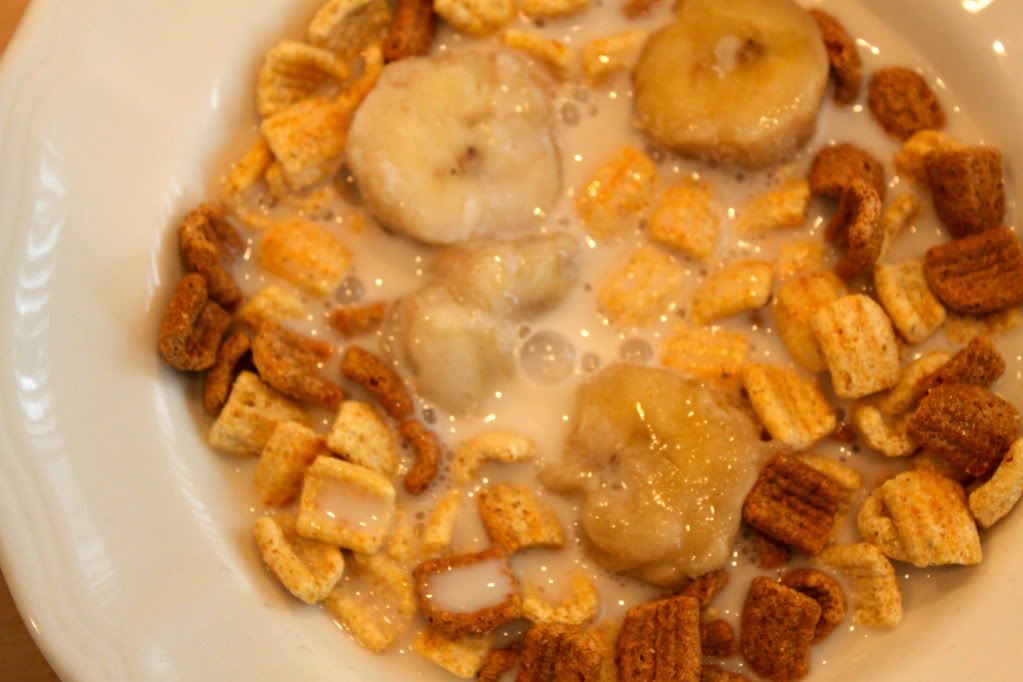 A breakfast that hit the every spot!
The rest of the morning/afternoon, before Brian had to head to the field, was occupied with running errands and more food.
Lunch
Lunch at Cali Burrito (what would a trip to Lehigh be without it?!).
I wanted to try something different this time so I went with the falafel burrito bowl which helped me come to a quick decision that I'll stick with chicken, ground beef or tofu next time!
Salsa of the week was a Peach Ginger Watermelon – right up my alley!
After lunch, Brian dropped me back off at the apartment and I decided to take a little nap…
…that turned into 2 straight hours of this.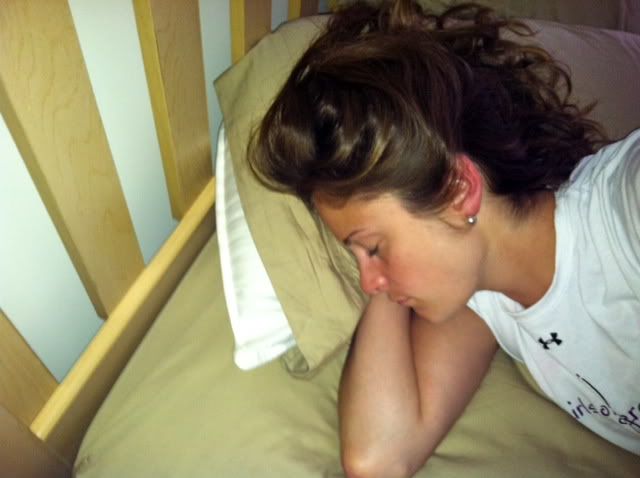 Whoops!
Oh well, I guess I needed the R&R!
When I finally got myself back among the living, I headed to the fitness center to get my workout in.
Workout
Today's Saturday run was a decent 5 mile run on the treadmill (waaaay to hot and humid to try outdoors).
I pounded all 5 out in a 44 minutes and change, while reading the August edition of Runner's World.
I never thought I could run and read, so never really attempted it but now that I know I can, I'm sure any indoor runs will be consumed by it. Seriously made the time fly by!
As for now, I'm off to make a turkey sandwich for dinner and then veg on the couch while watching Brian's game.
Just add to my lazy Saturday!
One more thing to wrap up this Saturday…
The best boyfriend ever struck again.
Look what he managed to round-up while on his last road trip to Pawtucket!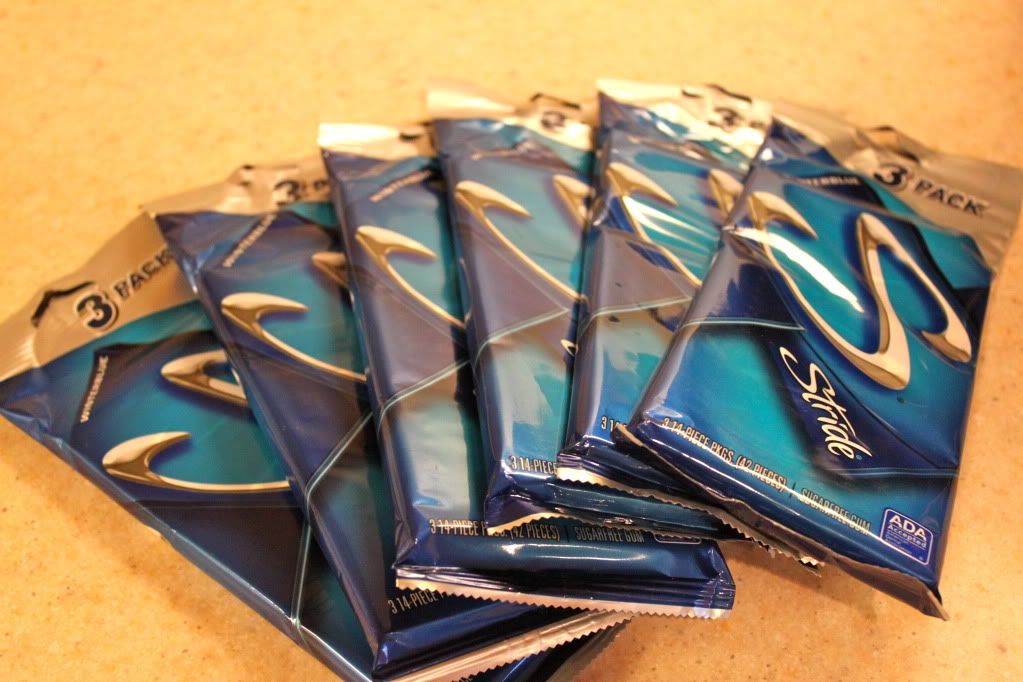 I may make it through marathon training with the stash he has now provided for me!
He seriously has hawk eyes for this gum. I look EVERYWHERE that has gum just to check for the regular (not 2.0) version of it and can never find it – I'm happy he has better luck than me!
Question:
Did you have a busy Saturday or use it as a R&R day?