I realized today after I cleaned up the apartment that I still hadn't given the proper tour of our living space here in Korea so with this post, I'll take you through the Bass living quarters in Daejeon.
When you first open the apartment door, there is a small entry way with a second door that opens into the hallway of the apartment itself.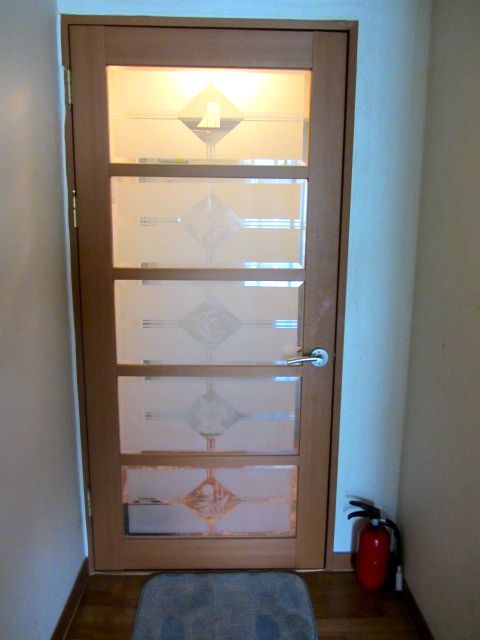 (this picture was taken from the opposite side of the door – in the apartment looking towards the entry way)
Once you open the second door, you are looking down the hallway towards the family room.
As you walk down the hallway, on the left is a bedroom that we have deemed the "storage room".
Its the staging area for our suitcases, workout stuff, cleaning supplies, extra stock of things such as toilet paper and paper towels…you know, the typical storage room.
Directly across from the storage room is another bedroom that actually has a useable spare bed (with freshly cleaned linens) and a single dresser.
This room is home to my folded clothes, my shoes and my jewelry, which is nicely displayed on the dresser (I miss my DIY jewelry displays from home!).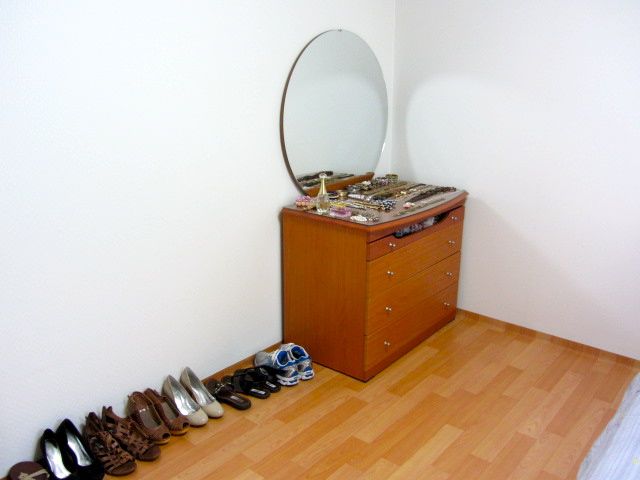 The front corner of this room also is the "gathering" area for all of Brian's baseball stuff. Note this picture was taken while he was on a road trip, usually there is plenty more!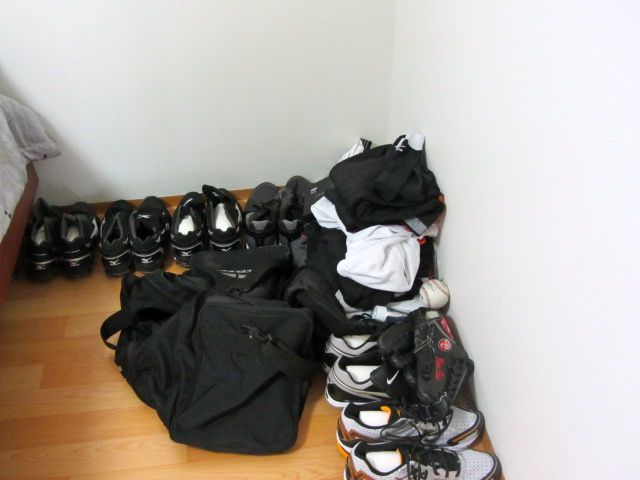 And he talks about me having too many shoes….hmmph!
As you continue down the hallway, our "shower" bathroom is next on your right.
We designated this the shower bathroom for a couple reasons:
It has an overhead shower head in it and not just a handheld shower like the master bath has.
It has a wall to designate the "shower area".
We had to make one bathroom for showering and one for other things such as brushing our teeth, going to the bathroom, contacts, hair drying, make up, etc. because once you use the shower in one of the bathrooms you can't use it again until all of the water has drained and the floor has dried. There is only one small drain in each bathroom (located behind the sinks) so basically the whole room is the shower.
Across from the "shower" bathroom, the hallway opens up into the kitchen and dining area.
Past the dining room table is the living room.
And on the far side of the living room, the patio door opens to our, well, enclosed patio.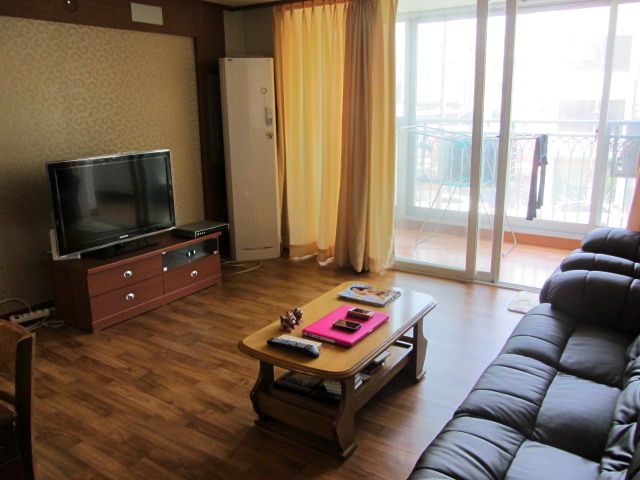 Once on the patio, to the far right end is our washer.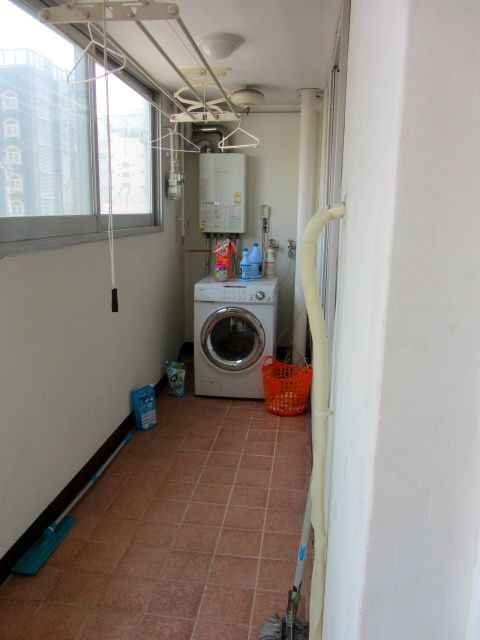 And to the far left end is our dryer – aka a drying rack.
We have another patio door on the far side of the enclosed patio that opens directly to the outside which is nice to let some fresh air into the apartment.
Off of the living room (across from the dining room table) is the master bedroom.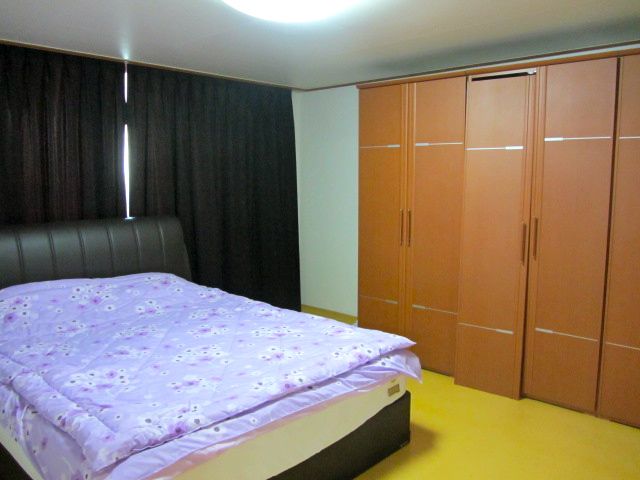 A bed and three sets of closets (one with a broken door). Brian uses two of the closets for his clothes and I use one for my hanging clothes.
Off of our bedroom is the master (or second) bathroom.
Very similar to the shower bathroom except this one lacks the designated "shower" area (hence why we decided to use this for all bathroom activities except showering!).
A couple unique things about the apartment that are different from or just not as common as what you find back home are:
We control the hot water and the heated floor from this panel on the wall in the master bedroom.
Brian didn't know what this was and turned it off when he first got here so he had no hot water until Phil fixed it for us (the night I got here luckily!) – whoops!
Apparently the heated floor is how they heat the apartments instead of central heat. Ours was set so high that our feet were literally on fire when I first got here. We couldn't read the Korean to change it so again had to rely on Phil for some help!
Our phone is built into the wall with a video monitor to see who is ringing our doorbell. Door bells are very common here, even in all of the hotels.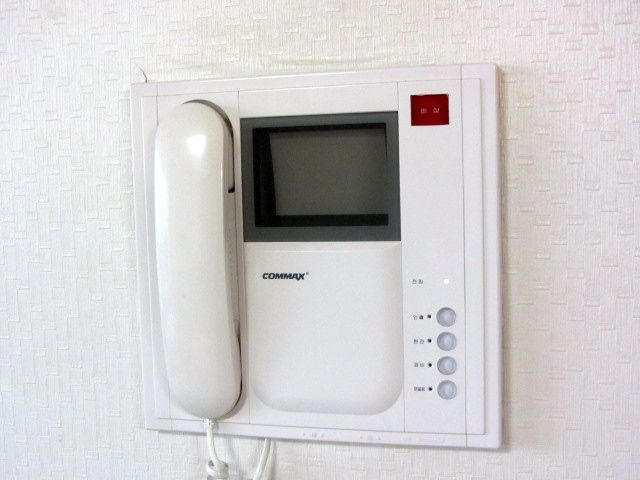 This tall unit in the corner is actually our air conditioner.
If you sit on the couches in front of it while it is on you seriously feel like you are getting blown away by freeeezing air. I make Brian keep if off unless we are going to bed but I know that will change when summer gets here.
We have a coded lock on our door which I love! No need to carry keys or transfer them between Brian and me. All we need is a code (that we picked ourselves) and we are good to go!
So there ya have it…our home away from home (when we aren't on roadtrips, that is!)
And now for some of today's eats…
Lunch
I had to share today's lunch with you simply because it involved something that I was excited to try, seeing that a similar product by the same company are a staple at home for me.
That's right…Laughing Cow cheese wedges! I smeared them on a piece of toast and made myself an egg and cheese sandwich with a side of seedless (the first I have come across here) grapes.
Afternoon Snack
Later in the day, for a snack, I sipped on a cup of hot coffee with a piece of my coconut banana bread on the side.
I may be repeating this for dessert a little later too!
Brian will finally be home tonight to join me for the week at the apartment but it will be after dinner time so I'm planning on some frozen sweet chili pineapple and chicken for dinner that I froze from our first homemade meal here in Korea.
Question:
What are some differences you have come across in apartments if you have lived abroad?