Good Morning!! The first day of the work week is in the books…now on with Tuesday!
Any other Two and a Half Men watchers from last night out there? I definitely got some laughs in throughout the premiere but I'm still not 100% sure how I feel about Ashton Kutcher and his new role. I guess I need to give it a few episodes to see how I warm up to him. One thing I know I won't be warming up to though is his long hair. Yuck.
Workout
This rainy morning started off in the gym with 40 minutes on the arc trainer. I've come to decide that I think the arc trainer gives me a better workout than the elliptical does when I have my cross-training days. I work up more of a sweat with the arc trainer and feel more of a burn in my legs. Maybe I'm not pushing myself hard enough on the elliptical?
I rounded out my workout with ab circuits:
Circuit #1
Plank – 60 seconds
Side plank – 30 seconds
Side plank taps – 30 seconds
*Each side plank was done on both sides consecutively for 60 seconds total on each side of the body
Circuit #2
Bicycle crunches – 60 seconds
Pelvic thrust with extended leg – 30 seconds per leg
Circuit #3
12 extended leg lifts on weight bench
12 side bends per side – 12.5 lb dumbbells
I did each circuit twice through before moving to the next one and rounded out the entire ab workout with 25 regular crunches.
I'll tell ya what, glad I got those planks out of the way first because my abs were screaming after them. Made the rest of the workout have a good burn as well but I'm sure they would have been a struggle to push out if I saved them for last!
Breakfast
Since we hit the grocery store last night, we were re-stocked on different ingredients leading to an egg scramble wrap this morning.
Cooked together was two eggs, baby spinach and chickpeas which was then topped with feta cheese before being added to the center of a flatout wrap and topped with Mmmm sauce.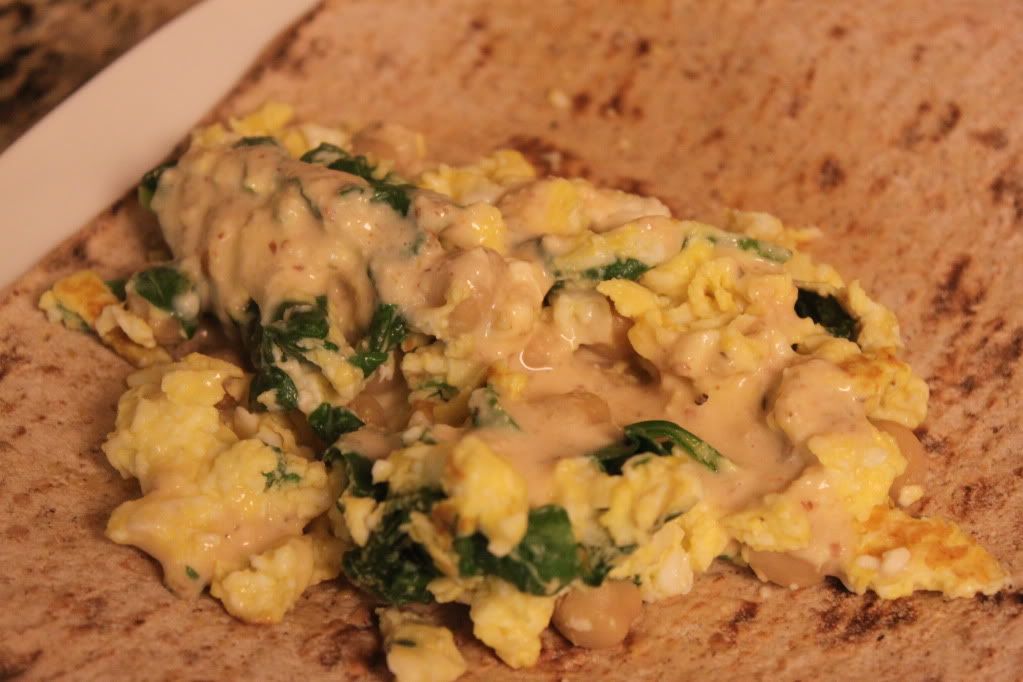 I rolled everything inside of the wrap and had a nice little breakfast burrito.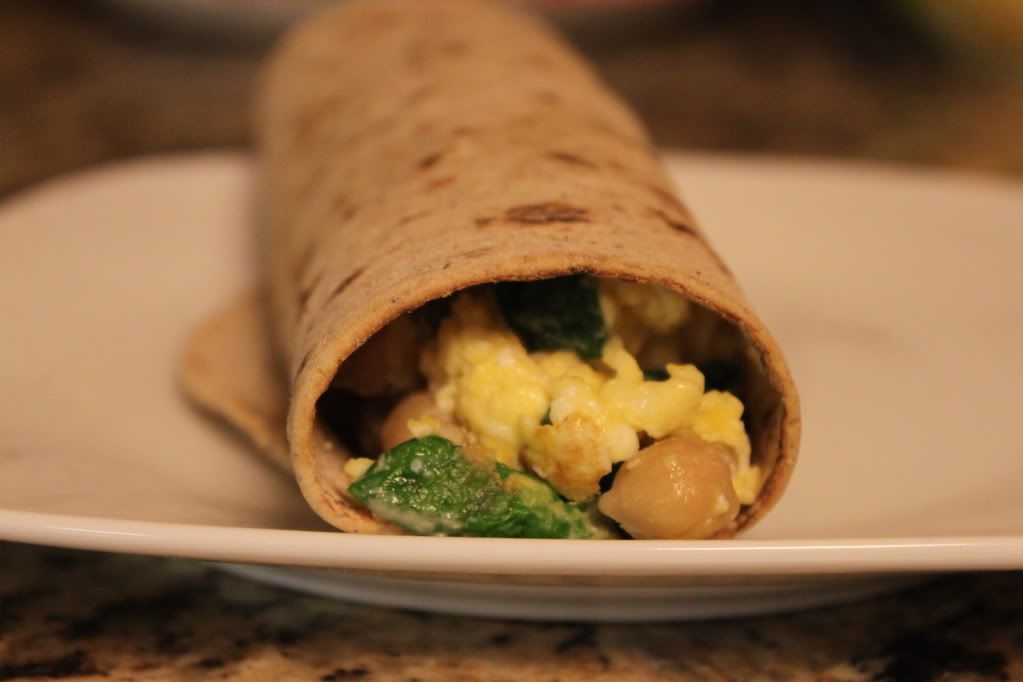 Now…to get motivated to get some work done on this rainy day.
Question:
What did you think of the premieres of any shows you may have watched last night?
What is your favorite ab move? I love planks but leg lifts really make me feel it in my lower abs!