Late this morning, Brian and I met up with one of my oldest, dearest and most wonderful friends who happens to now be a Austin local for brunch. You may remember past appearances from Kirsten from when she has been visiting her family back home but this get together was even better since we were finally in her city.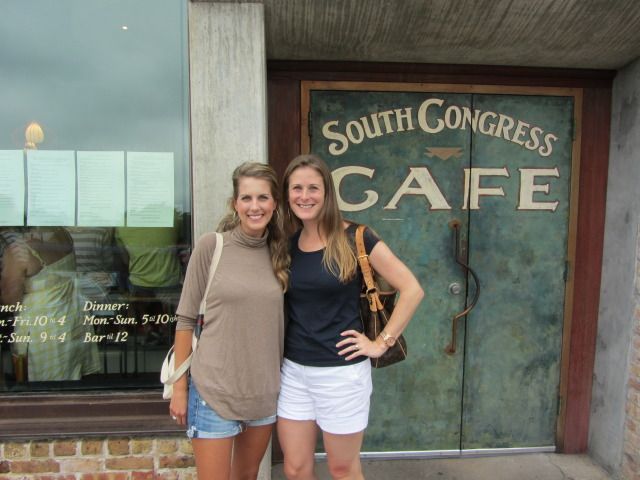 And what better to do in a new city than take a local's advice on the best brunch in town?!
We met Kirsten at South Congress Cafe  and from the mass of people crowded around the outside of the restaurant when we arrived, I knew we were going to be in for a great meal.
And I was definitely not wrong!
The mini corn muffins that were on the table to start were delicious and I some how managed to keep myself from eating the entire basket before our meals arrived and good thing that I did because my Migas were awesome!
Kirsten recommend this meal and also ordered it herself so I was pretty sure it wasn't going to be a let down…
"eggs, corn tortillas, tomatoes, onions, jalapeños, three cheese blend, refried black beans, smoked gouda potato pancake, choice of salsa, house made tortillas"
Not to mention, the single chocolate chip pancake that I ordered on the side was pnemonial as well – what is breakfast without a little dessert?!
Brian went with one of the specials for the day, braised pork shoulder served over gouda grits. He was sold at the braised pork and the deal was sealed when the grits were mentioned.
Overall, South Congress Cafe got two thumbs up from Brian and I both.
After brunch, we took a little time to walk with Kirsten and explore the stores along South Congress Ave.
When in Texas, right?!
We did a little country attire browsing and perused a clothing and jewelry boutique before hitting up the candy store.
And you know we didn't come out of there empty-handed!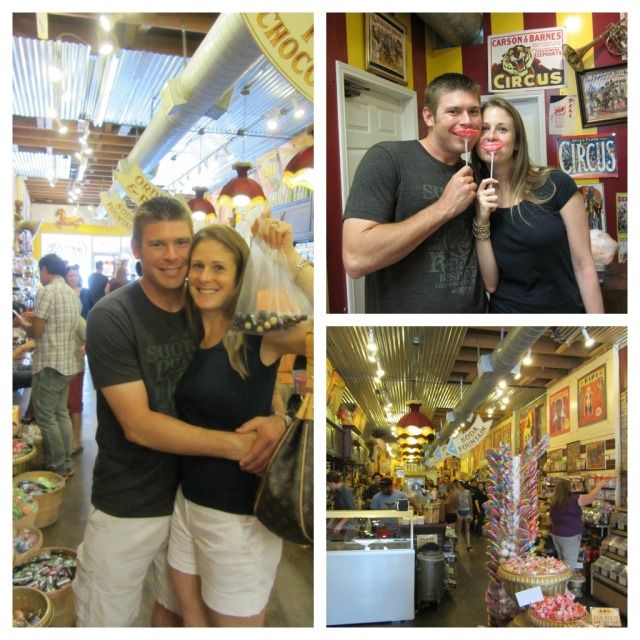 Or should I say empty-bellied?!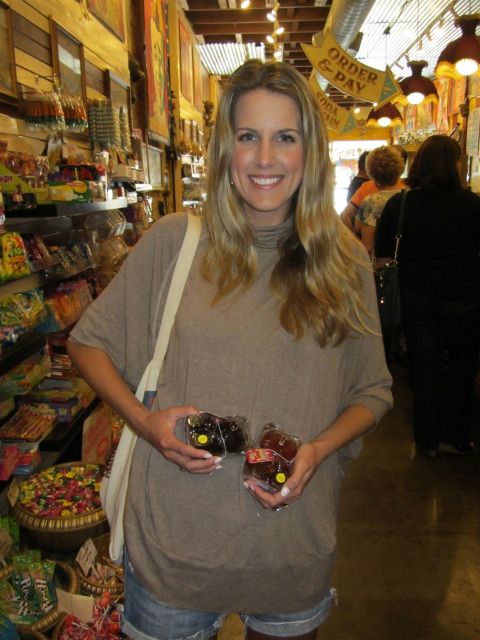 Could you imagine eating two pound gummy bears?! Kirsten pointed out how heavy it would feel in your stomach and we got a kick out of her impression of my sister, Katie, with two little gummy bears curled up in her belly now – only hers are both twice that size! Yikes!
Another fun thing about South Congress Street? A food truck park!
If we had more time in Austin, you know I would be sampling just about every one of these.
A huge thank you to Kirsten for a fun morning and great meal in Austin.  So wonderful to see another familiar face so far from home – not to mention one of my absolute favorites since we were just little girls!  I'm already counting down to her visit home in November for our wedding!
Question:
Have you ever been to Austin, Texas?  What were your favorite parts of the city?