Happy Monday!!! And happy back to reality for me…whomp whomp. Nothing says Monday morning more than a first Monday morning back from a week-long amazing vacation. Guess it had to end sometime!
And I can't complain too much since this is what my office looked like when I walked in this morning.
My co-workers are awesome and decorated for my return once they heard about the engagement. So thoughtful of them! Thanks guys!


Workout
Along with being back to reality came getting back into the swing of morning workouts. Well, actually workouts in general. I haven't done much since the marathon except 35 minutes on the elliptical one day and a very slow 3 mile run on another. So as good as working out felt this morning, it also was tough to get going.
I started with 30 minutes of cardio on the treadmill and then followed it up with some upper body lifting. I did 3 sets of the following free weight exercises:
Seated Rows x 12
Kickbacks x 12
Shoulder Press x 12
Bicep Curls x 12
Shoulder Raises x 12
Overhead Tricep Extensions x 12
I haven't lifted in a while so I'm already envisioning how my arms are going to be feeling tomorrow! Yikes!
Breakfast
I returned to an old familiar breakfast this morning. Oatmeal made with 1/3 cup water and 1/3 almond milk.
Topped with frozen banana slices, agave nectar and cinnamon raisin swirl peanut butter.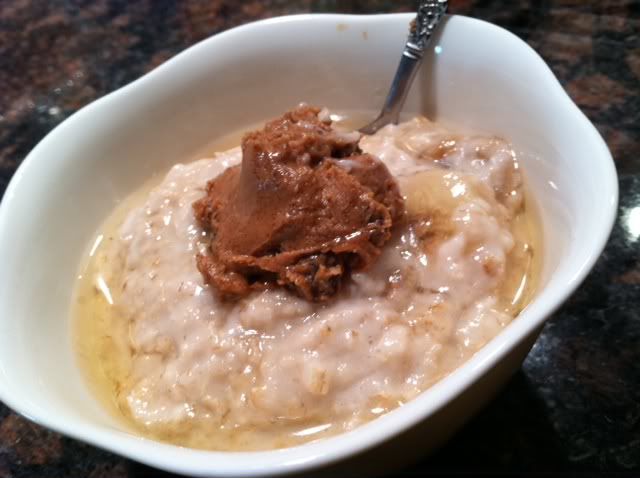 Just like I remember it!
Question:

What is the worst part about coming back from vacation for you? For me it is definitely catching up on work…emails and voicemails are taking over my life this morning!