A little over a year ago, back when my sister was still pregnant with Noah and Grace, Brian and I were having dinner with her and her Brian when she threw out the idea that the four of us should run the Baltimore Marathon Relay this year. At the time she was about to bust with twins in her belly and was probably thinking about how wonderful running again would be, hence why my casual runner sister suggested it. Thus Team Brians' Sister Wives was born.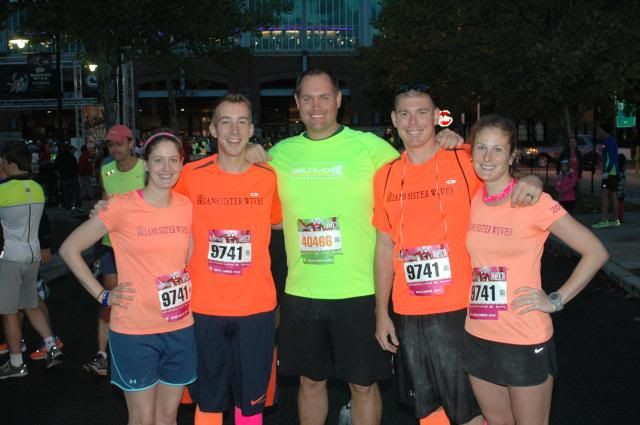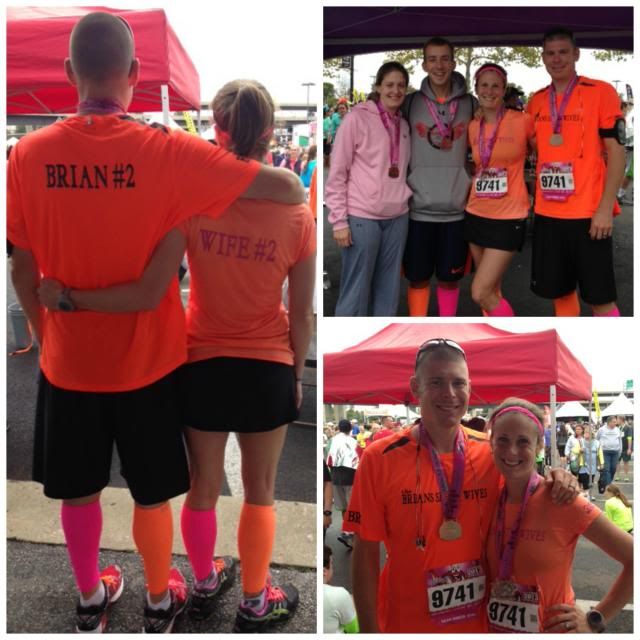 I obviously was on-board for the idea and immediately started looking at details and throwing out ideas of who should run which legs of the race, etc. Since none of the other three team members had ever run more than 4 miles at the time, it was a toss-up for who was going to get the shortest leg. My sister didn't want hills and didn't want to wait at a relay point by herself so it was immediately decided that whichever leg of the race that she got, mine would be after hers so that I could also accompany her on her leg.
We bounced ideas around for a while and eventually (after the kids were born and Katie was cleared to workout again) everyone began training for their legs of the race. Brian #1 (my brother-in-law) was assigned to leg #1, Katie to #2, Brian #2 (my Brian) to leg 3 and myself to leg 4. Seeing that I was going to be in the middle of marathon training, I figured started leg 2 with my sister and running through the end of the marathon course was a perfect long training run.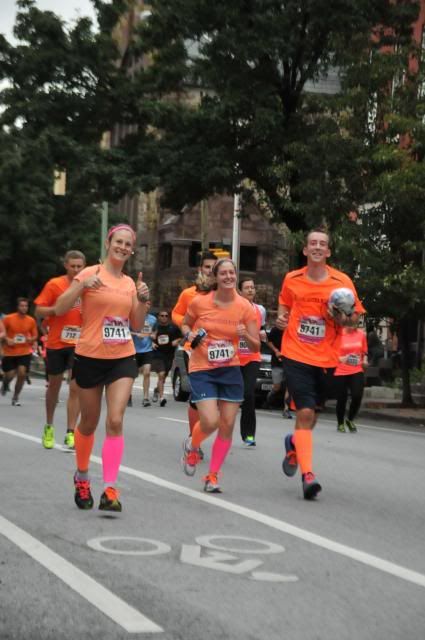 Our plans took a little change last week after Brian #2 was getting nervous about the hilly nature of his leg. We changed our lineup a little and moved him to leg 4, upping him from 6.1 miles to 7.3 and instead of me finishing alone, I took the hilly run to the third relay exchange point on by myself.
The morning ended up being so much fun! Brian #1 crushed his leg of the race (5.7 miles) in 45:47 and ended up deciding to ride his runner's high through leg #2 as well with Katie and me. Leg 2 brought us the 7.1 miles back to and around the harbor/Federal Hill area where Katie finished her leg in 1:25:44. From there I continued to the other side of the harbor, through Harbor East, Canton and Patterson Park to Clifton Park and the final relay exchange point (6.1 miles) in 50:06. I grabbed Brian and we headed off for the final 7.3 miles which took us around Lake Montebello over I-83 and back down to the Camden Yards Complex for the finish of the race in 1:11:09.
(a big ouch to the man in front of us in yellow – check out that nipple bleed?!)
Our 26.2 mile finish time was 4:12:46! A number I think we all were mighty proud of!! And speaking of proud – I can't tell you just how proud I am of my three teammates. All of them hit both personal distance records and obviously personal time records! The race itself was a great course (extremely hilly from miles 14-19ish!) and had me distracted the entire time!  Not to mention, our team name and shirts were quite the hit with other runners (especially when Brian #1, Wife #1 and I were all running together!) and spectators as well so laughing and chatting up others on the course definitely kept the mood light!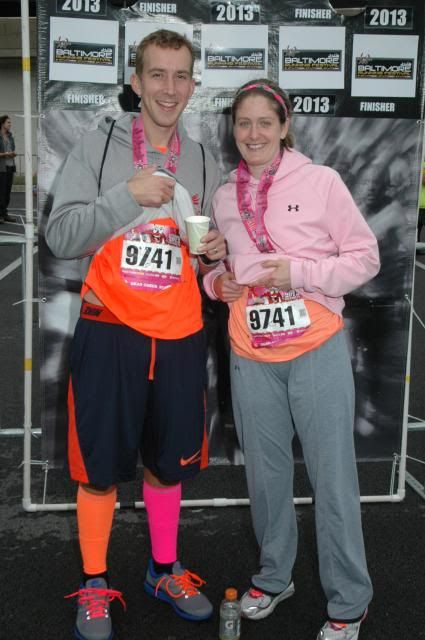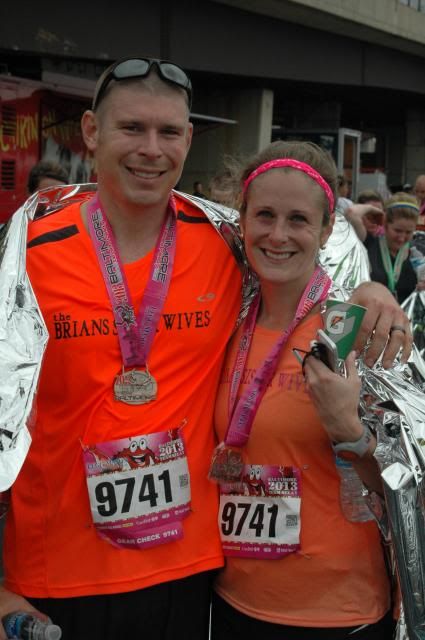 I finished the morning not even realizing that I had run 21 miles and still ready to add a few more on. As you can see from the race pictures, I really had a great time on the course and kept a smile on my face for the majority of it…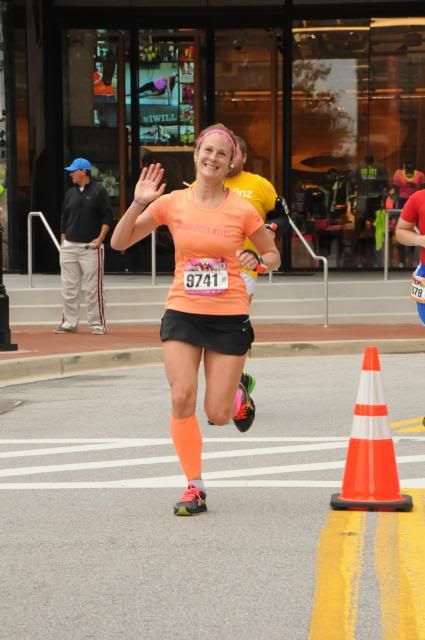 I think I can officially say, bring on Richmond!!!