My dedication to strength training as of late has been seriously slacking. I've been focusing on my running and yoga practice; however, in reality, by incorporating all three of these modes of fitness into my regular routine, I can benefit much more. On days that I have done any sorts of strength training, I've noticed that my arms are much stronger thanks to yoga and my love for arm balances! Not to mention, with the help of yoga, my hips aren't nearly as tight post run and the intense stretching also helps to keep my upper back loose during runs.

Right there you have two examples of how yoga is helping me in other areas of fitness and by continuing to strength train, I know I will be able to be more successful in advance yoga postures. Not to mention, strength training is crucial when training for races. Not only does leg work make your legs stronger for those late race miles but arms play a huge role in running posture as well and the stronger the arms and back are, the more they can help pull you through your strides as your body begins to tire.
That being said, I took the time this weekend to figure out a new routine that won't overload my days with workouts, but still allows me to focus on my running and yoga while strength training as well. With this new routine, I'll still be able to run and do yoga most days of the week, while incorporating strength training in on six days.
I've broken my strength training into three days with each being repeated twice a week:
Back & Biceps
Chest, Triceps & Shoulders
Legs & Core
With only focusing on 2-3 muscle groups a day, I'll be able to better challenge each group while spending less time than I would on a full body routine with only one or two exercises per muscle.
I started today with Back & Biceps.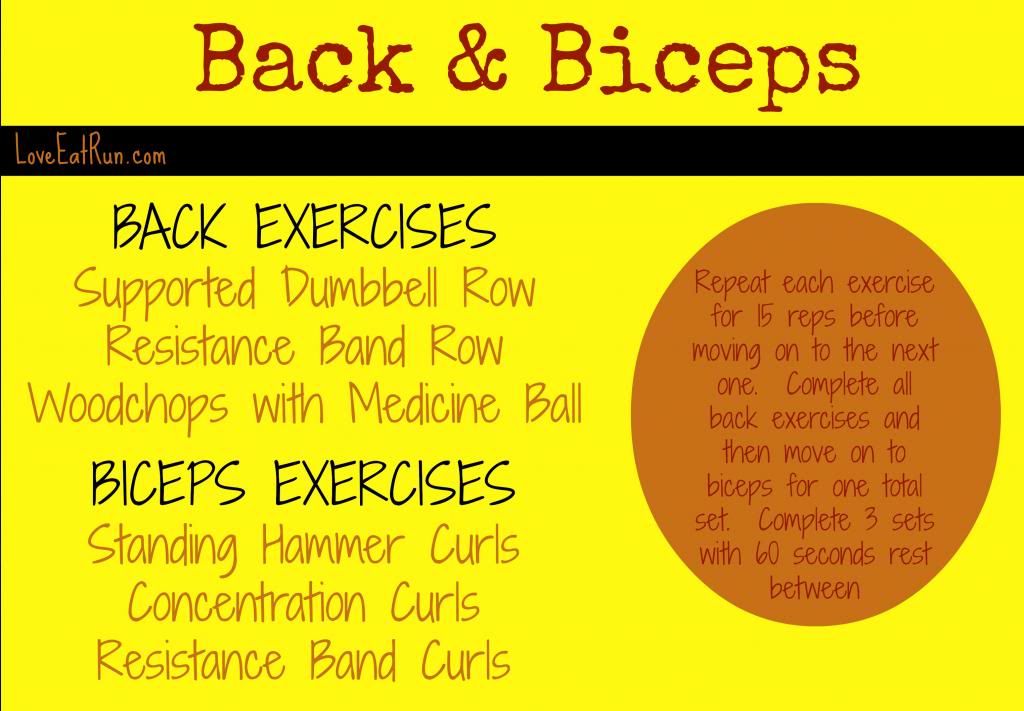 With the intense focus on each group, my muscles were fatigued by the end of the workout. They felt pushed and used which is what I was going for and the entire three set workout took 30 minutes. Paired with a 5k run in less than 25 minutes, it was a workout that left me feeling motivated and strong and still left plenty of time in the rest of my day for other things to be accomplished.
Once I start incorporating long runs into my training, I'm going to have to play around with my weekly schedule so that I'm not burning myself out…but I'll cross that bridge when we come to it!
Question:
How do you prefer to schedule your workouts? Do you like to keep them condensed or are long workouts with multiple parts better for you?