Apparently I decided to have a total blonde moment at 6:00 a.m. this morning before leaving Brian's.
Last time I checked, I had brunette hair. I did used to have blonde, but that's only because I dyed it to be that way – I swear I'm a natural brunette.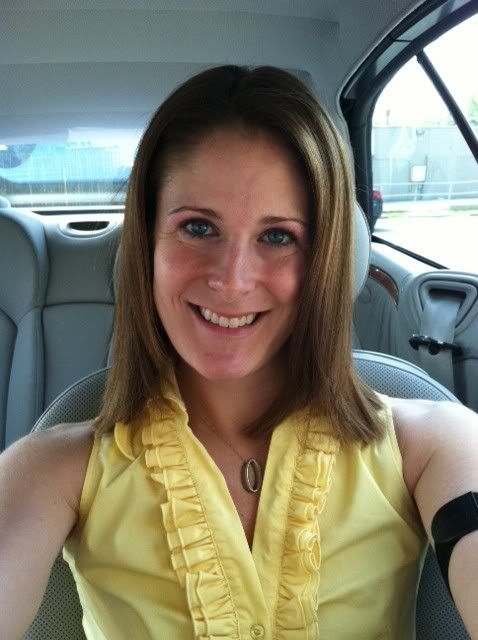 From my little slip up this morning, you sure wouldn't think so!
Last night, while waiting for Brian to get back from his game, I got all of my things together so that I could save time this morning since I knew I would be leaving early to get back to Baltimore for work.
I woke up, showered and took everything out to my car before coming back in to wake him up for 30 seconds to say goodbye.
On my final trip out to the car, I grabbed my breakfast/lunch bag that I had packed for the day and headed out.
I was making great time on my ride back and decided to stop for gas just off a 495 in Delaware. I usually wait until my car is on empty to fill up but I figured I might as well do so before I actually saw the light come on, since I knew it was coming soon.
I pulled off the exit and into the gas station and as I was reaching behind me for me purse….
….my purse?
And right about now is when sheer panic set in!
My purse? Yes, my purse was still hanging on the closet door right next to Brian's front door.
I hung it there last night so that I could easily grab it on my way out this morning.
WRONG!
I immediately turned around and got back on 495 in hopes of making it as far as I could while I was devising a plan in my head.
I almost gave in and just started crying but I kept myself composed and gave it some thought.
My change cup in my car – SCORE!
Bad news – I recently emptied the majority of the nickels, dimes and (all of) the quarters while paying for parking and for a newspaper.
Good news – I had a lot of pennies.
I pulled into the next gas station I could find (at this point watching the gauge get very close to that "E") and quickly counted my change.
$1.68 in pennies
$0.75 in nickels and dimes.
Yes, I was that girl today that paid for $2.43 of gas in pennies, nickels and dimes.
And it got me 0.64 gallon of gas – to get me from the Maryland state line to Baltimore.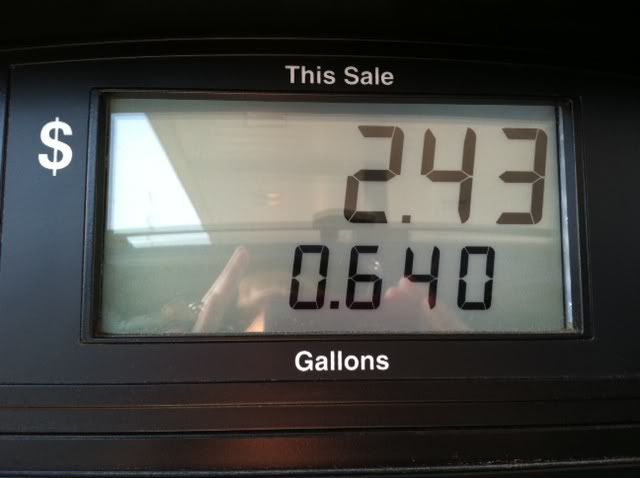 The range on my gas tank read 59 miles when I saw the 57 miles to Baltimore sign.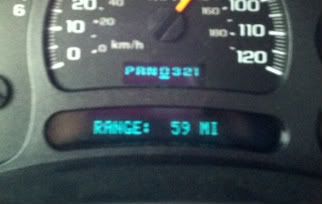 I can do this.
My light came on when I was about 34 miles outside of Baltimore.
I can do this.
I don't know how many Hail Mary's and Our Father's I said from Delaware till Baltimore but they worked.
Thank you, Lord – they worked!
I'm pretty sure my gauge was past empty when I made it to the parking lot at work. And another thank God for my boss lending me $20 to get some gas to be able to make it home.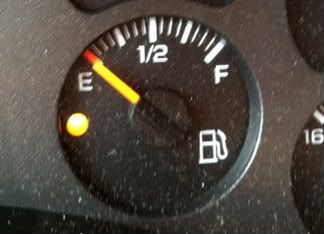 Good thing I am heading back to Brian's on Tuesday after work and good thing I have a stash of money that was supposed to be our "vacation fund" in my dresser drawer.
Looks like that is now becoming my "gas fund" to get back to Brian (and my purse) on Tuesday.
Breakfast
After all that excitement – breakfast today was a bagel with mighty maple peanut butter and dates.
Which almost had to be consumed on the side of 95!
Question:
Have you ever run out of gas before? I ran out one time but luckily was able to borrow someone's car to get work. They ended up being a saint and went and got gas for my car and then brought it to me at work to trade cars back.