With the conclusion of weeks 11 & 12 of Jillian Michael's Body Revolution, I am officially done with the complete 90 day workout program!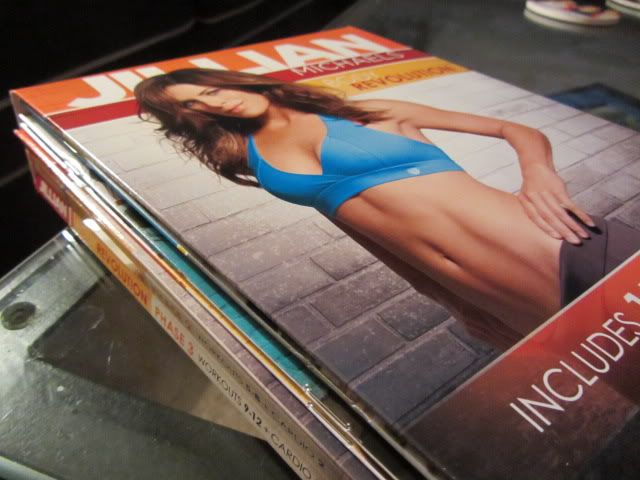 Workout 11

The description of Workout 11 on the Body Revolution guide is:
"A gold medal workout jam packed with athletic moves, weights and a resistance cable to inspire you to give it all you've got and get what you came for.  It puts the finishing touches on "front of the body" muscles."
Like the previous odd-numbered workouts, Workout 11 is focused on the front of the body and actually works your chest, shoulders and arms in a crazy way!  If pushups are your thing, this workout is for you!!  It features pushups with different twists added in along with planks that challenge your core and shoulders.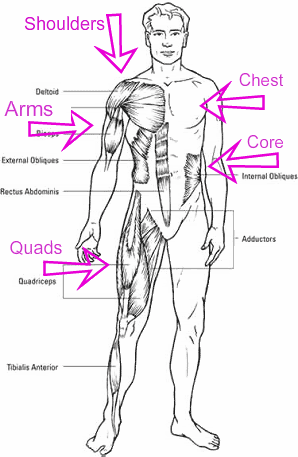 Example moves in this workout are:
Scorpion Push Ups
Push Ups with Resistance Cable
3 Tiered Push Ups
Dragon Pose with Shoulder Raises
Jumping Lunges with Shoulder Press
Jumping Statue of Liberties
Plank Twists
Workout 12

The description of Workout 12 on the Body Revolution guide is:
"This is it!  An all-out, pedal-to-the-metal blur of body sculpt moves for "back of the body" and wicked cardio bursts that max out your calorie burn and fat melting potential."
Like the prior even workouts, Workout 12 is focused on the back of the body.  A lot of jumping and stabilization is put into use in this workout along with moves that definitely require flexibility and core strength.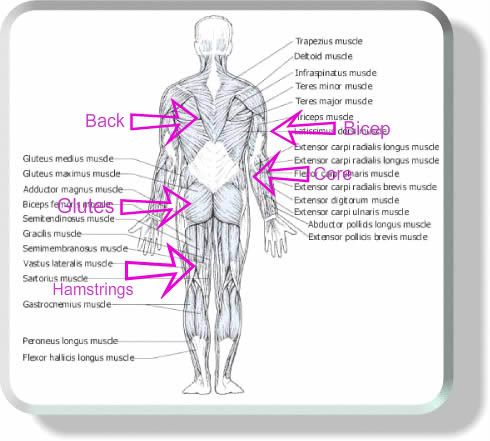 Example moves in this workout are:
Crab Kicks with Alternation Toe Touches
Bridge Push Ups
Heavy Bicep Curls
Single Leg Weighted Squat Jumps
Bent Row
Alternating Plank Rows
Cardio 3
The description of Cardio 3 on the Body Revolution guide is:
"Bang out this fast-paced, high energy, high impact, plyometric workout by burning more calories per minute than you ever thought possible to complete your total body transformation."
The Cardio 3 workout that was used throughout all of Phase 3 of the program (weeks 9-12) was similar to that of Phases 1 & 2 in that it consisted of three 8-minute circuits of cardio exercises.
However, instead of eight exercises, each performed for one minute in each circuit or 16 exercises, each performed for 30 seconds per circuit, Cardio 3 contains 24 exercises – each lasting for 20 seconds.  This cardio workout contained a lot of jumping, plank position moves and full body involvement.  A complete metabolic workout!
Every time I completed Cardio 3, I found myself sweating like crazy when I was finished!  It really got my heart racing and provided a kick-ass, quick workout.  Even though the moves were challenging, and the jumping (cannonball jumps, alternating lunge jumps, squat jumps, rock star jumps) was intense, the quick changes from exercise to exercise made this workout fly by.
And don't be surprised if you find yourself thinking the second circuit is a tad bit easier than the other two…two crucial exercises are skipped in the line up but you can't not be relieved when one of those is squat jumps!
Week 11 Schedule
Day 1: Workout 11
Day 2: Workout 12
Day 3: Cardio 3
Day 4: Workout 11
Day 5: Workout 12
Day 6: Cardio 3
Day 7: Off
Week 12 Schedule
Day 1: Workout 11
Day 2: Workout 12
Day 3: Cardio 3
Day 4: Off
Day 5: Workout 11
Day 6: Workout 12
Day 7: Cardio
Weights Used
For most of the exercises throughout Weeks 11 & 12, I used either 5 lb or 8 lb weights.  Jillian recommends light (3 lb) weights for a few exercises but they were nothing that I couldn't do with the 5 lb weights, therefore pushed myself to use the heavier weights.  A few of the exercises that she recommended 5 lb weights, I upped to 8 lb weights at my own discretion.
Summary
In summation, Workouts 11 & 12 were definitely challenging.  Workout 11 pushed my chest, arms and shoulders more than any other workout in the program with a ton of plank and pushup moves.  I vowed to never do these workouts again as I was swearing like crazy while doing them but I'm positive I will break them out in the future to challenge myself on given days!
Body Revolution Weeks 1 & 2 Review
Body Revolution Weeks 3 & 4 Review
Body Revolution Weeks 5 & 6 Review
Body Revolution Weeks 7 & 8 Review
Body Revolution Weeks 9 & 10 Review