With this morning's workout of phase 2, cardio 2, I'm now done the first six weeks of Jillian Michael's Body Revolution program! I honestly can't believe that I am halfway through – it has seriously flown by! So, since another two weeks are complete, I'm back with my review of Workouts 5 & 6 in Phase Two.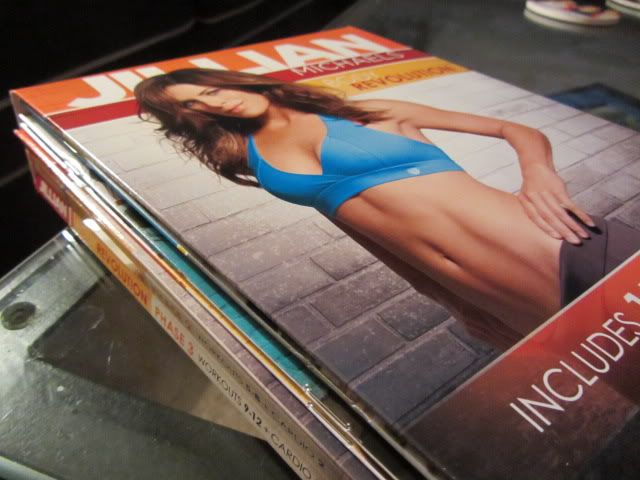 Workout 5
The description of Workout 5 on the Body Revolution guide is:
"A yoga inspired warm up blasts right into a killer "front of the body" routine using weights and a resistance cable. Cardio blasts are fast and fierce for maximum fat burning."
Like Workouts 1 & 3, Workout 5 is focused on the front of the body and begins with a yoga sequence including sun salutations, upward dog, downward dog and chaturanga for the warm up. Workout 5 is also the introduction of supersets along with more exercises that focus on stability and coordination.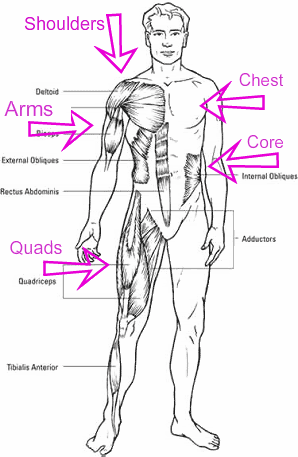 Example moves in this workout are:
Side tricep pushups
Single leg squats with overhead weight extension
Flys with resistance band
Sumo squats with shoulder press
Pushups with Side Planks
The moves are all designed to be done as instructed with only a couple modifications being offered. One modification makes an exercise harder, the other easier, but for the most part Jillian encourages you to stick to the workouts being demonstrated since you are in Phase 2 now and should be able to complete them without extreme trouble.
I won't lie and tell you that this workout is easy. The third circuit in it will have your triceps, shoulders and chest screaming. Be prepared!
And one complaint, when you are almost done circuit two, Jillian makes a comment about only have one more circuit to go in the workout. Lie. The first time I completed it, I thought maybe there was only three circuits and was extremely excited until we kept going after we completed the killer one. Slight editing error but seriously set me up for a let down!
Workout 6
The description of Workout 6 on the Body Revolution guide is:
"Multi-tasking moves synchronize the upper "back of the body" muscles with lower body work to raise the roof on conditioning and fat burning. More intense cardio intervals accelerate metabolism to burn even more post-workout bonus calories. You'll need all your weights plus a resistance cable for this one."
Like Workouts 2 & 4, Workout 6 is focused on the back of the body and like Workout 5, it features supersets and also has a emphasis and moves that require coordination and stability. In addition, more plyometrics are used in the cardio sets of each circuit.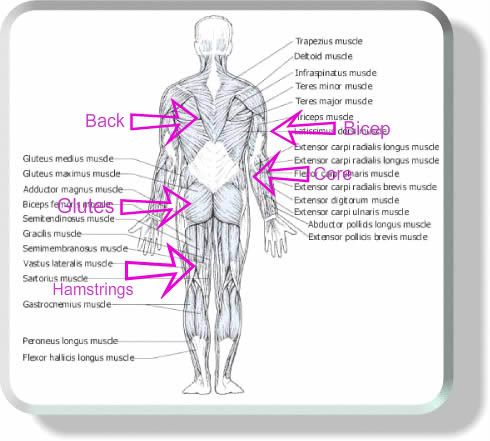 Example moves in this workout are:
Statue of Liberty (one leg squat with fly)
Sit ups with extended arms
Cross lunges with bicep curls
Stork pose with rows
Bent Row
Reverse Plank
Week 5 Schedule
Day 1: Workout 5
Day 2: Workout 6
Day 3: Cardio 2
Day 4: Workout 5
Day 5: Workout 6
Day 6: Cardio 2
Day 7: Rest
Week 6 Schedule
Day 1: Workout 5
Day 2: Rest (Sick!)
Day 3: Workout 6
Day 4: Cardio 2
Day 5: Workout 5
Day 6: Workout 6
Day 7: Cardio 2
Weights Used
Throughout the exercises in both Workouts 5 & 6, Jillian recommends different amounts of weight for different exercises; light, medium and heavy. The sizes used by those in the video are 3 lbs, 5 lbs and 8lbs, respectively. I only have 5 lb and 8 lb weights with me in Korea but when we are traveling I can only bring the 5s with me, so depending where my workout takes place, my weights varied.
While at our apartment, I used the 5 lb weights for any exercises that Jillian suggests light or medium weight for and the heavy exercises, I used the 8 lb ones.
There were a few exercises that medium weights were suggested but I upped them to the heavy weights (when available) simply because I didn't feel the medium weights gave me any sort of challenge. Something that did become apparent to me during these workouts was that my left arm is significantly weaker than my right (my bicep and tricep), so I know I want to continue to build the strength in it so that it can catch up!
Summary
In summation, Workouts 5 & 6 were the start of supersets and more plyometrics along with moves requiring stabilization and coordination. I honestly felt the burn in my muscles post workout and even in the days following. I'm almost nervous to see what the next set of workouts consist of!
Body Revolution Weeks 1 & 2 Review
Body Revolution Weeks 3 & 4 Review