Workout
Monday morning started out with an hour-long treadmill workout that ranged in speeds from 4.0 mph to 8.5 mph and ultimately had me cover 6.43 miles. As soon as my run was complete and I had a chance to wipe the sweat from the treadmill and refill my water bottle, I was out the door and on my way to yoga class.
This morning's Vinyasa class instructor focused on breathing and holding our poses which made for another challenging 90 minutes. Breathing is one thing that I can't seem to get done in yoga class so hopefully more classes like today's will help me to get myself into a rhythm with the deep breaths in and out instead of finding myself holding my breath and then gasping for air.
Breakfast
By the time I made it home from yoga and let Telli have some quick time outside, breakfast time had pretty much turned into brunch time. I was originally planning on another smoothie but the blender was dirty and I was too hungry to take the time to clean it. So an egg scramble became the quick meal of choice.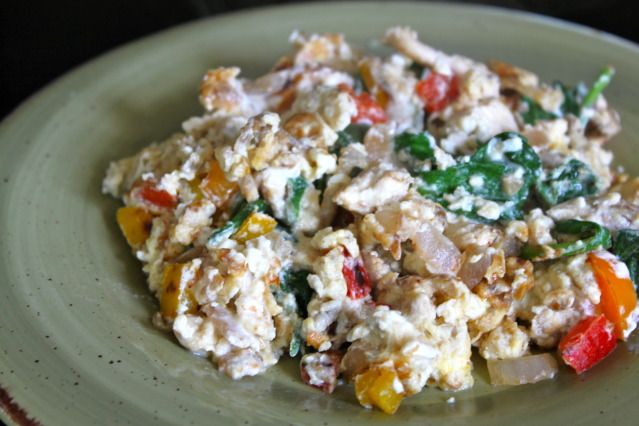 One egg, two egg whites, spinach, peppers, onions, roasted chicken and goat cheese.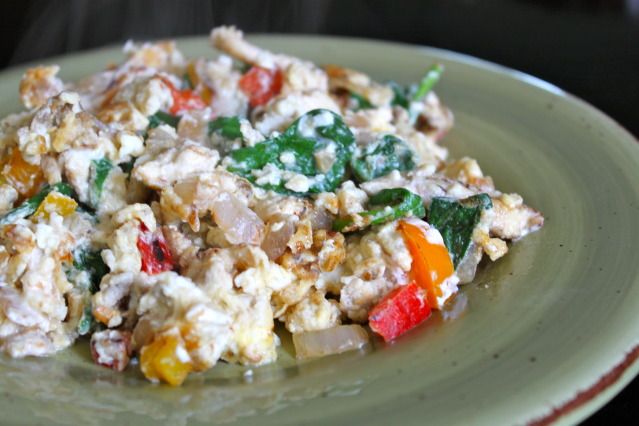 I'm refueled now and ready to tackle Monday's to-do list – starting with cleaning the blender, moving on to thank you cards from yesterday's shower and then ending the afternoon with a little sun at the pool.
Question:
If you attend a lot of yoga classes, are you good with breathing into the poses or do you sometimes forget to altogether like me?