Apparently I'm loving other people's workouts still because today I couldn't wait for work to be over so I could get to a treadmill and conquer another one of Tina's CrossFit Endurance (CFE) workouts.
Fellow bloggers, please keep the awesome workouts coming!! I'm seriously digging the variety that I'm finding and the new things I am introducing my body to!
Workout
Today's copycat workout was Tina's 5 x 800m workout.
I started with the same 10 minute warmup at a 6.5 mph pace and then began the five 800m intervals.
800m at 8.0 mph
3 minute recovery at 3.5 mph
Total with my two-minute walking cool down I covered 4.7 miles in 47 minutes.
I'm really enjoying these CFE workouts and love the quick paces for shorter distances followed by walking recovery. It keeps my body guessing and the change in my heart rate is just what I like in a workout.
Dinner
By the time I left the gym this evening I was beyond ready for dinner. I had a quick snack of homemade trail mix before I went but since that was the only thing I ate besides my morning snack of an apple and my turkey sandwich during the day it quickly was burned off during my workout.
Brian is out on a mandate tonight with a friend so since dinner was on my own tonight and I was craving one of my favorite Chinese restaurants near by, I made a stop on my way home.
A Sonny salad (aka cucumber, crabstick and avocado).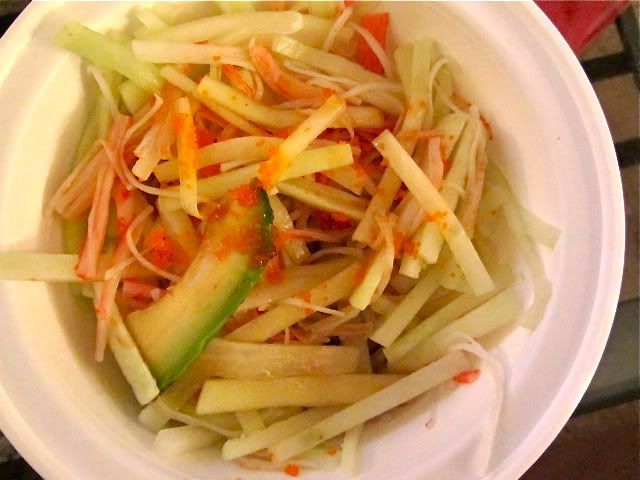 And sautéed General Tso's chicken with brown rice.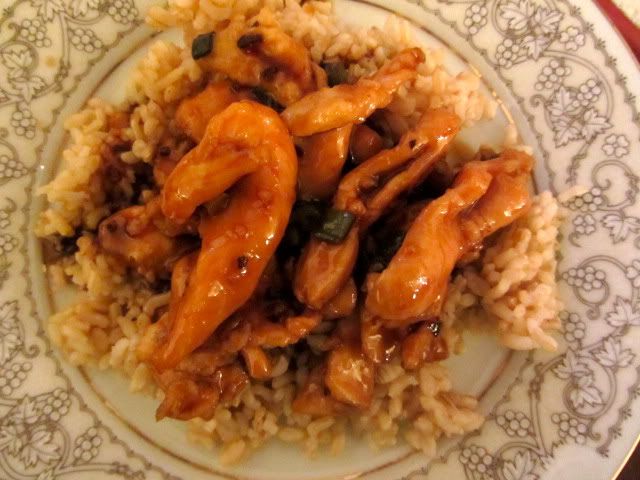 General Tso's is probably my favorite Chinese meal ever and the fact that I discovered that I can order it sautéed instead of fried makes me a happy girl!
Yum!!
I'm off to relax on the couch and watch Grey's Anatomy while getting in some quality Telli time.
Question:
What is your favorite Chinese food?
Do you make up your own workouts, stick to basics, or find challenging ones that appeal to you online or from a trainer?