As planned, I spent my afternoon outside enjoying the gorgeous weather here in Daejeon.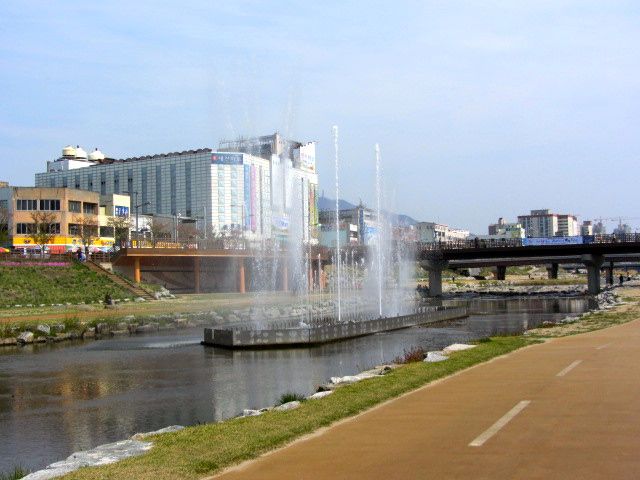 I found a bench directly in front of the water fountain show and made myself comfy with my NASM text-book on my lap and my highlighter in hand.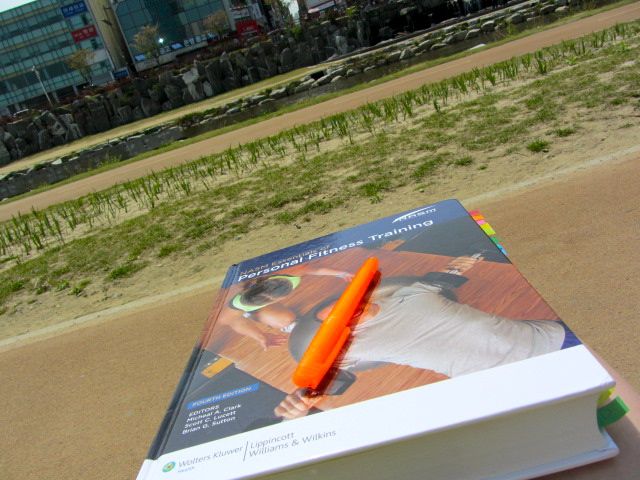 I read until my highlighter ran out of ink and then sat a little while longer enjoying the weather and taking in the show. As the water display was going, songs were being played through the speakers that are in the walls along the side of the river.
Dancing Queen and Under the Sea was my favorites.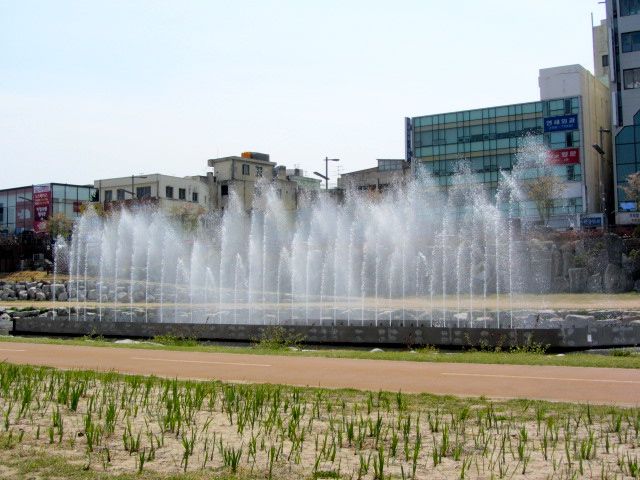 After a while, I took a stroll down the river to check out the exercise area I had spotted during my long river run last week.
I even took some time to test out the different machines that are all self propelled and work muscles in your arms, legs, back and core.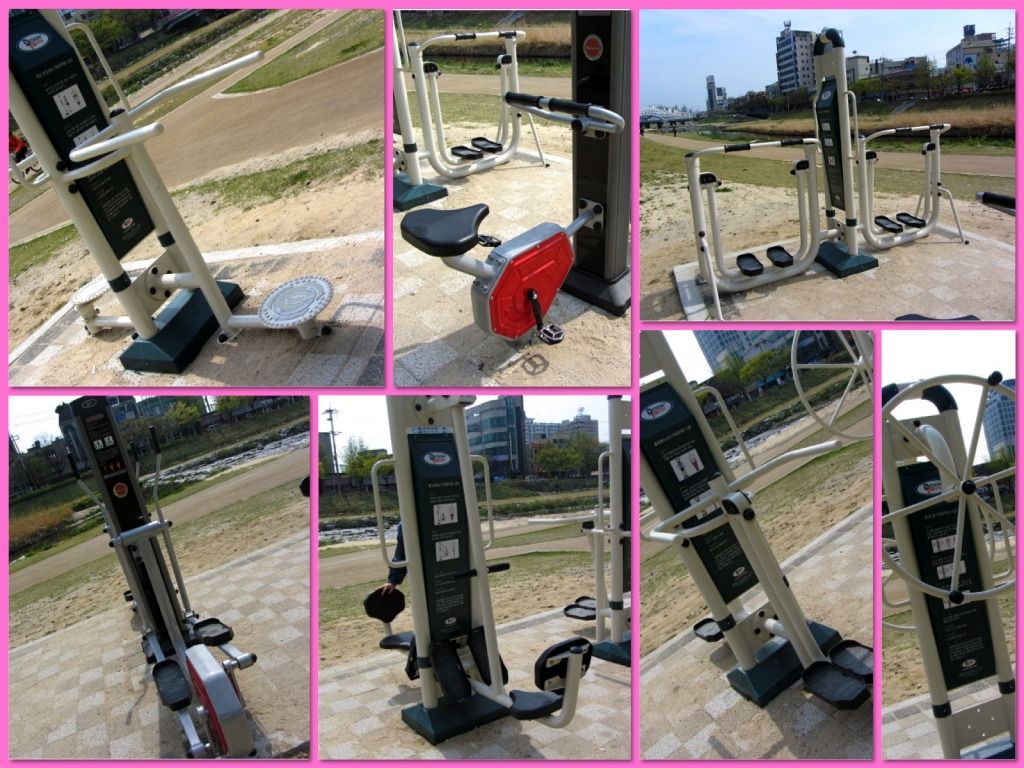 I think these little outdoor fitness areas are such a great idea! After a little exercise, I did a little more traveling of the river.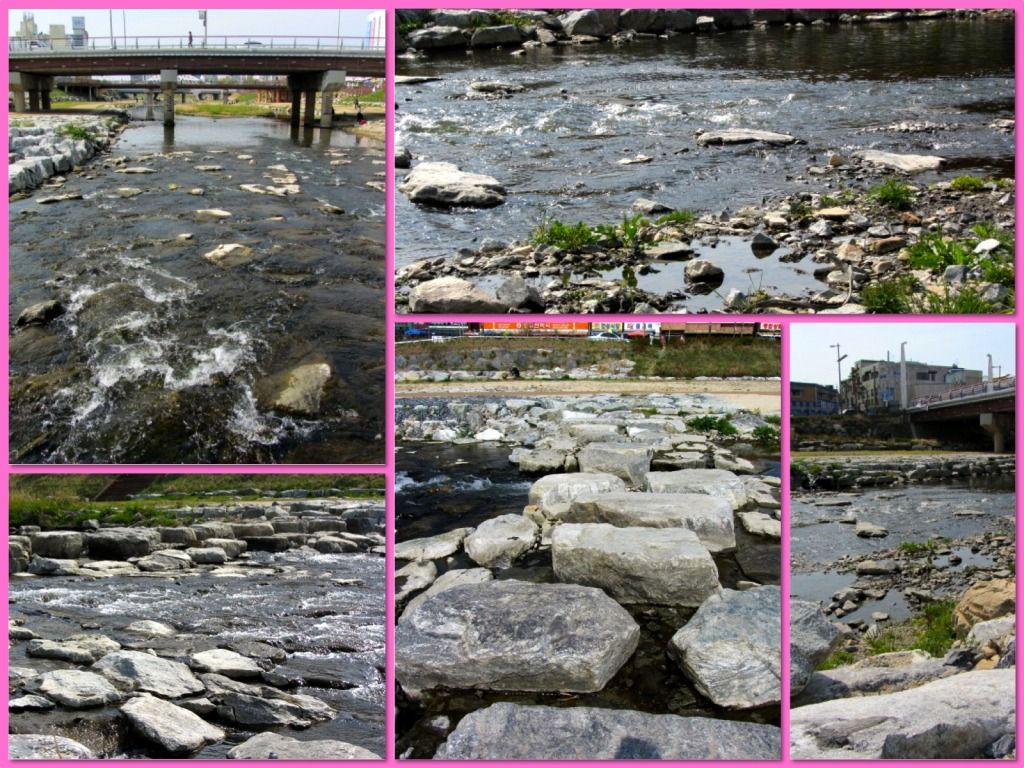 And crossed over at one of the rock paths so that I could check out the cherry blossoms on the other side.
How pretty are these blossoms?!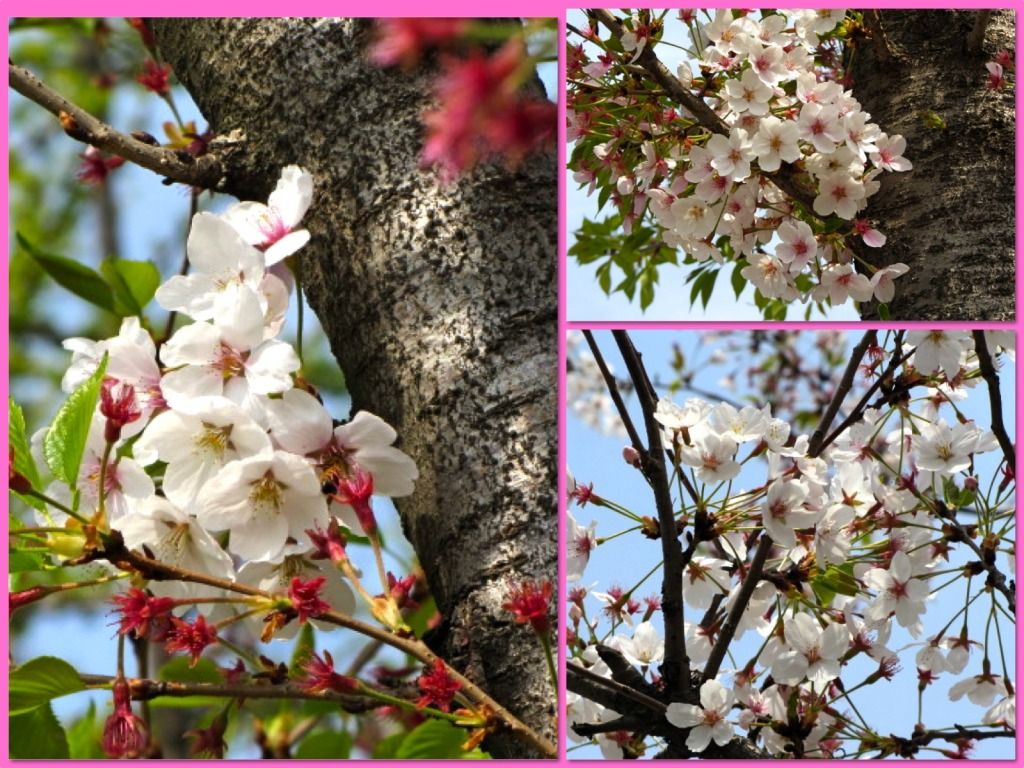 These seem to be the lasts of them though, most are already gone from the trees.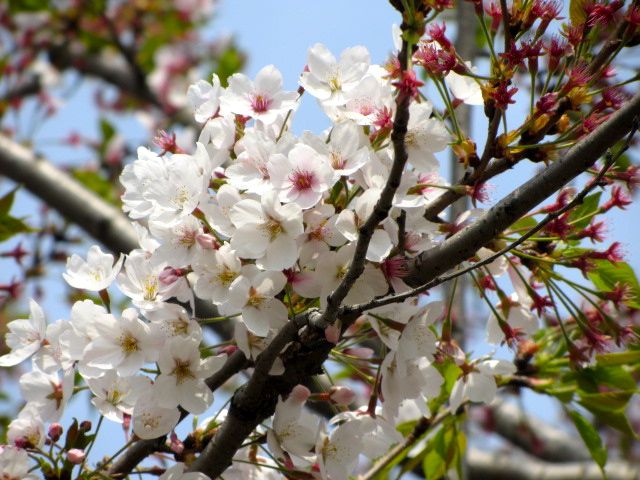 One for the Books
On my way back home, I was walking through Old Downtown and noticed quite a little stir on one of the corners. There was a camera crew following (and filming) a Korean man as he walked down the street eating his ice cream cone. Girls were in awe all around the crew and stopped in the streets to giggle and take pictures of the man, who was causing quite the stir.
I obviously glanced at the commotion as I passed by but kept on my way. All of the sudden the Korean man was chasing after me, and the camera crew after him! He stopped me and introduced himself as a Korean comedian. He spoke fairly good English and was asking me a series of questions before asking if I wanted to go to the beauty parlor with him for a makeover.
I know I was in casual clothes and my hair in a ponytail but I didn't think I looked all that bad! He then proceeded to ask if I was single and upon learning about Brian quickly apologized and embarrassingly excused himself, all the while starting to yell in a playful manner at his camera crew.
Definitely one for the interesting encounters in Korea book! I hope I don't end up on some version of "Jaywalking" on a Korean comedy show!
Stretch for Seven
When I made it back to the apartment, I took some time to get in my Stretch for Seven Challenge for the day. I combined two different YouTube videos by trainer Caroline Jordan for 20 minutes of awesome hip opening stretching.
I definitely am bookmarking these stretch routines to use again!
Question:
If you had the option for an outdoor fitness area over an inside gym, would you choose it?