Today was Korean baseball game #2 for me!  The game was at Munhak Stadium in Incheon, where Brian and the Eagles took on the SK Wyverns.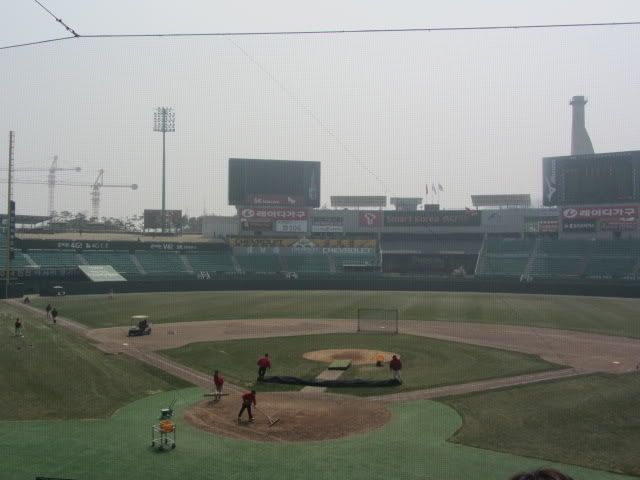 The stadium was located on the same complex as another stadium that looked to be a soccer one and was larger and more modern than the stadium in Cheongju. This one even has a Burger King in right field!
I didn't get to scope out too much of the stadium on the inside because my bags were all at my seat with me. Yep, I can honestly say that was a first for me. My rolling suitcase definitely wouldn't be allowed through the gates at Camden Yards and if I had spotted one in the stands in my tenure there, you can bet some of my employees would have been getting into serious trouble with me for it!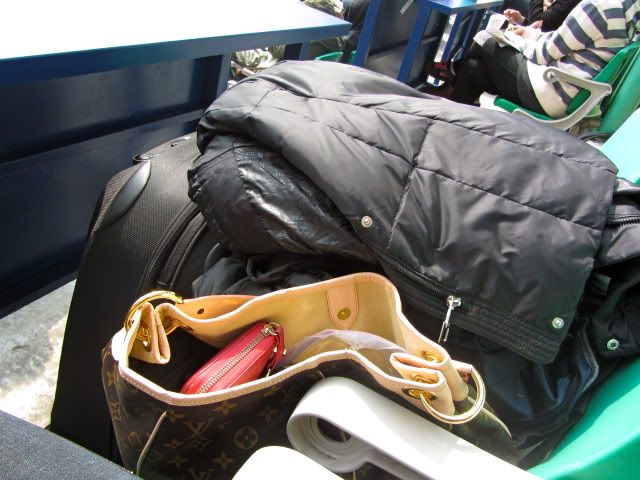 Needless to say, I was pretty much tied to my seat through the game since I didn't want to be hauling my luggage around behind me. My only excursion was a fast one to find a restroom and even that was interesting. All of them in the ballpark are under construction and when I finally found one outside, it wasn't the most pleasant one I have ever walked in to. If I hadn't chugged waaaay too much water before leaving the hotel I wouldn't even have considered using it – but sometimes ya gotta do what ya gotta do!
I did some more observing of what takes place here during the game today and noticed some things that go on throughout that are different from back home.  One being that after the 5th inning, while the field crew is dragging the infield, the teams all go to their respective sides of the field and run and stretch.  I guess it is the 5th inning stretch here and is for the players as well!
Another thing that I noticed is that all of the ushers in the seating bowl have whistles that they blow for every foul ball to alert the fans that one is coming.  I heard a lot of them blown today!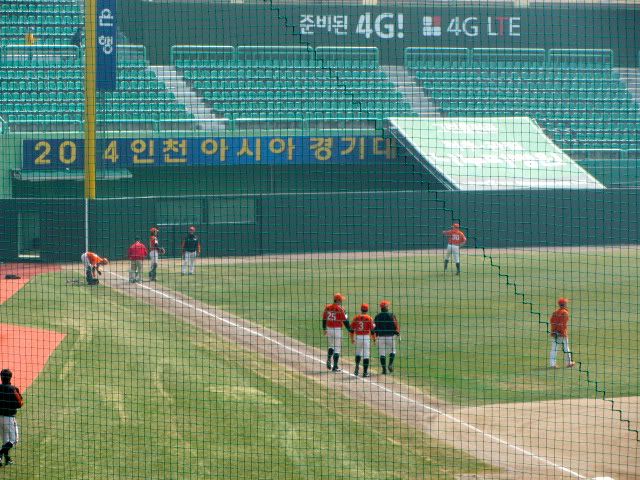 As for the field itself, today's had grass and an actual pitchers mound! I knew from the start it was going to make for a much better outing for Brian. He pitched through 5.1 innings and looked solid on the mound.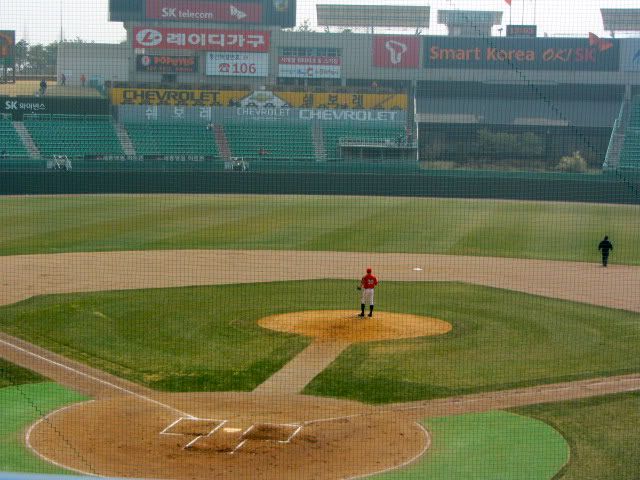 Whenever he is pitching, I think that I am more superstitious than he is. If I'm standing when he starts the game and is doing well, I'm not allowed to sit the rest of the game while he is on the mound; if I'm sitting first, then vice versa. If I have my legs crossed and he gives up a run, I better have a new position before his next pitch. Today, the good luck position seemed to be resting my chin on my finger/hand.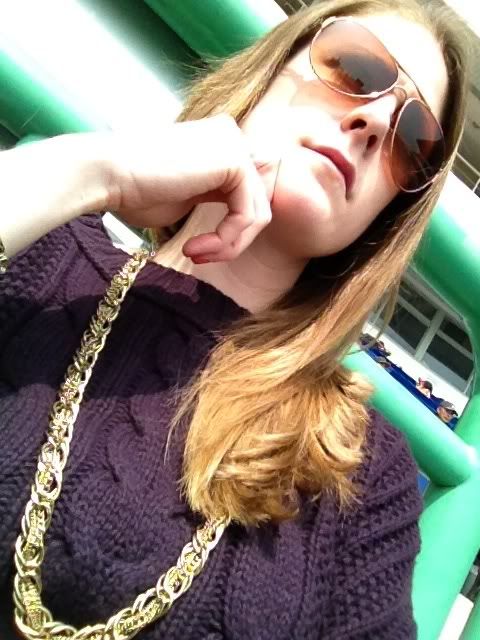 I sat like this for the majority of 5+ innings. I can't be the one that throws off the groove!
Unfortunately, when it was all said and done, it looked like the lack of run support that he always seems to get from his offense has followed him to Korea as well. Even with the quality start, the bats couldn't get going for the Eagles and the defense seemed to be a step off in the wrong direction on a few crucial plays.
At least it's still spring training! They have a little over a week to figure it out and get ready for the season opener next Saturday!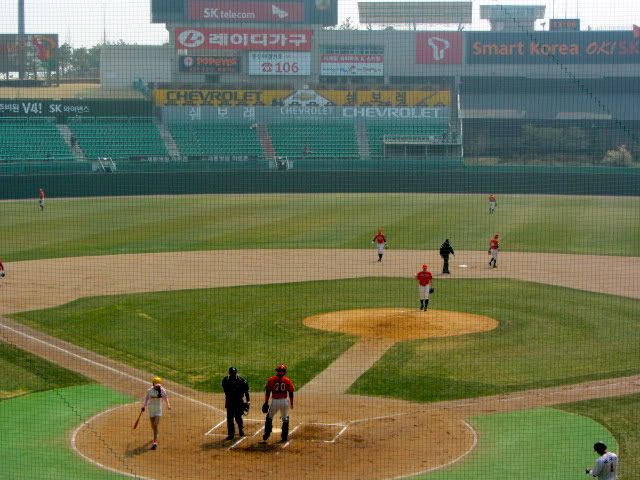 After Brian was done pitching, Phil got me a cab to our hotel in Seoul and now here I am in city #4 on this adventure through South Korea!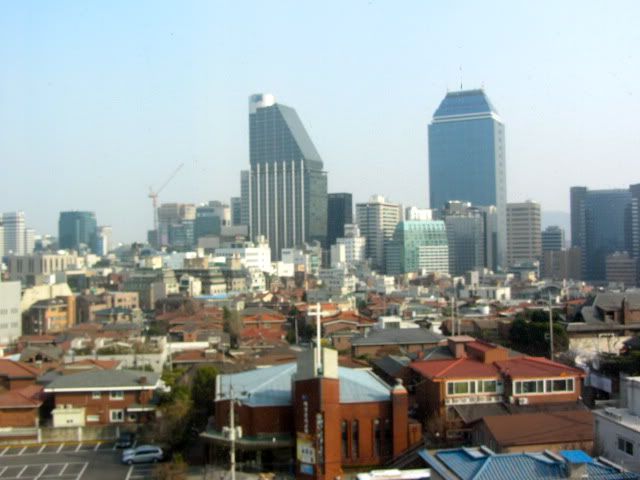 I'm really excited to see more of what Seoul has to offer tonight and tomorrow I have plans to meet up with the wife of another American player in the league, who plays here in Seoul, before we head to the game together!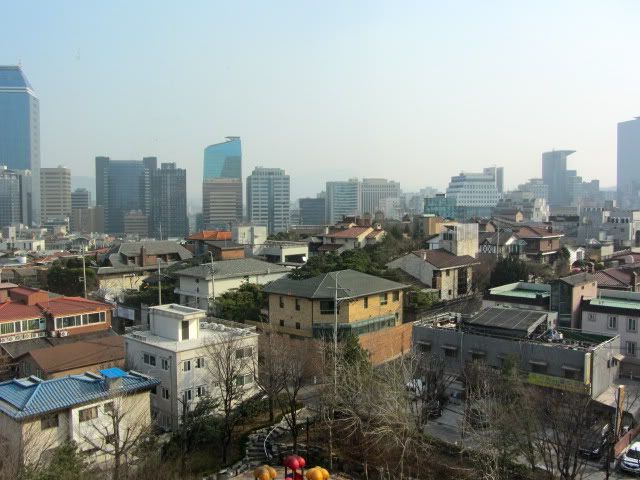 I think first on the agenda for tonight is dinner with a couple of Brian's teammates and then we shall see!
Question:
If a public restroom is absolutely disgusting and you have no other options, will you still use it? Here is where I think it is SO much easier to be a guy!