I got back to Daejeon this afternoon around noon and made the walk back to our apartment. I grabbed a quick-lunch of a bagel with peanut butter and honey and then got dressed in my Sunday best.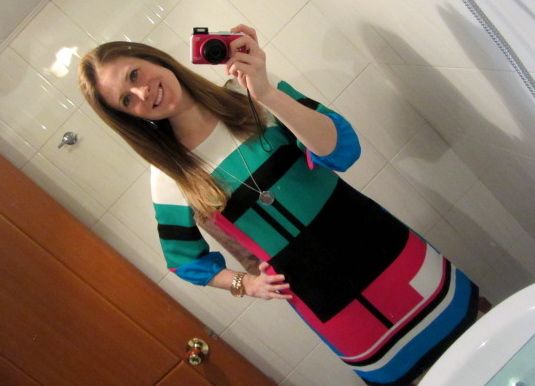 But obviously didn't take my best self-pictures.
Church
It's amazing how awesome Social Networking can be for a variety of different things and in my case today, it helped me be able to celebrate my Catholicism. After getting in touch with another local blogger here in Daejeon, she directed me to a facebook group that has been beyond helpful for Brian and I since we have joined it. One of those things was where a Catholic Church with an English mass was located.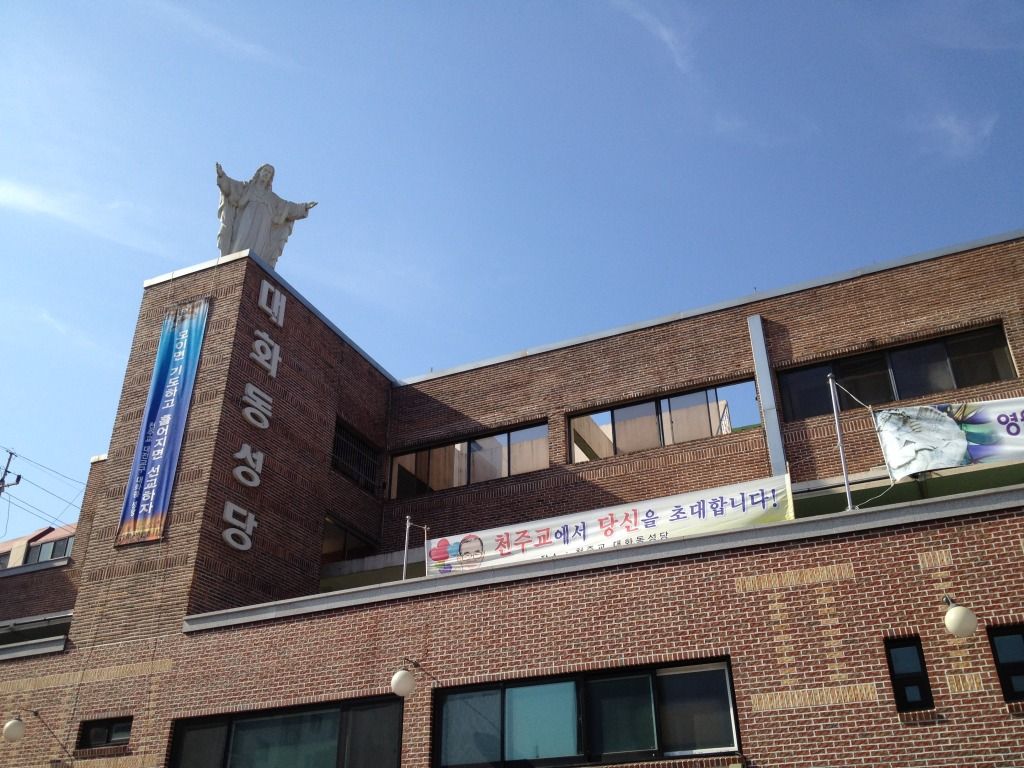 I took a taxi from our apartment to the church but the driver actually dropped me off at a different church down the road from where I was supposed to be. Luckily a friendly English-speaking Korean there helped point me towards the Catholic Church down the street.
When I entered the church, there was already a fair amount of people there and mass was getting ready to start so I grabbed the English mass hymnal and took my seat.
The hymnal included the mass in English and the different hymns played during the mass.
Special for today's mass was an insert with the Easter Sunday readings and additional songs.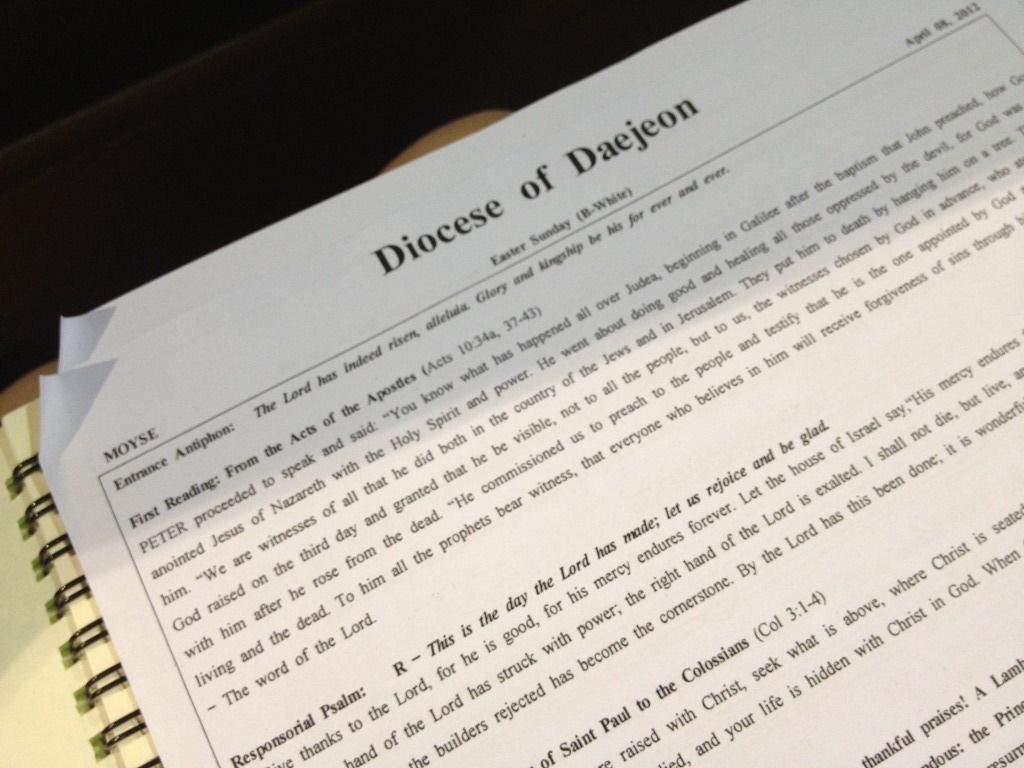 The entire service was completely in English and easy to follow along with. The priest didn't have the best English, but you could understand him and even could make out the moral in his homily.
One thing that was completely different for me was after the homily, the whole church (including the priests, readers and alter servers) started having conversations amongst themselves. I sat there quietly as I would normally in church but wasn't sure if this was time to discuss the homily with each other or what.
Also, instead of offering the sign of peace with a handshake, we bowed to one another, which is an important custom in Korea.
After mass was over, I grabbed a cab back to the apartment and hit up the market for some ice cream and other goodies since it is Easter afterall.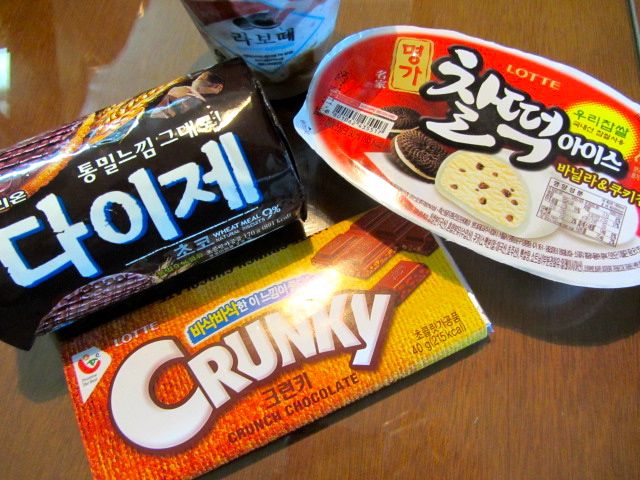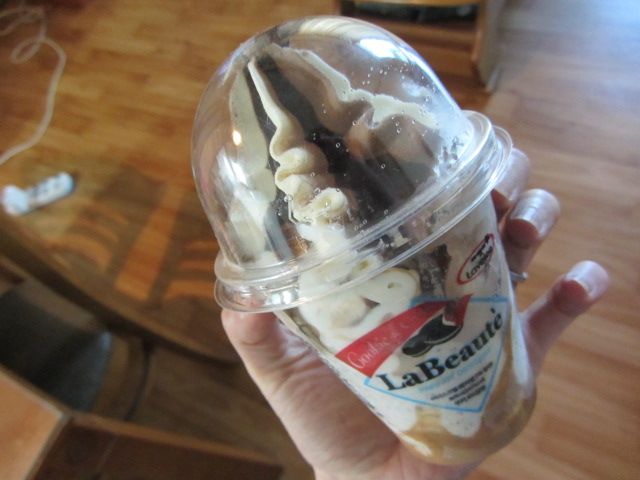 I dug right into the ice cream.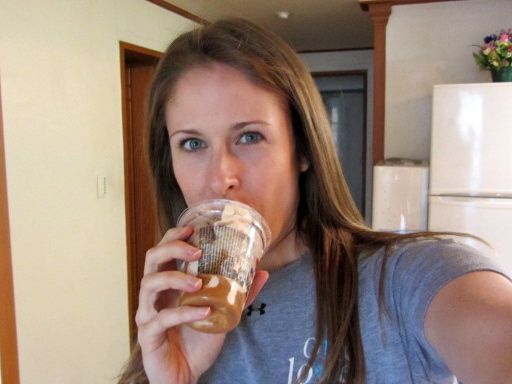 And then had to open the other ice cream treat since it was a Korean one.
It was a thin outer shell, like you find on some of their rice ball treats here.
With cookies and cream ice cream in the center.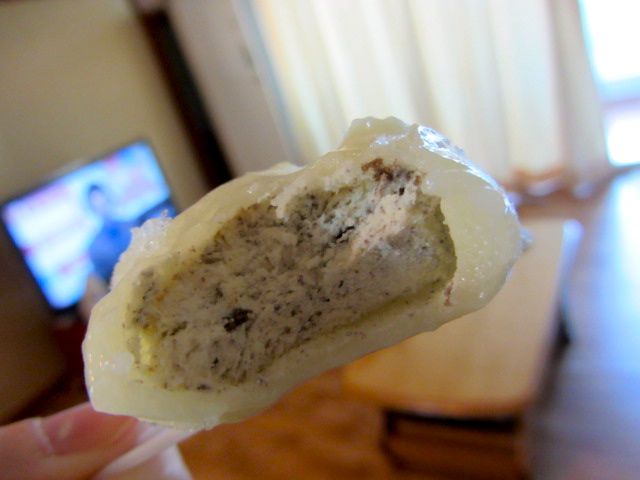 These may become a favorite of mine here!
While I was getting my sugar high on, I was also watching the Eagles second game on TV. Unfortunately they lost again to the Giants and are now 0-2 to start the season.
Dinner
Dinner tonight wasn't a traditional Easter dinner for me but it was simple to make and did the trick.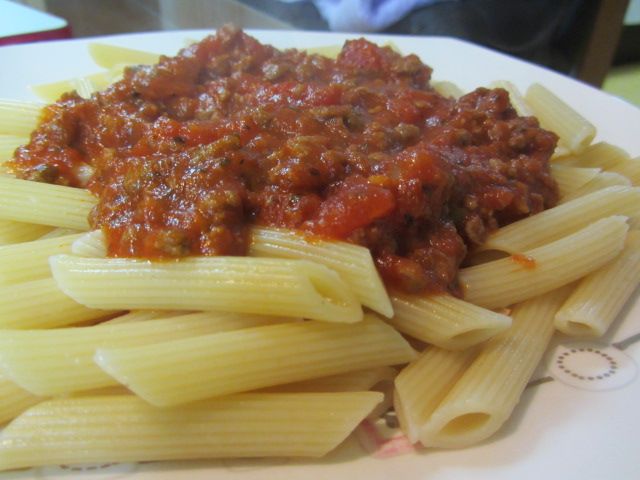 I browned a pack of ground beef and added it to a bottle of Classico pasta sauce and served it over penne pasta.
Again, not the usual ham on Easter but it was still delicious.
Now I'm waiting for my sick boy to get home. After I left Busan this morning, he had to go back to the hospital for x-rays, another IV, shots and more medicine. They tried to send him home on the KTX but all of the trains were booked so he had to wait out the game at the hotel and is on the bus ride home now.
I'm sure he is miserable being on the bus for a few hours and I hope he makes it home soon!
Question:
What is your traditional Easter dinner?
What did you give up for Lent and how did you introduce it back into your life today?