I woke up this morning motivated to do a clean sweep of my closets, dresser drawers and shoes. I literally rolled out of bed and directly into my first closet to start forming a pile of dresses that I either no longer wear or that no longer fit me followed by shoes that don't make the cut anymore.
Once I finished with the dress and shoe closet, I moved on to jackets, tops, dress pants and skirts.
Those bags don't even include what is getting purged from my dresser drawers as well and I already feel like I have narrowed my wardrobe by half its size. Guess I need to go shopping!
Breakfast
Before I finish up the rest of my rampage through my clothes, I had to take a little break for breakfast.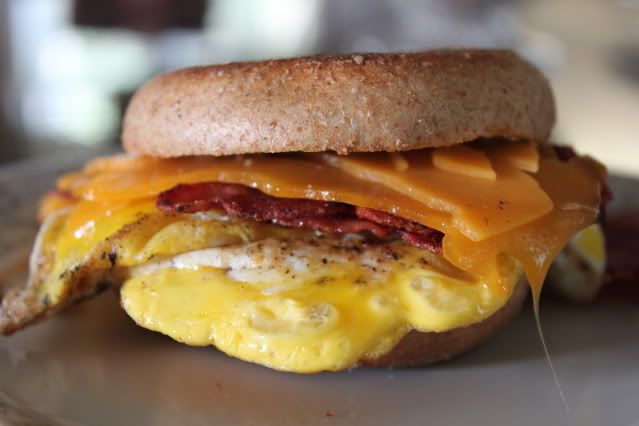 Turkey bacon, one egg and cheddar cheese all on a toasted whole wheat bagel.
I promise it was a mini bagel – I didn't have that much egg, cheese and bacon piled on your everyday sized bagel!
Off to finish cutting back on clothing in my life before finding something else to do with this beautiful Saturday.
Question:
How often do you clean out your closets?