Neither Brian nor myself got much sleep last night so a nap once we returned from the medical clinic and some lunch was definitely in order. We set our alarm for 2:00 p.m. so that we could get up and watch Opening Day on the TV in our hotel room.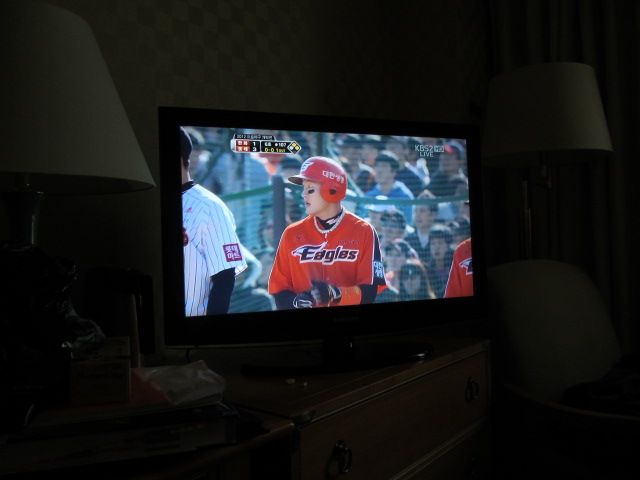 So instead of Brian watching from the dugout and me from the stands, this was our view of the game.
Unfortunately, the Eagles couldn't pull out the win and fell to the Lotte Giants 4-1 but fortunately after some rest, the IV fluids and his first round of medicine, Brian is feeling a lot better and actually looks like he has life to him!
I'm not going to the game tomorrow so that I can head back to Daejeon and get to Easter Sunday Mass, so I won't get to experience a game at Sajik Stadium until September! I miss their road trip back here in July, since I will be back in the States then. Such a bummer!
Workout
When the game was in about the 6th inning, I finally mustered up the energy to get my workout in. I set up the computer with Body Revolution, phase 2, workout 8 and got to work while keeping one eye on the game.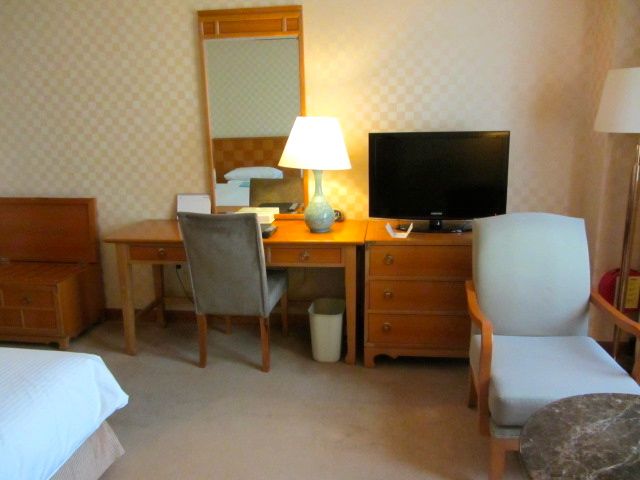 Good thing our hotel room has some extra room in it so I was able to run the Jillian Michael's version of suicides (basically just jogging back and forth with a bend of the knee to hit the floor and a quick change of direction) during the last circuit of the workout!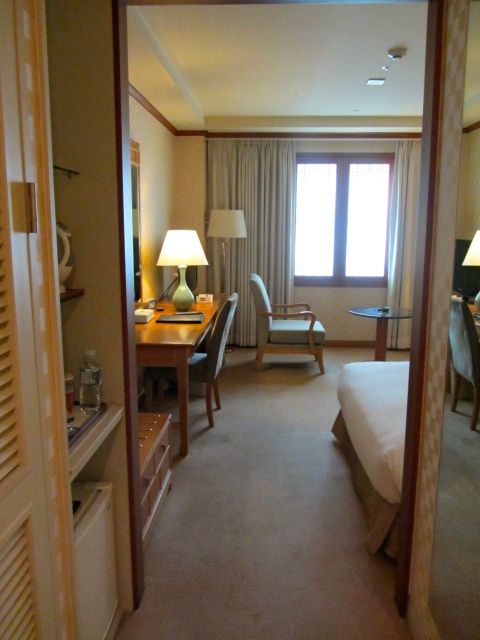 A few of the exercises call for heavier weights than what I bring on the roadtrips with me (I only bring my 5 lb. dumbbells as to not overload our suitcase) but I finally gave it some thought and was able to use my dumbbells along with Brian's 3 lb. arm weights to make 8 lbs.
If I was using both weights and needed to grasp them in my hands, I put the 3 lbs. around my wrist and held the 5 lbs.
For the one exercise using only a single weight, I simply wrapped the 3 lbs. around the 5 lb. dumbbell.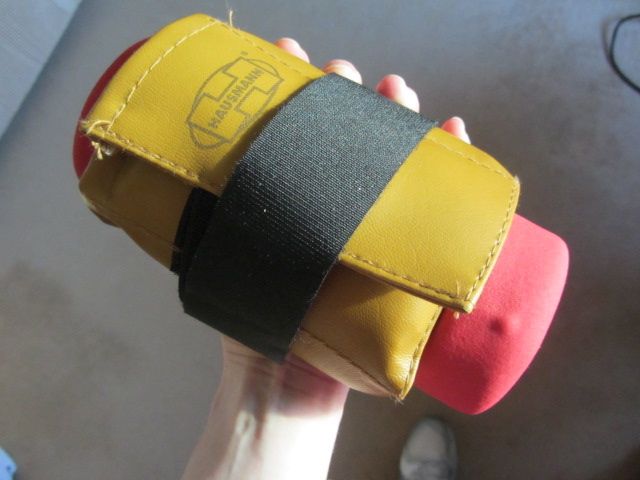 It's amazing what you can come up with limited resources!
Dinner
For dinner tonight we stuck to one of the restaurants in the hotel, Ristorante, where we also had ordered our lunch from.
Any of the meals that you ordered also came with access to their antipasti bar, fruit bar and dessert bar and let me tell you these food displays were no joke.
They offered a ton of different mixed salads.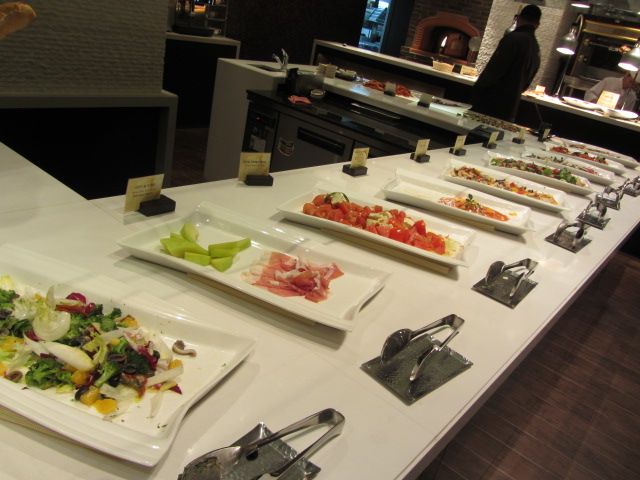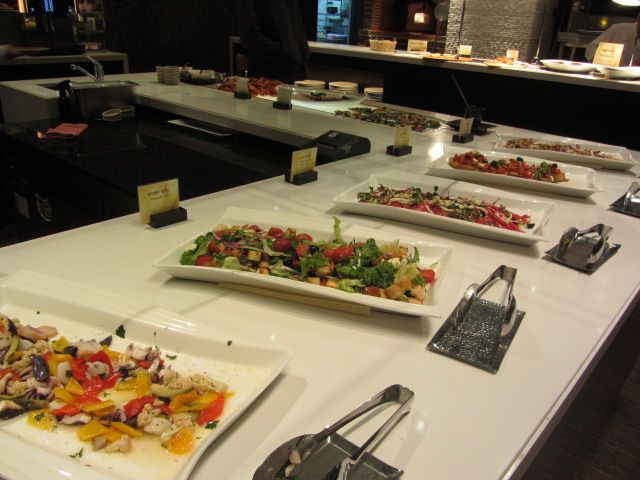 Along with a separate make your own salad bar.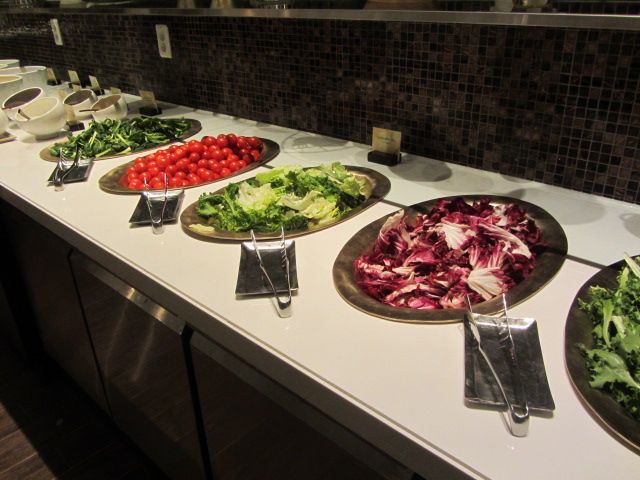 Some different fruit options.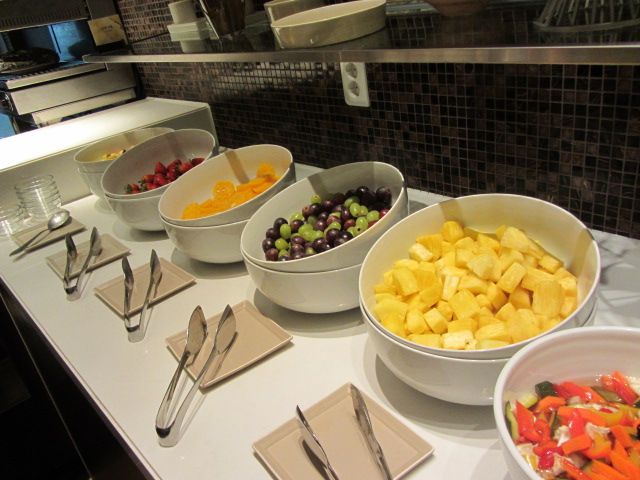 And a hot bar with different pizzas, meats and seafood stir-fry available along with a soup of the day and assorted bread options.
I wasn't shy about filling my plate up with a little of everything so that I could taste it all.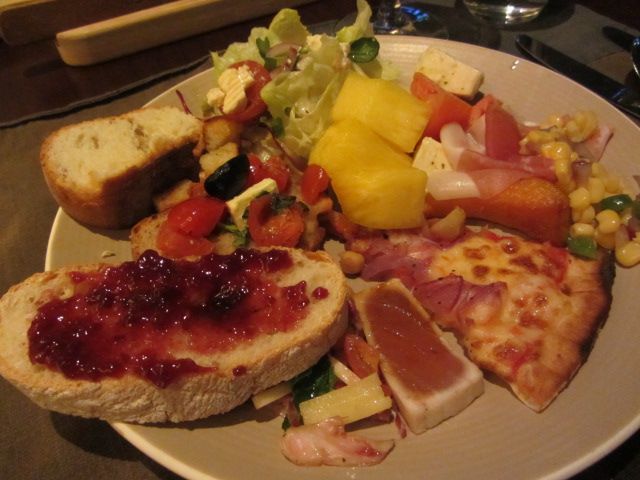 When we got back to our table from the salad bar, there was a loaf of some of the most delicious bread ever and a bottle of wine, compliments of the house.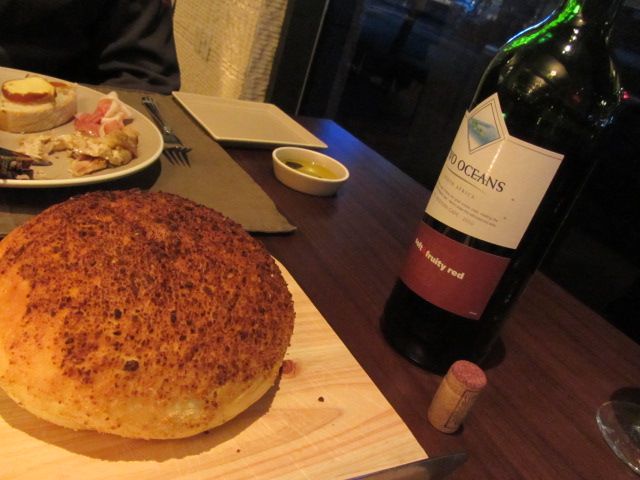 I only had a couple sips of the wine and Brian obviously passed altogether.
For my main entrée (which I didn't even need!), I ordered the pasta special for the day. Fettuccine with an Alfredo sauce with shrimp.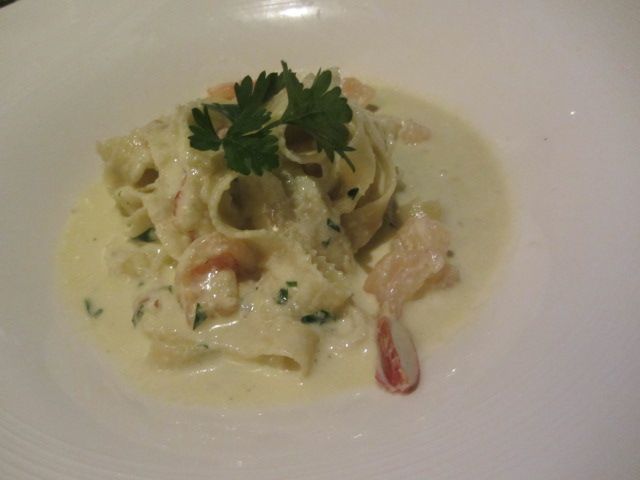 Luckily the portion size wasn't too large because I couldn't help eating almost every bite.
And how about this dessert bar?! Pistachio creme brulee, vanilla bean custard, tiramisu…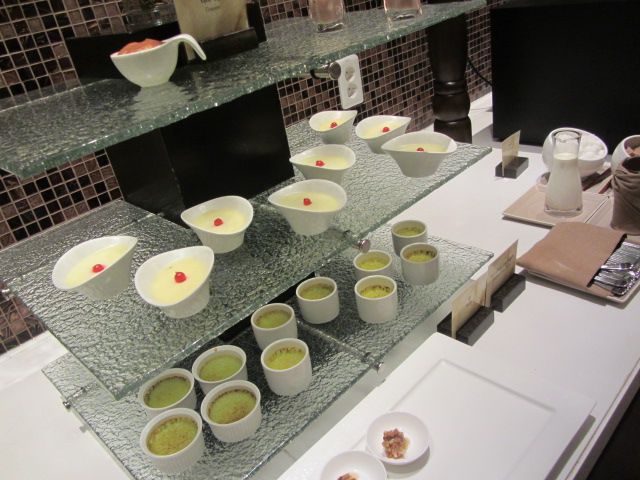 And assorted cakes, tarts, pies and macaroons!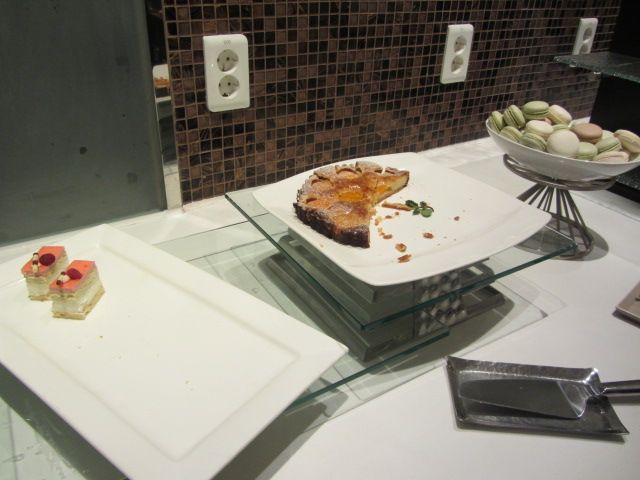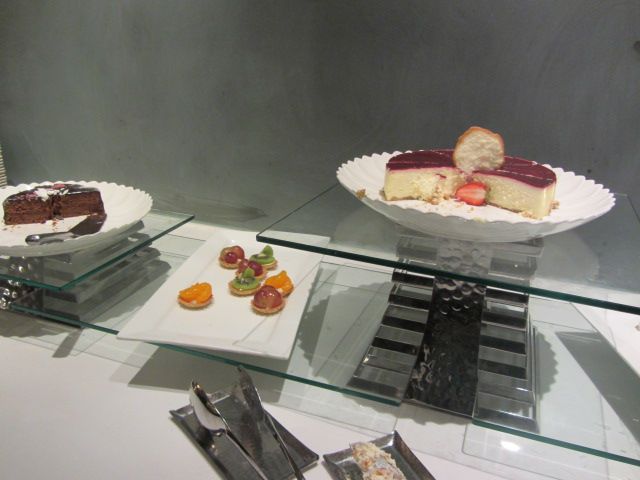 Holy Yum!
And all of that was LESS than what our lunch cost.  You can't beat that deal!
After dinner we took a walk in the hotel to try to find the hot springs that are attached but we couldn't seem to find them. All we came across was the downstairs bar and this midsection-less lady with a hole in her head and a guitar.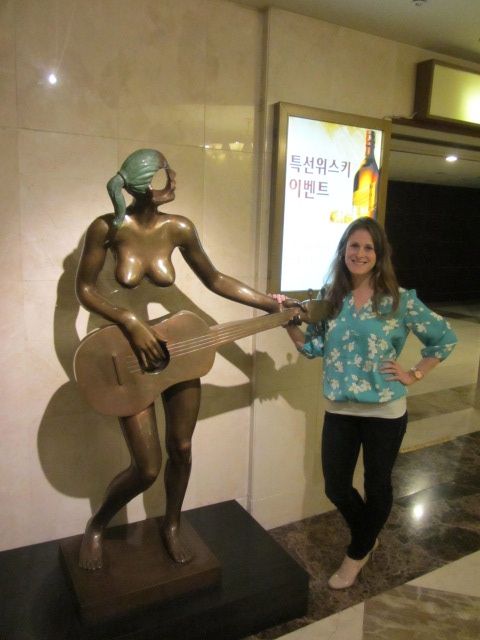 Interesting art if I do say so myself.
We both are back in the room for the night. Just that little venture out for less than an hour did a number on Brian and he definitely needs to rest up. I don't mind the early night myself either since I have an early wake up call to get part of my workout in before heading back to Daejeon on the KTX.