Remember that Peanut Butter-Fudge Cup that I let you catch a glimpse of on Thursday afternoon?  Remember how I promised the recipe would be coming soon?  Guess what?
It's here!
Last week I came across a recipe for Fudge-Berry Cupcakes in one of my many recipe emails that load my inbox on a regular basis. As soon as I scanned through the ingredients, all of which I had on hand in my kitchen, I knew it wouldn't be long until these babies were underway in my kitchen.
Of course, my mind was immediately racing with ways that I could spruce up the recipe, especially since I had a ton of berries in my fridge that I needed to find a way to clear out before leaving for two days this weekend.
Fruity (and PB) Fudge Cups
Ingredients:
1/4 cup plus 2 tbsp. Splenda Sugar Blend for Baking
1/2 cup water
3 ounces dark chocolate chunk pieces (processed in the Magic Bullet until they reached a powdery consistency)
2 egg yolks
1 tsp. vanilla
1/2 cup unsweetened cocoa powder
1/2 cup all-purpose flour
1/4 tsp. baking powder
5 egg whites
1 heaping spoonful chunky peanut butter
1 frozen banana (processed in the Magic Bullet until smooth)
3 large strawberries, chopped
large handful raspberries, chopped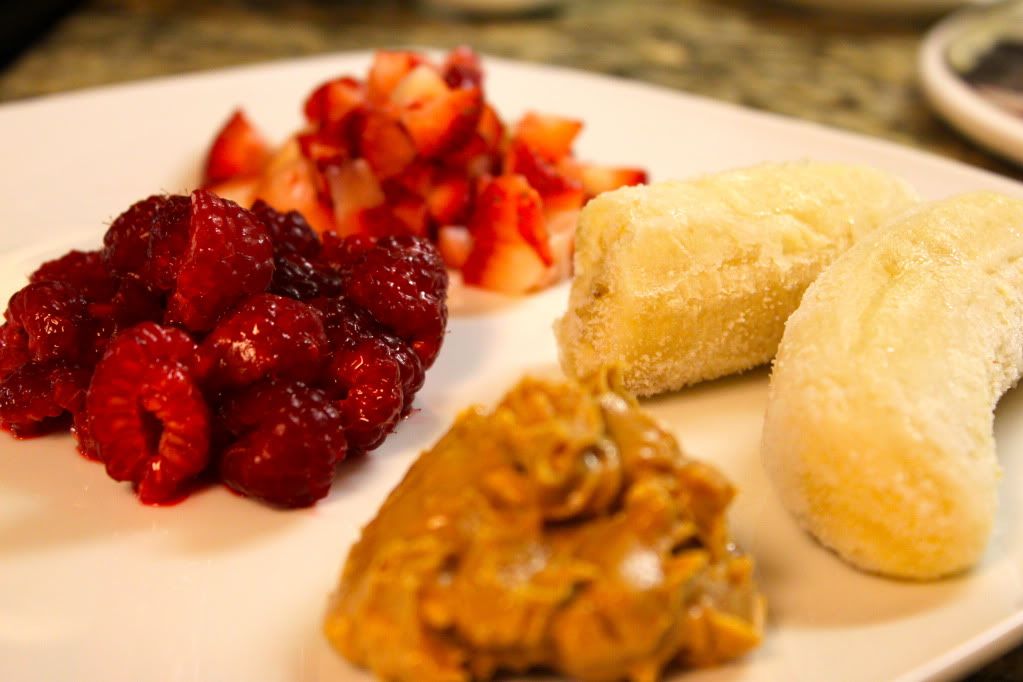 1. Preheat the oven to 350 F. Line 18 muffin cups with foil baking cups and set aside.In a medium saucepan, stir together the splenda blend and water over medium-low heat until the sugar dissolves and mixture almost reaches a boil.
2.Stir in the processed chocolate chunk pieces until melted. Remove from heat.
3. Place the egg yolks in a small bowl and gradually stir in the chocolate mixture and vanilla. Set aside.
4. In a medium bowl, stir together the flour, baking powder and cocoa power. Follow with the chocolate-egg mixture and mix until smooth (will be very thick).
5. In a large bowl, beat egg whites with an electric hand mixer until stiff peaks form.
6. Stir a small amount of the beaten egg whites into the chocolate mixture to thin it a little.
7. Fold the chocolate mixture into the remaining egg whites.
8. Divide the batter into four separate bowls and add mix-ins to each. Strawberries, raspberries, peanut butter and banana each are mixed into separate bowls (I left a little extra of the banana batter and added peanut butter to make 2 peanut butter banana fudge cakes.)
9. Fill 4 muffin cups 2/3 cups full with each batter (2 cups will be filled with the peanut butter banana mix)
10. Bake for 13-15 minutes or until tops spring back when lightly touched. The peanut butter cakes will take closer to 13 minutes, the others closer to 15 minutes.
Cool on a wire rack before topping.
I immediately tasted the different fruit varieties while they were still warm from the oven.
The banana ones were fudgy and dense.
The strawberry and raspberry ones were more cake like.
With the strawberry ones being more sweet.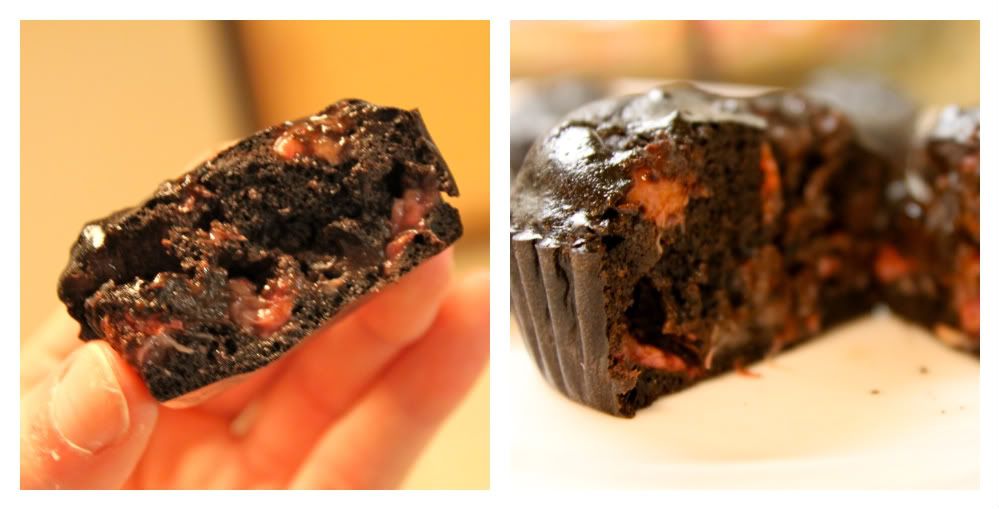 The raspberry more tangy.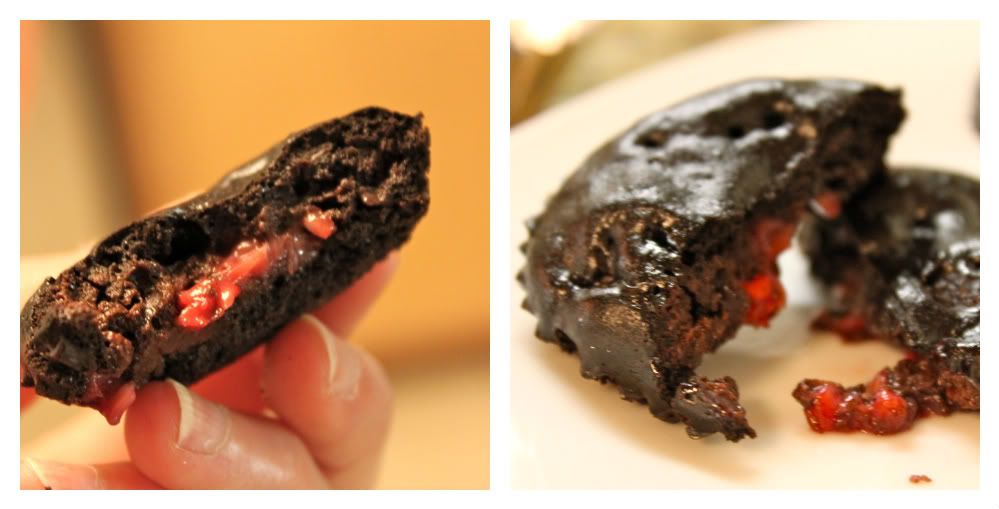 Once they were completely cool, it was time for toppings.
What better way to compliment fruit fudge cups than with cool whip and more fresh fruit?!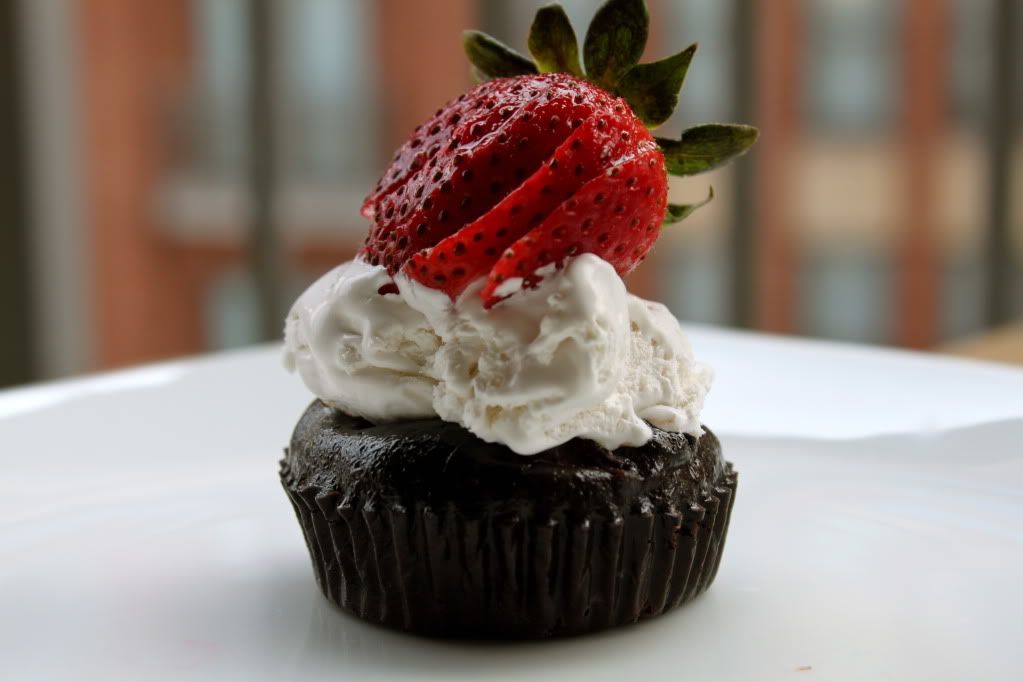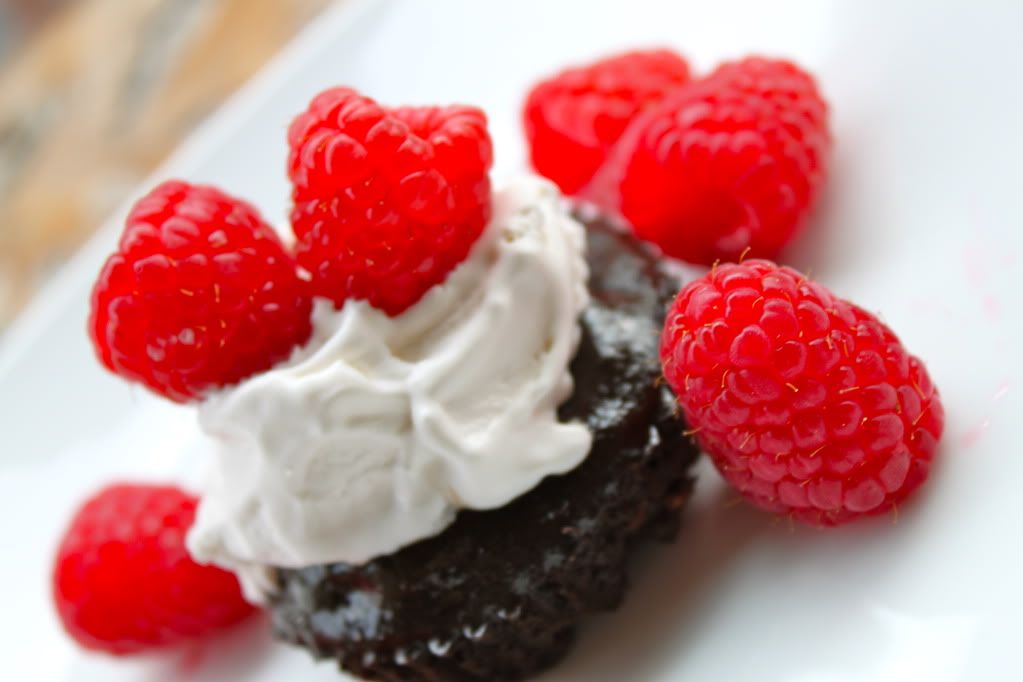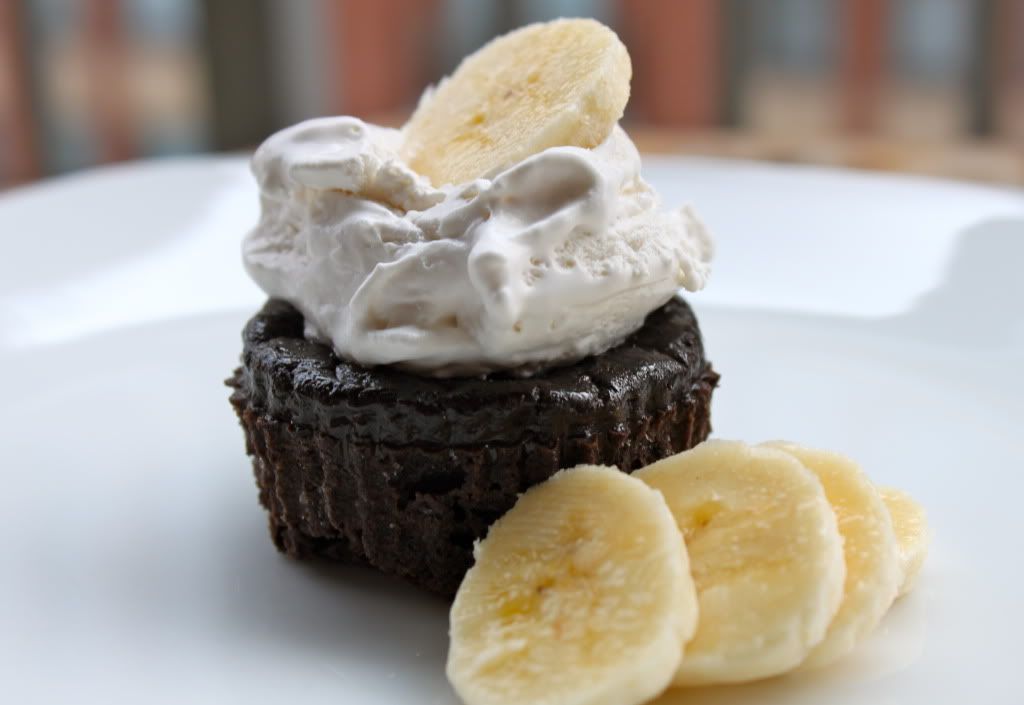 Fresh summer dessert at its finest!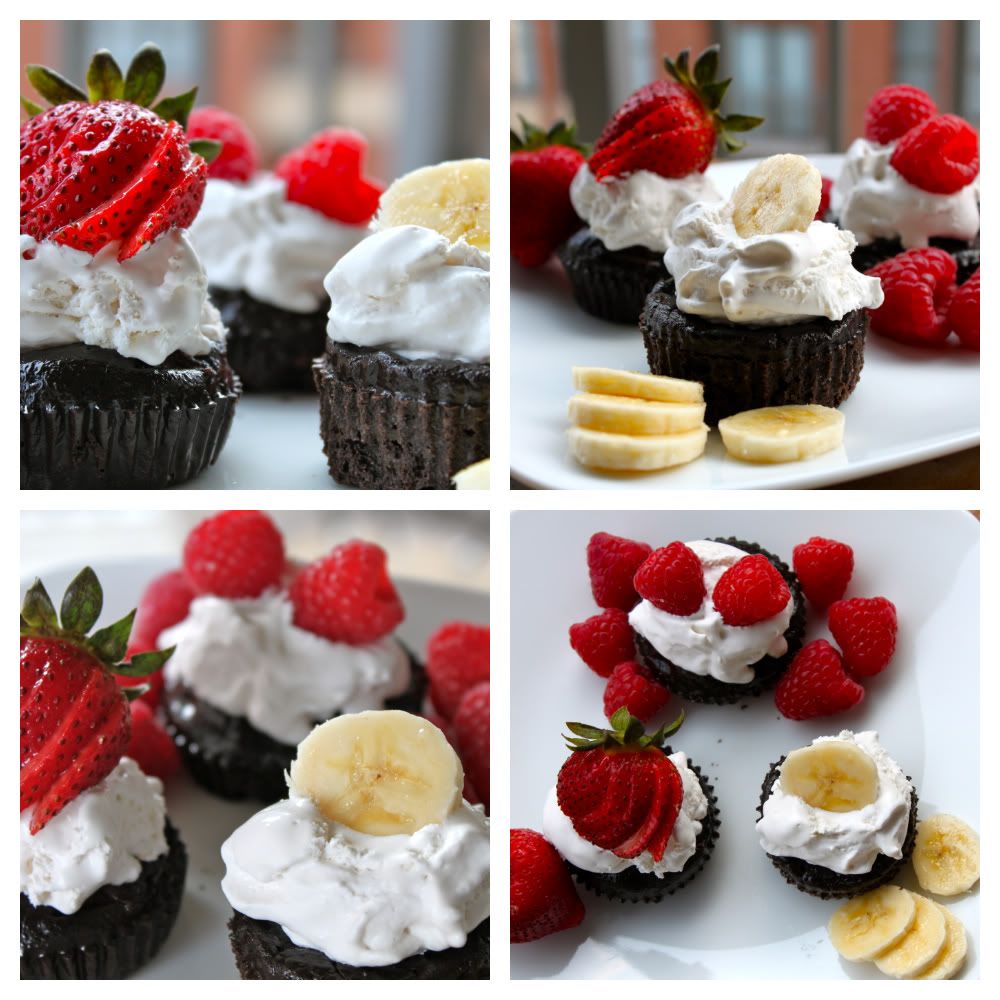 Want to know what made them even better?!
Some time in the freezer.
I had some errands to run after my baked goods photo shoot so my subject plate made its way to the freezer until it was dessert time (aka more taste testing time).
I removed the plate from the freezer and let it sit for a few minutes before I couldn't take it any longer and had to dig in.
My advice? Definitely enjoy these babies from the freezer.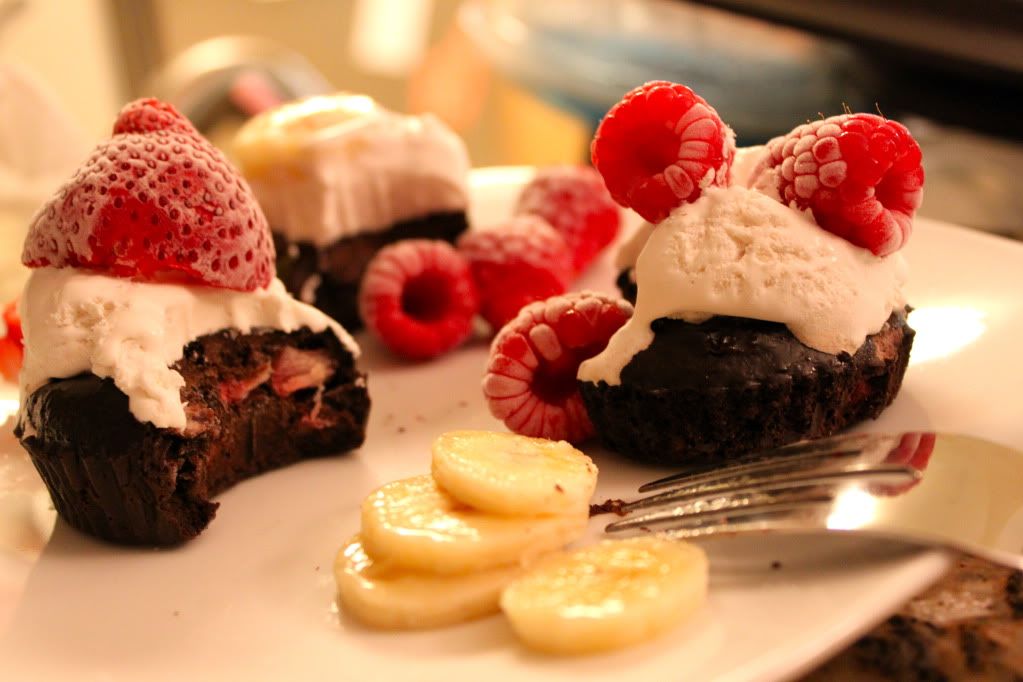 Whats better than a cold, fudgy, fruity, possibly peanut buttery treat on a hot summer day?

Nothing to my knowledge!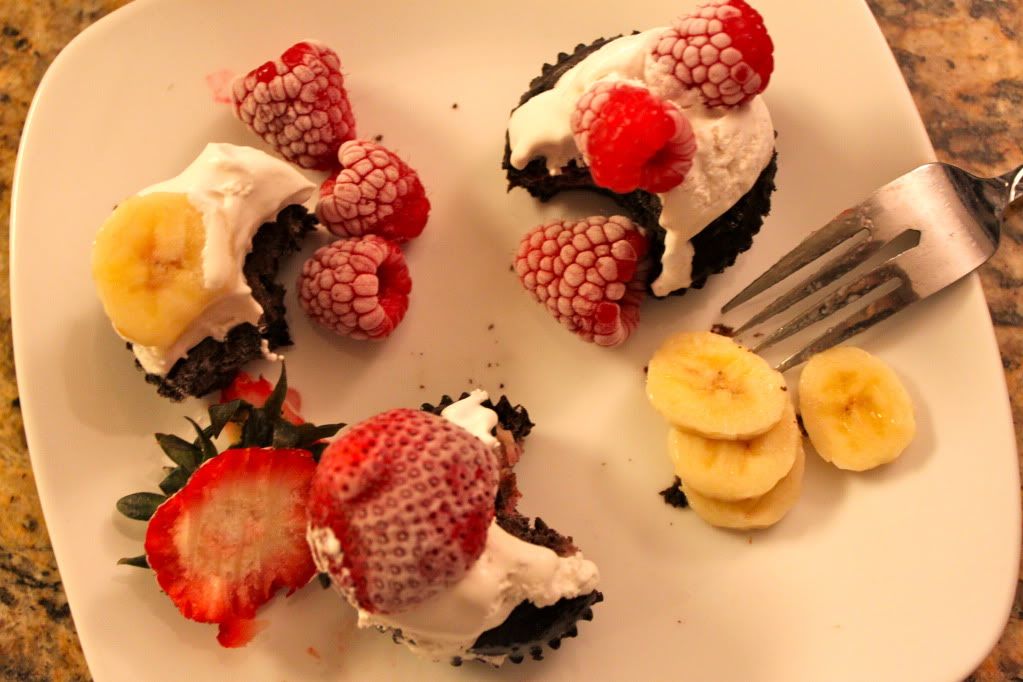 Yep, the rest of the cups can all be found carefully packaged in my freezer.
Frozen desserts coming right up!