Tonight I had a meeting with my mentor, Mandy, for Team Challenge. As many of you know, I joined Team Challenge to not only train and run the Las Vegas Half Marathon in December but to also help raise money for Crohn's and colitis research, which will hopefully lead to a cure for these diseases.
This was my first time being about to meet with Mandy and it was exciting to finally meet her (we have been exchanging emails since I signed up) and also other people on our team that she also mentors.  I think one of the best parts of Team Challenge is that they do provide a mentor for each team member and not to mention trainers that put together the training plan and lead the team practices every week. For team members running their first half marathon, having a trainer there with you step-by-step can make all the difference.
For myself, the trainers are not as much of a benefit as having a mentor to help me through the fundraising aspect of Team Challenge. I have run my fair share of races in the past and have training and what works for me pretty much down to a science. By no means am I saying I am expert and couldn't benefit from a professional trainers help but to bigger portion of Team Challenge for me is raising the money for such a good cause.
I pledged to raise $3600 dollars and I hope to be close to, if not at, my goal by re-commitment time, which is mid-October. So far I have raised $1790 by sending letters and emails to family and friends and by posting my fundraising page on facebook, LoveEatRun and twitter, and I still have many other ideas for ways to raise money to help fight Crohn's and colitis.
Having Mandy to bounce ideas off of and to help getting me started in the right direction is such a hugeee help! I'm sure I could have gotten the ball rolling on my own but the additional ideas and suggestions are making it so much easier and she is so willing to help out in any way that I may need.  Team Challenge is definitely lucky to have her on board!
Some of my ideas that I'm hoping to put into action soon are:
A "celebrity" guest bartender at a local bar
A bake sale (possibly an online one too?!)
An online raffle on LoveEatRun
Now my question(s) for all of you…
Would anyone be willing to donate baked goods to blog bake sale?
Has anyone hosted a blog bake sale or raffle in the past? I could use someone to lend some pointers to me!
I love the blogging community and how supportive everyone is of one another so I know turning to all of you will definitely lead me in the right direction…and hopefully closer to my goal of raising $3600 for Crohn's and colitis research.  I'm sending out a big THANK YOU in advance!
**If you are interested in donating to The Crohn's & Colitis Foundation of America, you can do so on my fundraising page by clicking here.**
Dinner
Before heading out to meet with Mandy tonight, Brian and I made dinner at the apartment.
We baked garlic and white wine marinated chicken breasts and I added mine on top of a salad.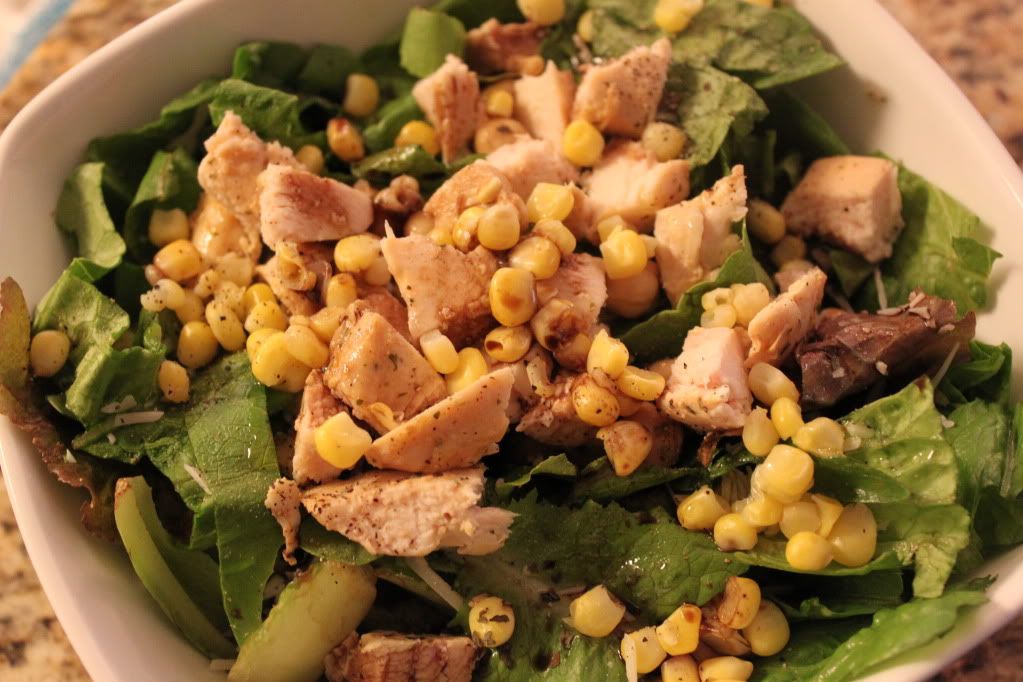 In addition to chicken, the salad was filled with chickpeas, parmesan cheese, cantaloupe, cucumbers, tomatoes and corn and topped with olive oil and balsamic vinegar.  Yum!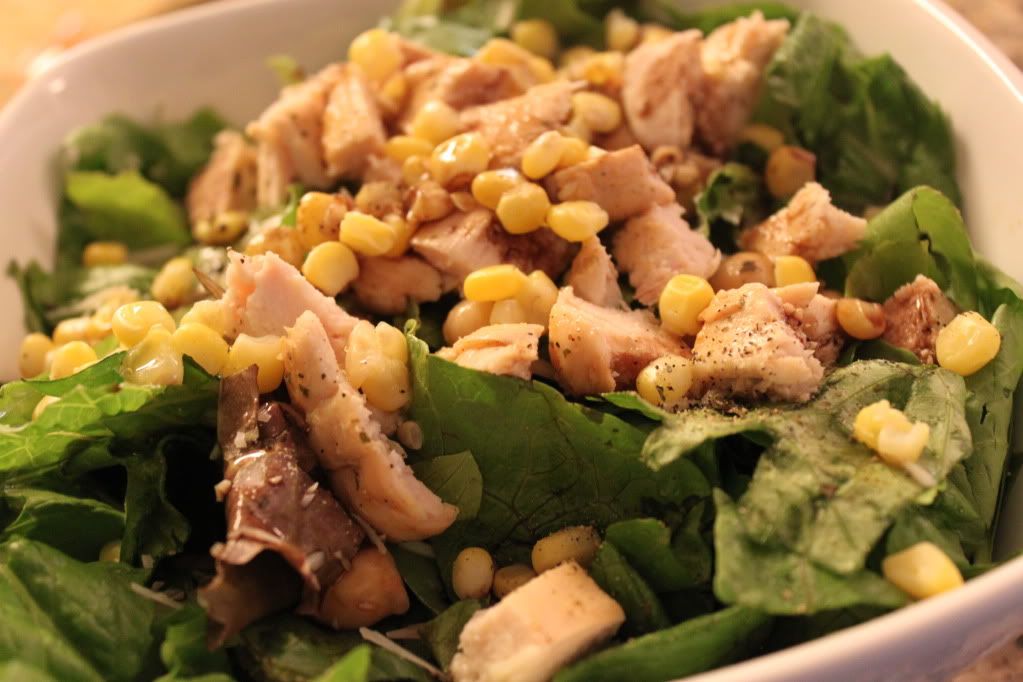 Let's not forget to add that since we made it to Towson with a little extra time to spare before the meeting, we obviously spent it getting frozen yogurt.  Can you guess which cup is mine?
If you guessed the one on the right, you win!!  Shocker too because I had about 1/3 the amount of frozen yogurt in mine than Brian had in his.  That's totally not like me.  Maybe I'm getting sick or something?!
Question:
Have you ever had to raise money for a cause? What fundraisers did you do?
Any ideas for other fundraisers I can set up to raise more money for Team Challenge?