I made it!!! After I don't know how many hours of traveling by plane and then another two hours in a cab, we are finally at our apartment and waiting on dinner (or is it breakfast for me?!) to be delivered!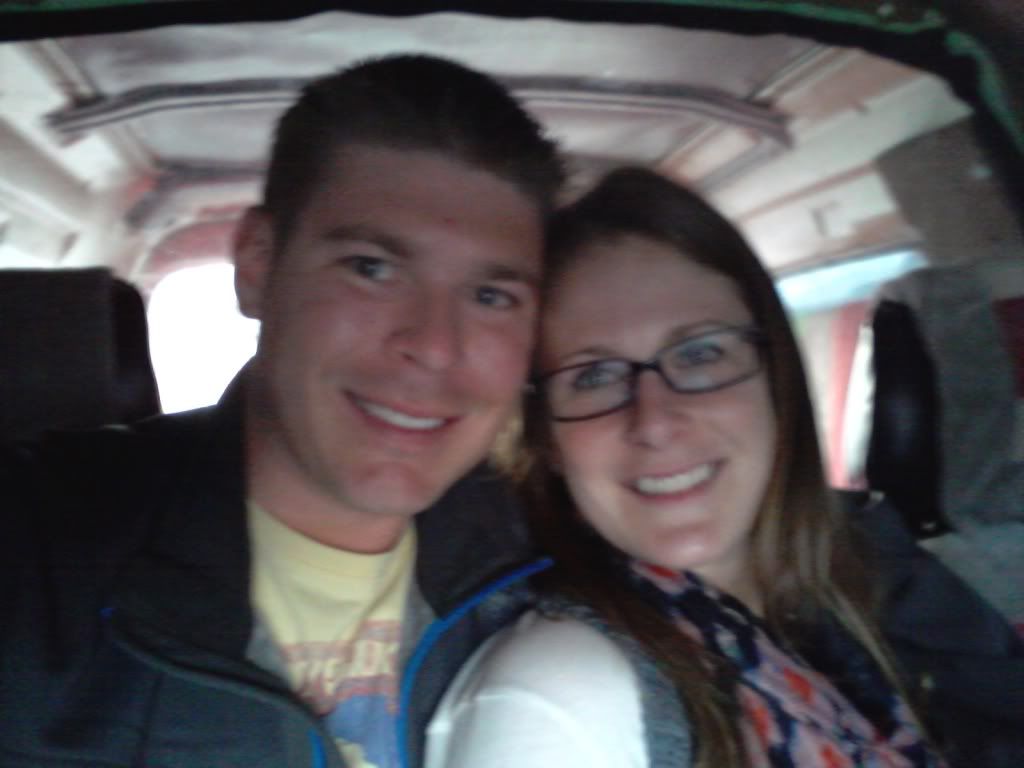 The blurriness of this picture is about how I feel right now! I can't wait to go to bed and wake up tomorrow morning to start fresh in Korea!!
Okay so now that I'm here and with Brian, lets back up to the travel…
From the time I got to Atlanta for my layover and then carrying over into my flight to South Korea, flying Prestige Class on Korean Air definitely had its perks!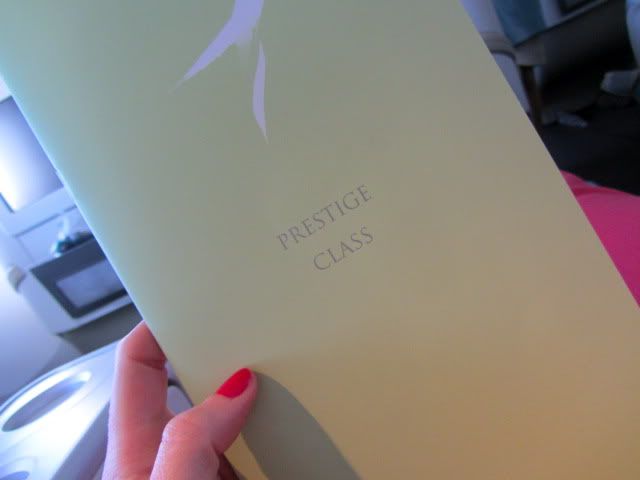 During my layover, I first went to my gate where my flight for Korea would be leaving from to check in and get my new boarding pass since my original one was issued by Delta and it needed to be changed over to Korean Air. Along with my boarding pass, I also received entry into the Delta Sky Lounge to wait out the hour plus until it was time to board.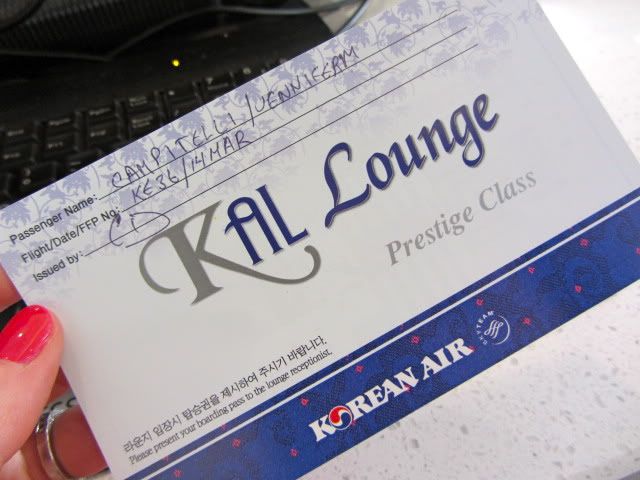 While passing the time inside the lounge, I had access to free internet on one of their desktop computers.
And could have helped myself to snacks or drinks from their full bar and food display but instead, I snacked on a Luna mint protein bar from my snack snash that I brought along.
Definitely didn't mind the extra space to spread out and relax while waiting for my flight!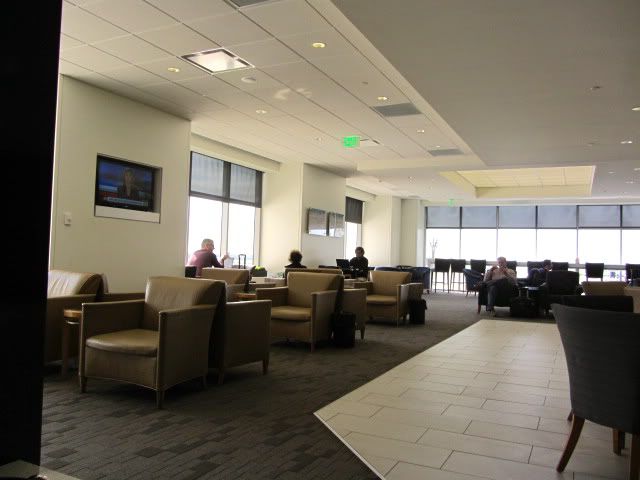 When it was getting close to boarding time, I gathered my stuff to head back to the gate and had maybe one of my most embarrassing moments ever. On my way out of the lounge, I completely lost my footing and wiped out. I went down hard. Face first and even have a battle scar on my wrist to prove it.
Awesome.
With that super cool moment behind me, I gathered my things from the ground (including my pride) and made my way back to the gate.
I waited behind the red rope like I was instructed to do and within minutes we were boarding the plane.
The seating in Prestige (a fancy word for business) Class has two seats on each side by the windows and three down the center aisle.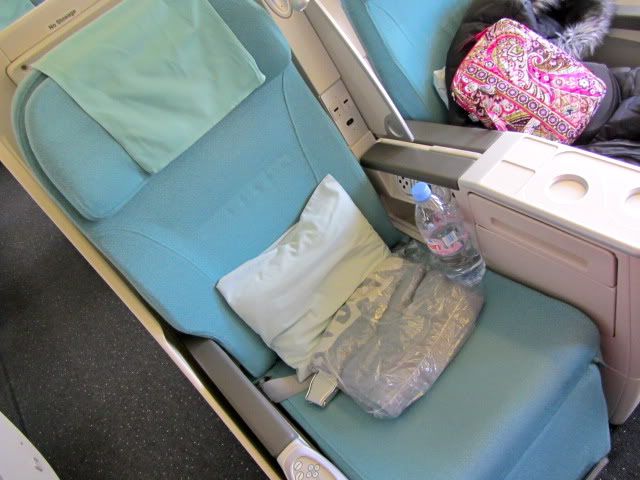 With a super high ceilings that make getting out of your seat and walking around quite easy.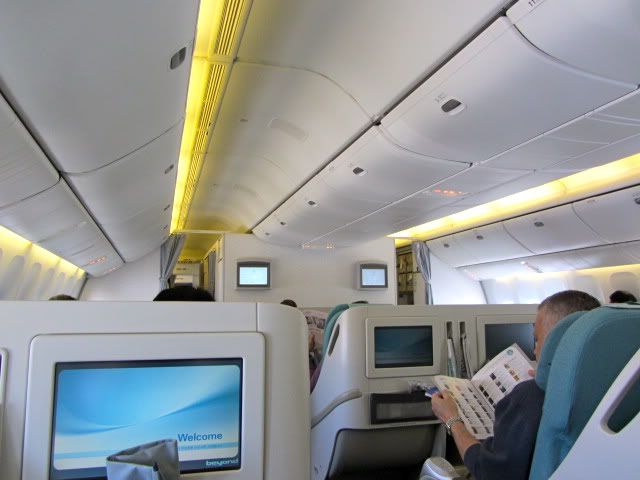 Each seat has plenty of leg room with chairs that can recline completely back along with foot rests that extended all the way up so you can essentially be lying completely flat.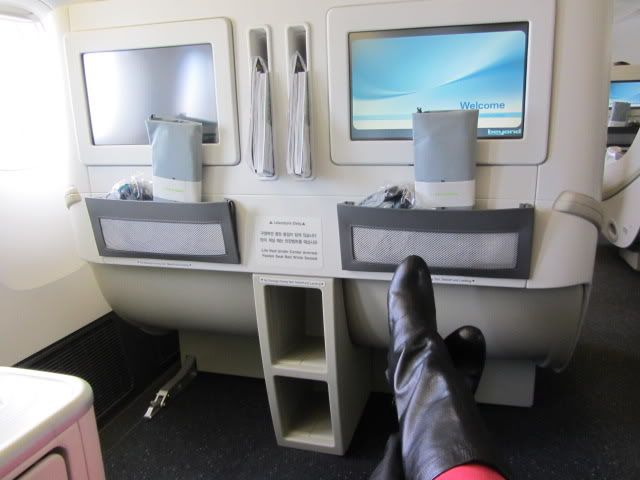 The back of each chair has a TV screen that provides a myriad of entertainment ranging from movies and TV shows to games and outside views of where we are flying from cameras located on the front of and beneath the plane.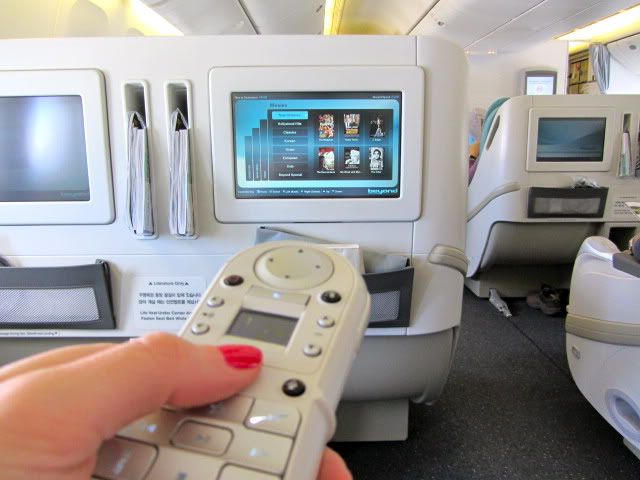 A remote is attached to each seat that you can use to select your TV options and also acts as the controller for any game selections you may want to play.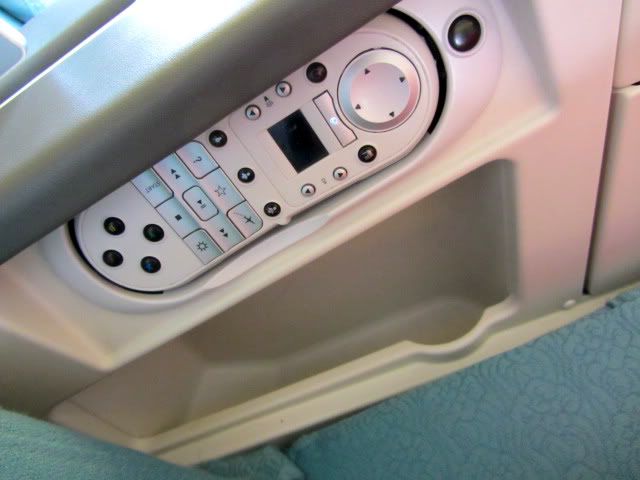 A lot of decent new release videos were even available for viewing. Such as Breaking Dawn (I noted this JUST for you Lindsey!).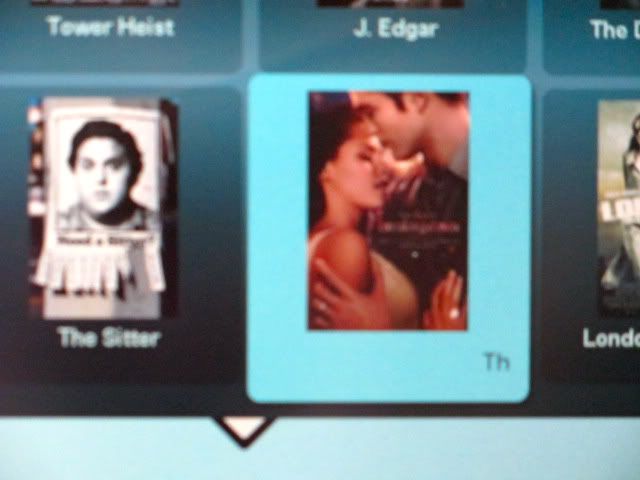 Slippers and headphones are tucked into the pouch in the seat in front of you for use along with a pillow and blanket waiting on your seat for added comfort.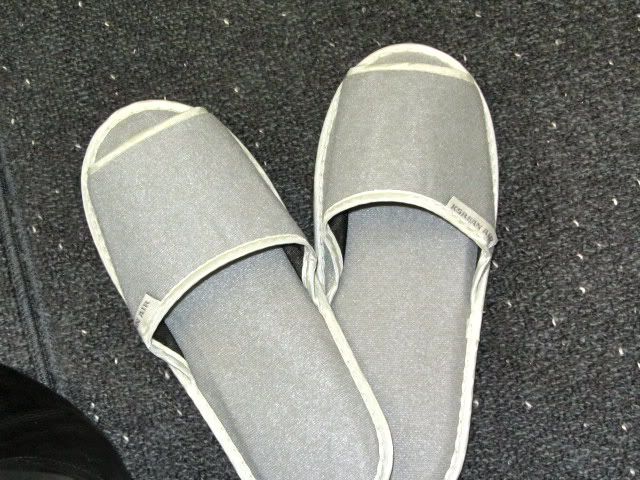 I didn't mind slipping off my boots and putting my feet up to make myself at home!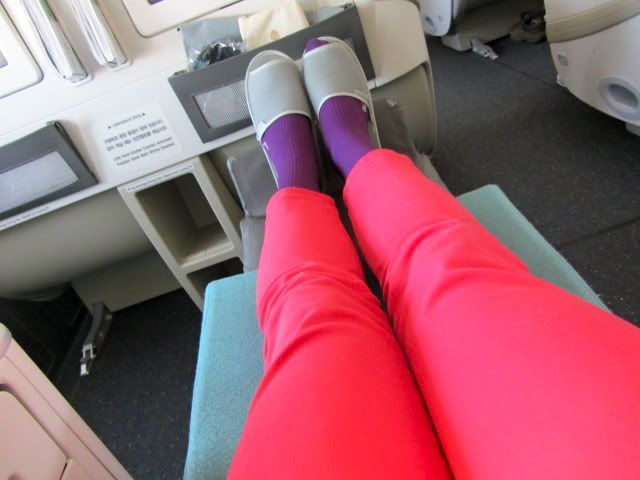 While waiting for everyone to be on-board and for the plane to be ready for departure, the flight attendants visited the patrons in prestige class with a complimentary toiletry pack featuring lotion, eye balm, a toothbrush, a comb and chapstick.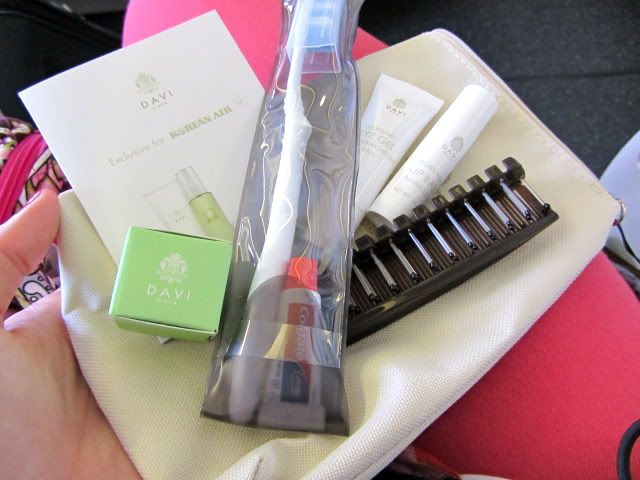 They also come by offering a choice of juice or water to enjoy in the meantime.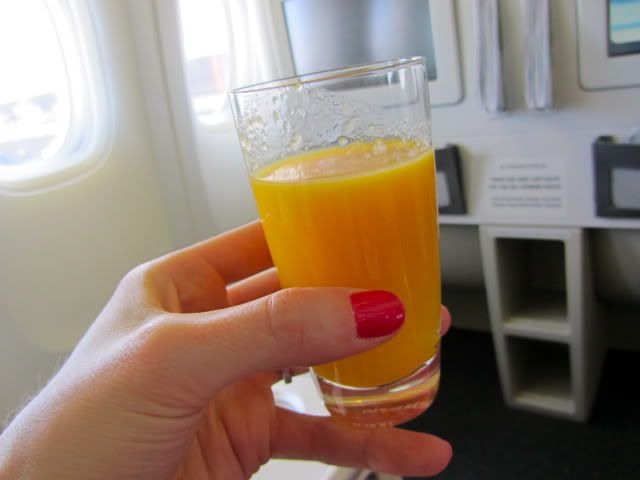 Throughout the entire trip, they continued to make various stops to see if they could offer anything else to make us comfortable including water and a moisturizing body spray.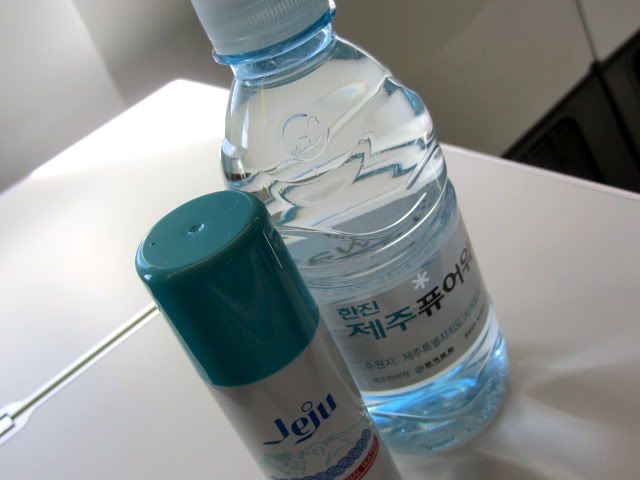 Once we were in the air and waiting for lunch to be served, I took some time to really explore the different in flight tracking options provided in the Airshow option on TV screen ahead of me.
There was the Night/Day option.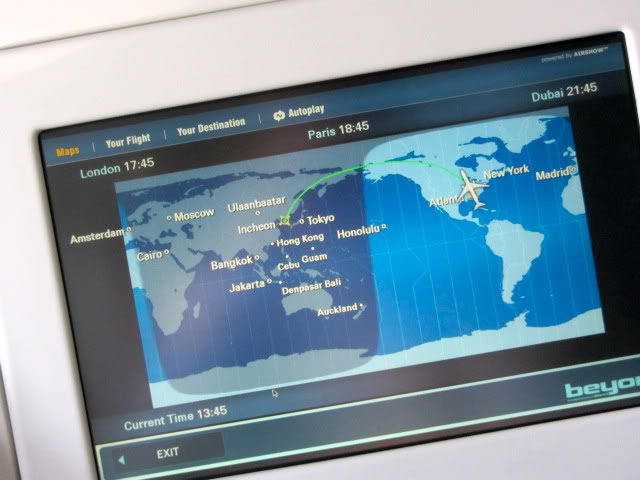 The complete flight path.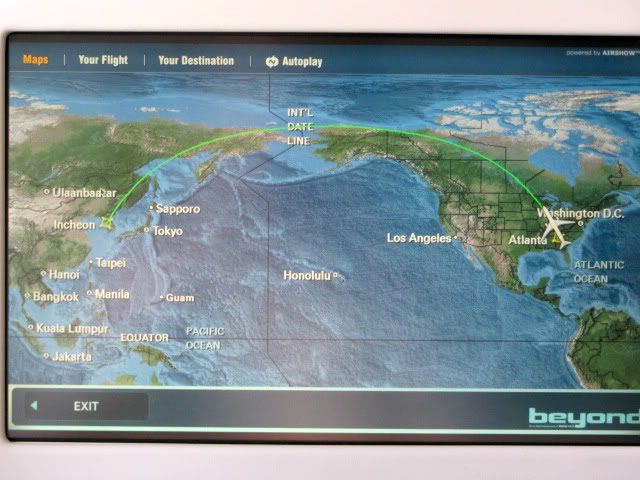 And a couple up different zoomed in shots of our current placement on our trip.
In addition, at any time during the trip, I was able to check out just how much time we had left to travel.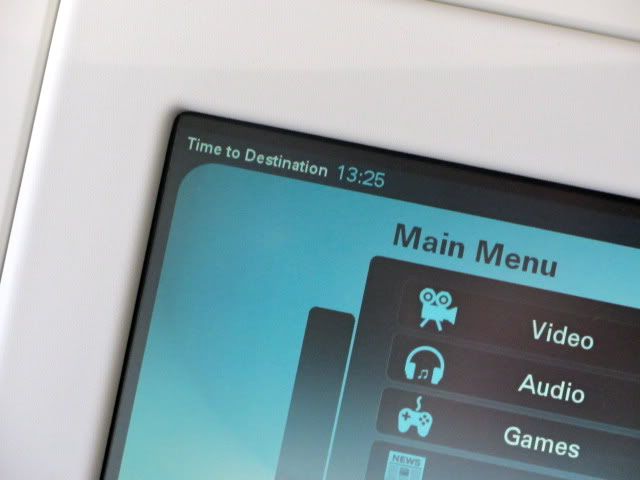 And the distance left to go.
That's a lot of my morning 5k runs, huh?!
The amenities offered on my flight by Korean Air definitely didn't disappoint. And neither did the exceptional service by the flight attendants.
Prestige Worldwide! Any Will Ferrell fans out there?!
Up next I'll share more on just what I did to entertain myself for the trip and the details on the two meals we were served!!