Once we were flying high in the skies, the flight attendants got right to taking our food orders for the flight and serving lunch.
They first came by with menus for the flight that included the options for each meal.
Lunch.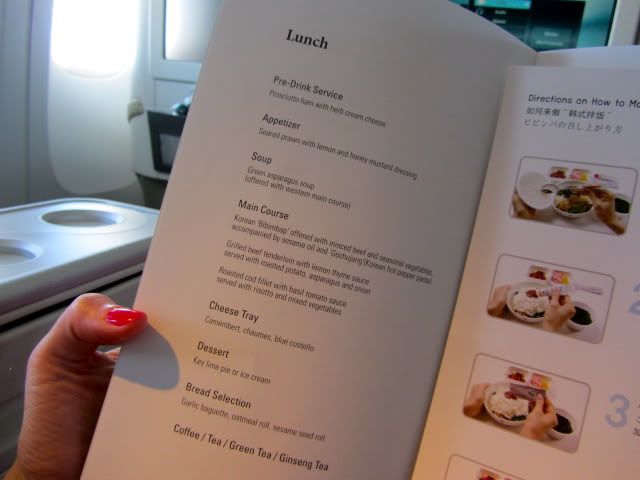 (A Bibimbap how-to was included)
And Dinner.
After they took our orders, they came back through with place mats to cover our tray tables.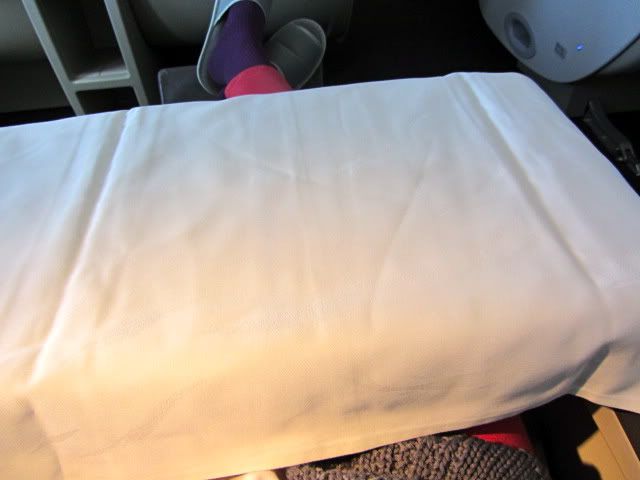 Lunch
And then came back with our first course, prosciutto wrapped cheese, and an offering of juice, wine or water.
The second course had chilled shrimp served with honey mustard sauce for dipping and an oatmeal roll.
The last precursor to lunch was a small portion of asparagus soup served with a cracker stick. This was possibly my favorite of everything offered with lunch!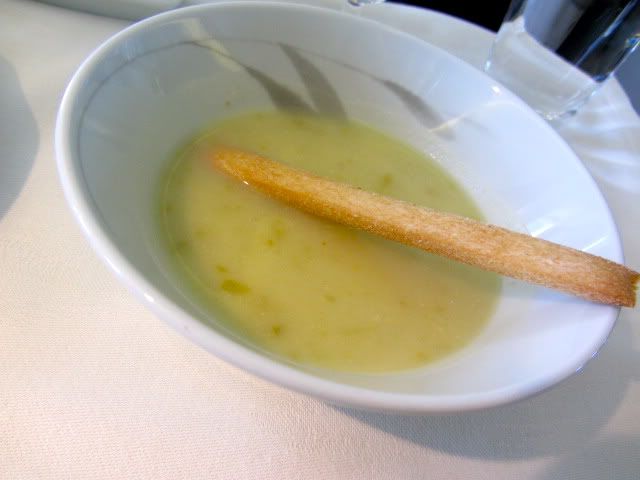 For my main course, I opted for the cod with steamed vegetables and risotto that was definitely quite tasty for airplane food!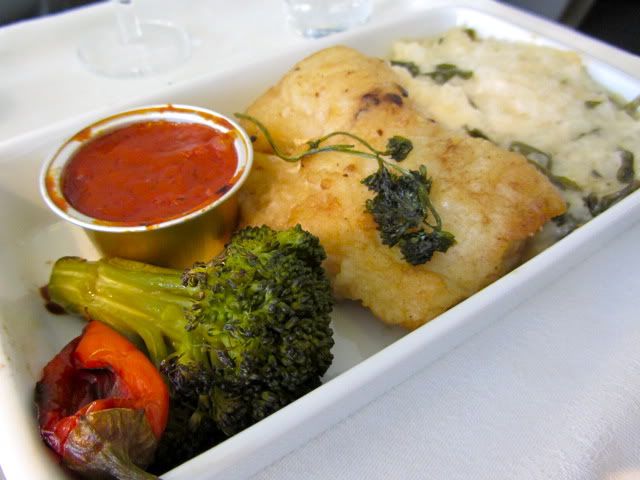 For my dessert course, I opted for some fresh grapes, even though I was tempted by the vanilla ice cream that was offered too!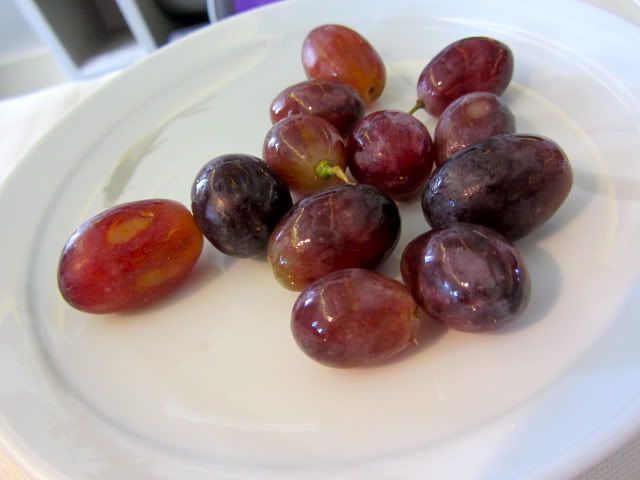 Dinner
Around 9:00 p.m. Baltimore time (10:00 a.m. Korea time) we were served dinner.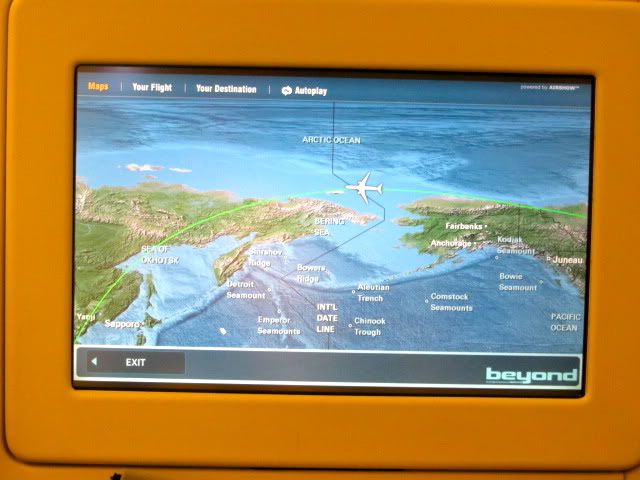 At the time we were somewhere over the Arctic Ocean!
The meal started off with a salad with mozzarella cheese and balsamic dressing.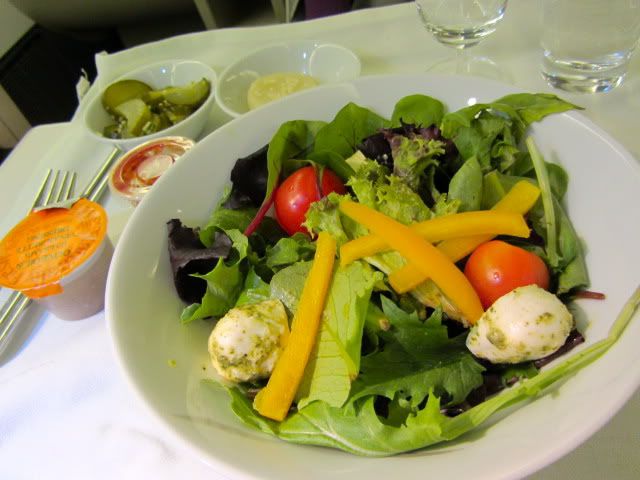 And a warm cheese roll that I devoured in about 30 seconds! Sooo good!!
For my main entrée, I got the shrimp noodle bowl and chose to eat it with my spoon and fork instead of the chop sticks like others around me!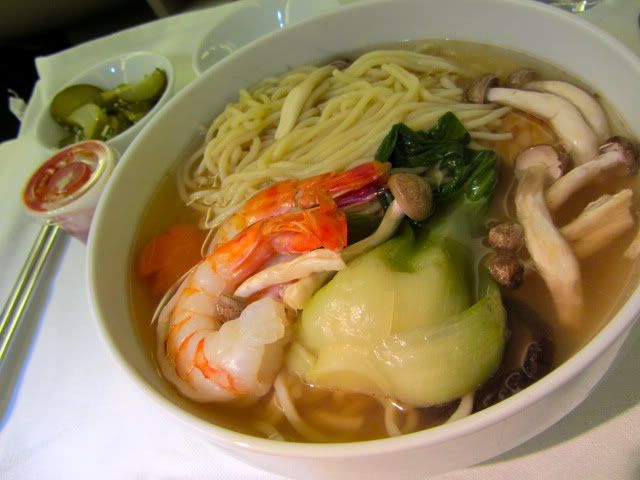 For dessert, we were served a plate of fresh fruit.
Instead of passing on the coffee and tea after this meal, I enjoyed sipping on some hot green tea.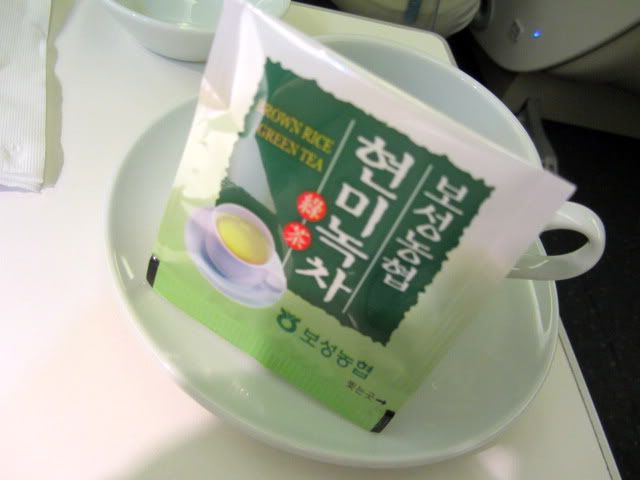 Everything was served in glasses and on real plates as well. All labeled with Korean Air, I may add!
Throughout the flight other snacks were offered such as peanuts, brownies and warm cookies! I opted out of the peanuts, got a brownie just in case I was in dire need of something sweet before the end of the flight and apparently I was asleep for the service of the cookies. Womp Womp!
Later, the last travel recap giving the details on just how I entertained myself for 15 hours in the air!