The next guest post up for your enjoyment is from Holly at Greek Yogurt and Apple Slices. Not only does Holly have a blog that provides killer workouts and amazing recipes but she also is a huge Orioles and Ravens fan (even though she currently lives in Florida) and you know that ranks her high in my book! In addition to everything else that her blog has to offer, I always enjoy seeing what new recipes Holly is coming up with and I'm so happy that she has provided one here for you all today!
As many of you already know, in December I am running the Las Vegas half marathon with Team Challenge for Crohn's and colitis research and one thing that makes it even more special for me is that Holly suffers from Crohn's Disease so in a way, my efforts are hopefully going to help to impact her life one day too! I only wish that she was able to run this year's race along with me!!
So with no further rambling from me…here's Holly!
***************************************
Good Morning Love Eat Run Readers!!
First things first, I have to wish Jenny GOOD LUCK on her marathon this weekend!!
I have read her blog for a while, and we both share some similar interests including running, ice cream & love of the Baltimore Orioles & Ravens!! I am so happy that she asked me to do a guest post for her while she tackles this marathon.
~~~~~~~~~~~~~~~~~~~~~~~~~~~~~~~~~~~~~~~
I am Holly & blog over at Greek Yogurt & Apple Slices.  I blog about life as a newlywed (just got married on May 27th this year
), living with Crohn's Disease, exercise, & delicious food!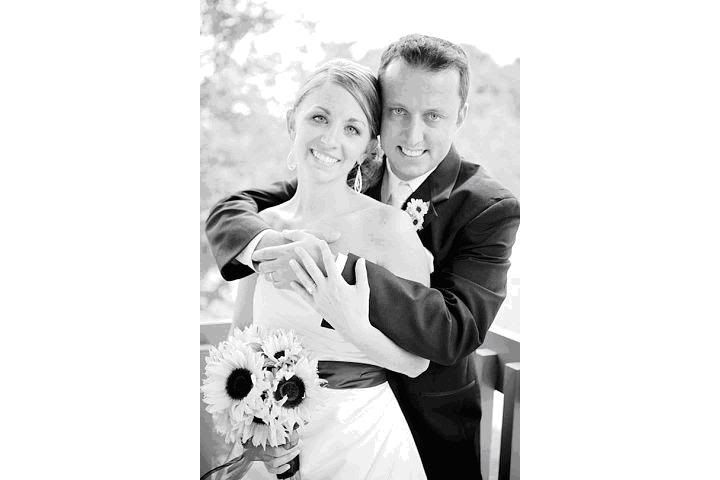 Oh, and just so you know how big of Ravens freaks we are here is the top of our wedding cake: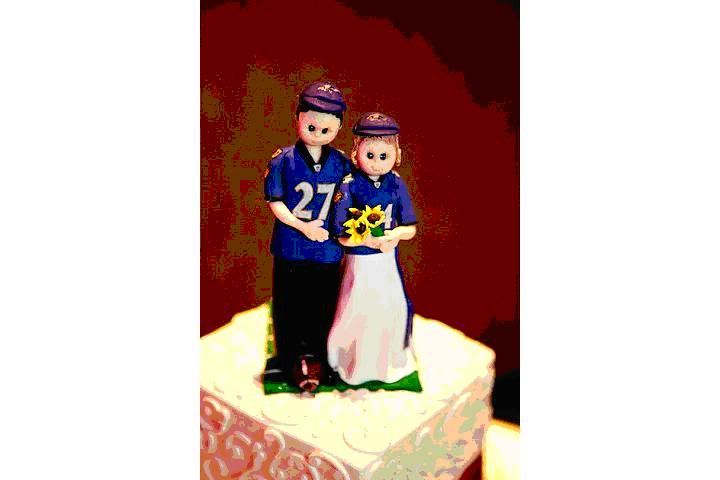 They are the jerseys that we were wearing when we got engaged. (#27- Ray Rice & #74 Michael Oher) Craig proposed to me on Ravens field before their first game last year.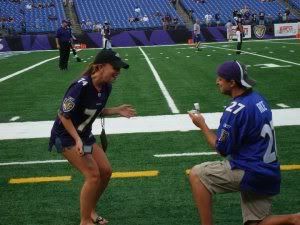 I figured that was just a sign that we needed to have our whole wedding in black & purple, which is what we did.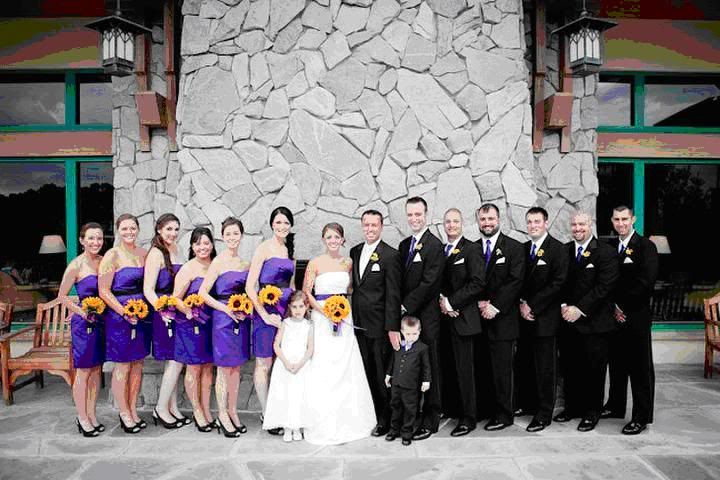 Told ya…we really are freaks
Besides being completely obsessed with the Ravens, I really do have other hobbies like cooking & baking! (Unless it's on Sunday, then I just plant myself on the couch & watch football all day
)
One of the BEST purchases that I have EVER made for the kitchen was a donut pan! I actually bought it on Amazon after seeing it on a few other blogs & I am SO glad that I did. It was well worth the $10! (yes, really ONLY $10!!)
After buying this pan, I cannot get away from making a TON of donuts. I swear every weekend I'm in the kitchen trying to come up with a new donut recipe. Thank goodness we have co-workers that love donuts, otherwise Craig & I might just turn into a donut
)
Today I thought I would share with you my favorite donut recipe to date! Baked Funfetti donuts!! I also have a few other donut recipes that you can find on my blog, under the recipes tab.
I hope you enjoy these donuts as much as I did..and if you don't have a donut pan yet, I hope this recipe convinces you to buy one.
Baked Funfetti Cake Batter Doughnuts
(slightly adapted from this recipe)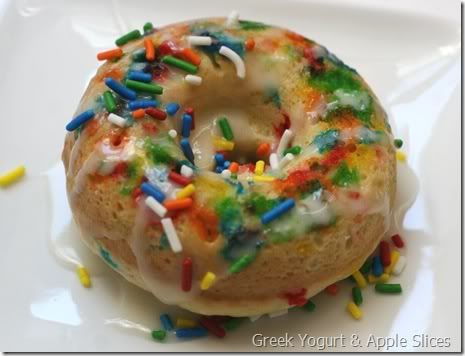 Donuts:
2 cups Funfetti Cake Mix
3/4 cup cake flour
1/4 cup sugar
1/2 teaspoon baking powder
1/2 teaspoon salt
1/2 cup egg beaters (or any other egg substitute)
3/4 cup unsweetened almond milk with 1 tbsp. lemon or lime juice mixed in (let sit for about 5 minutes after mixing together)
3 Tablespoons butter, melted
2 teaspoons vanilla extract
Glaze:
1/2 cup powdered sugar
1 tbsp. unsweetened almond milk
Preparation:
1. In a large bowl, whisk together the Funfetti cake mix, cake flour, sugar, baking powder and salt.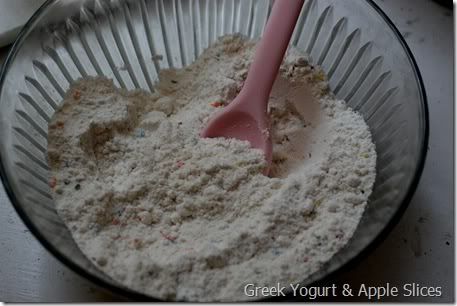 2. Add in the egg substitute, almond milk + lemon/ lime juice mixture, melted butter and vanilla extract. Mix with a spatula. There will be some lumps in the batter, don't worry. Do not over mix!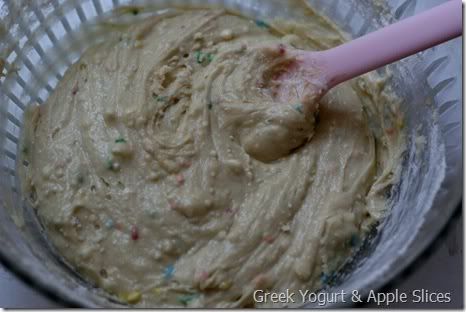 3. Spray a doughnut pan with nonstick spray. Drop a few sprinkles into each of the doughnut hole molds.
4. Fill a large ziplock bag (or pastry bag, I just don't have one) with the doughnut batter. Fill the doughnut pan with the batter. When filling the doughnuts, do not fill each one up too much.
5. Bake at 375 degrees F for 10 minutes. The doughnuts may look like they're not done but they are, so don't worry!
Take the doughnuts out of the pan and cool them completely on a cooling rack.
Once cooled, mix the powdered sugar & unsweetened almond milk together. Stir until there are no more lumps in the mixture. (you may need to add more milk to it; it will just depend on the consistency) Once you have the consistency that you like, drizzle the glaze over the donuts & top with tons of more sprinkles.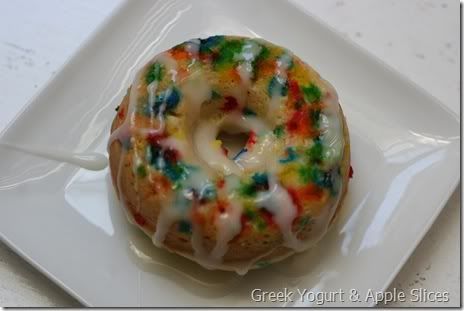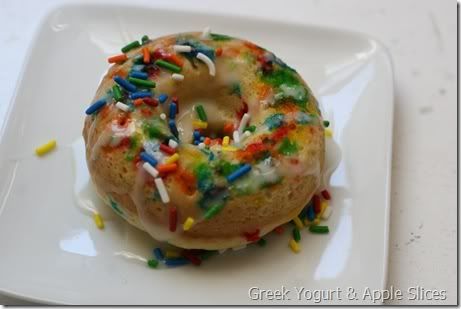 Then try to eat just one…I dare you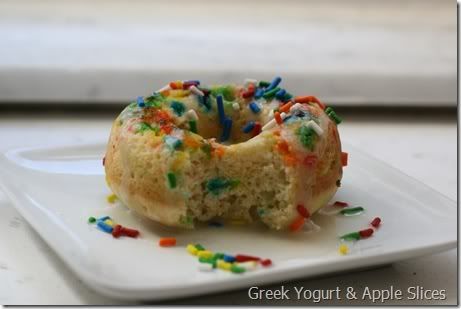 These are so delicious & they are really festive, perfect for a birthday morning breakfast. 
Well, I hope that you have a great weekend..and that you root for the Ravens to win!
Thanks again Jenny for the opportunity to 'invade' your blog for the day!