Today's guest post comes from Jordan, a local Baltimore LoveEatRun follower who has experimented with blog writing herself and is looking to get back into it once her college lifestyle allows her more freedom to do so.
She's put together two healthy eating options for fellow Baltimore residents as well anyone with access to the beloved Whole Foods!
***********************************
Hello Jenny's Followers!!
When Jenny asked me to write a guest post, I already knew exactly what I could write about, FOOD! While I love fitness & running – I am way more obsessed with good snack and restaurant finds. So, for those of you from Baltimore – I'm going be telling you my favorite healthy café find and for those of you that are not, my favorite grocery store find.
Eating healthy has two challenges: taste and variety. People either do not enjoy the way "diet" or "healthier" foods taste OR they get bored of the same foods. This is why it is so imperative to be aware of all the healthy options that exist when you go out to eat, or when you eat at home.
FAVORITE CHARM CITY FIND: ONE WORLD CAFÉ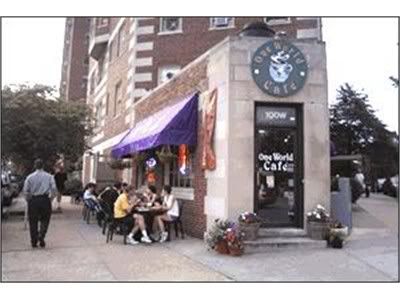 This Charles Village gem is absolutely wonderful. I have come time and time again and it has never failed me. This would be a vegetarian's heaven. But – my favorite part about it is EVERYONE will find something they love. My boyfriend, who is not so healthy, loves this place. In my experience, some organic and natural cafes are too "out there and hippie" to bring your friends but this place will satisfy all.
FAVORITE WHOLE FOODS FINE: ARCTIC ZERO ICECREAM
For those who do not live in Baltimore and will not be able to enjoy One World, you can enjoy arctic zero. Arctic Zero is sold all over the country. It is by far MY FAVORITE THING EVER. It is 150 calorie a pint ice cream. Yes, I said it; only 150 calories for THE WHOLE PINT. I don't know about you, but I can easily eat a pint of ice cream in one sitting. This is my favorite guilt free treat!! You have to find the right preparation technique. Since it made of a protein powder – it is very hard when taken right out of the freezer. Microwave (I know sounds weird) for about 20 seconds and it will be ready to go!!
Enjoy!