Tonight's dinner was something that literally was thrown together with a little of this leftover and a little of that leftover along with some frozen beef cubes from a previous stew that I made. I wasn't quite sure if the final result of this crockpot collection was going to be a soup or a stew when I started, but the outcome was just about the perfect hearty stew.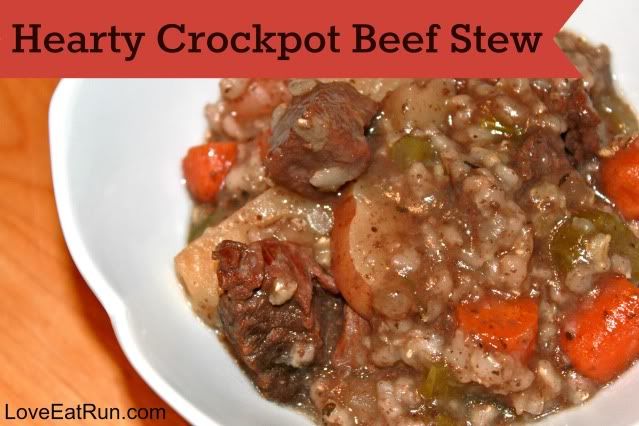 Hearty Crockpot Beef Stew
Ingredients:
3/4 lb. flank steak, cubed
2 cups beef broth
1 cup red wine
1 and 1/2 cup water
1/2 tsp. dried basil
1/2 tsp. dried thyme
1/2 tsp. rosemary
1/2 tsp. minced garlic
3 stalks celery, chopped
3 red medium sized potatoes, in small cubes
1 carrot, chopped
1 cup green beans, cut in 1-inch pieces
1/3 cup chopped onion
3/4 cup brown rice, uncooked
salt & pepper to taste
Directions:
Combine all ingredients in crock pot and cook for 7 hours on low. Stir occasionally.  Makes 6 servings.
This was definitely a winner, especially for being something thrown together on a whim! Brian and I were both gone for the majority of the afternoon and evening so coming home to dinner waiting for us made it even better.
And can I just mention that Brian, the king of not eating vegetables, didn't pick one thing out of this stew…now, that's saying A LOT!