Believe it or not, with how into arts and crafts that I am, today was my very first visit to Hobby Lobby. I walked in and was immediately in DIY heaven.
I couldn't get over the abundance of things available.
So much better than Michaels and Jo-Ann Fabrics combined!
I walked out with a few more items that I needed to finish off some wedding arts and crafts that Brian and I were working on last night, some scrapbook paper and some other miscellaneous things that I plan to be creative with.
Good thing the closest one to my house in Baltimore is about 20 miles away. Not that that will stop me or anything…
Lunch
Neither of us were really feeling anything we had in the kitchen for lunch today so instead we ordered from a local cafe that we recently picked up a menu for in the office of our apartment complex – The Health Nut Cafe.
We both ordered melts and I was a huge fan of my reduced-fat tuna salad one with grapes, apples, sunflower seeds, tomato and romaine lettuce.
I also really liked their hummus. A little touch of garlic and served with warm pita bread. Yum!
Since I worked lunch off pretty quickly during my Hobby Lobby outing, I need a little pick me up and opted for Pink Swirls frozen yogurt.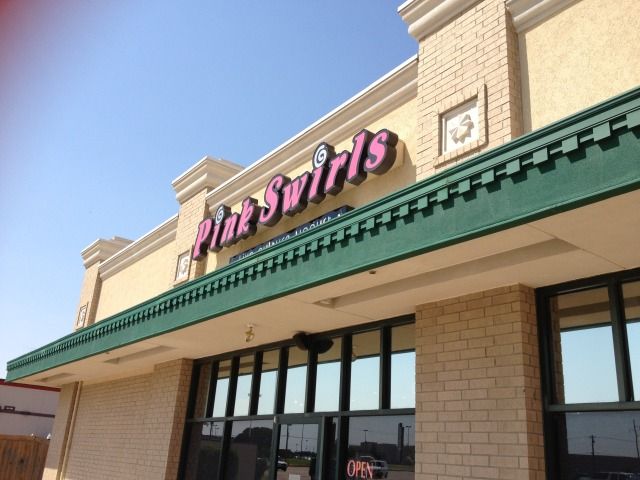 Yogurt in the same shopping center as a craft store – does it get better than that?!
Not the best frozen yogurt place I have ever been to but it did its job.  Good thing Peachwave is right around the corner from the ballpark if I decide I need to make up for where Pink Swirls was lacking later tonight.
I'm off to clean up my crafts mess before it is game time at Bricktown Ballpark.
Question:
What is your favorite craft store?