If you missed the first honeymoon post, check out the LoveEatRun wedding page or click the link below to read about our accommodations at the start of our trip:
*****************
Our second full day in St. Lucia, we ventured out on one of the excursions available through Island Routes, a tour group in partnership with Sandals.
The second I read what the day would entail with this excursion, I was sold!
"Gear up for a gastronomical trip on a luxury catamaran to create your very own delicious chocolate from scratch at a historic cocoa estate. Walk through the magical grove nestled between the majestic Pitons and handpick ripened cacoa pods. Scoop out the beans to be roasted and inhale the sensual aroma as they are turned into fine bars of chocolate. You will also have access to a gourmet lunch infused with cocoa treats; at an additional cost. Then it's on to the Mud Bath where you slather yourself in a mineral-rich potion allowing your body to relax and rejuvenate. Finally, set sail for a spectacular sunset catamaran cruise where you will be spellbound as the sun vanishes between the glowing Pitons." (from Island Routes website)
As mentioned, the day began with a catamaran ride from our resort, down the western shore of the island, to Hotel Chocolat.
On our way, we cruised through Marigot Bay, which is an inland bay that forms a hurricane hole for boats because of the small mouth from the sea and the abundant protection from land around the other three sides of the bay.
This hills surrounding the bay are home to a lot of celebrity vacation homes because of its beautiful scenery and location.
After our stop, we were back on course to the first destination of the day – Hotel Chocolat! On the way we got our first view of Jade Mountain (famous for Jake's proposal to Vienna on The Bachelor) and of the historical landmark, the Pitons!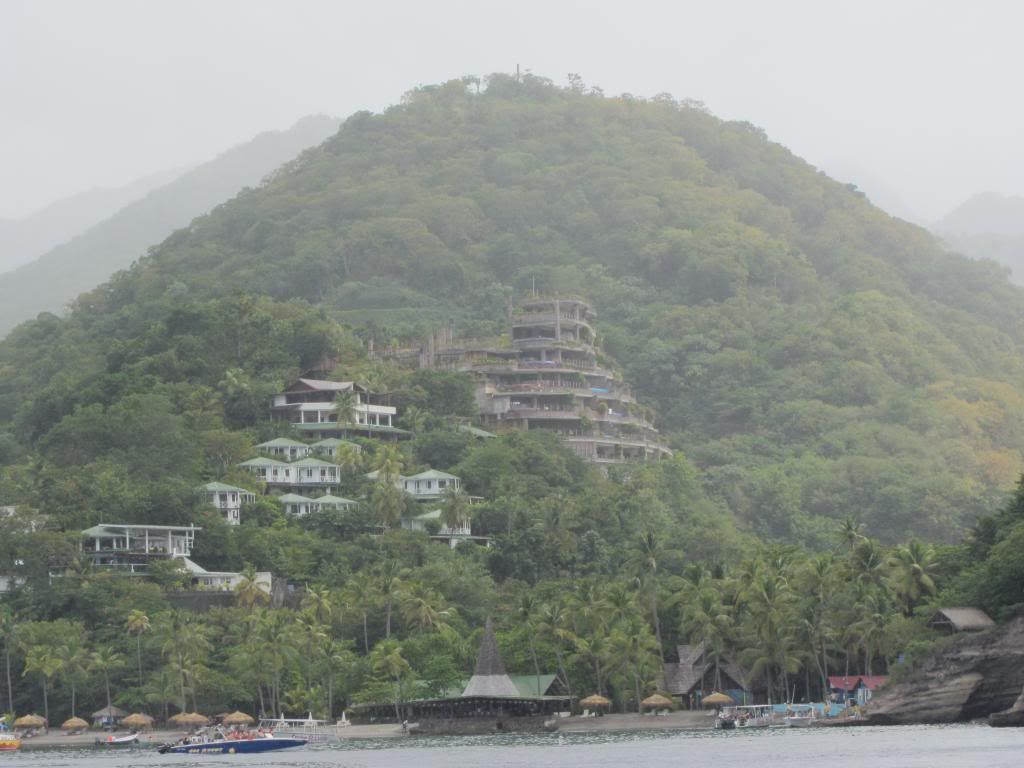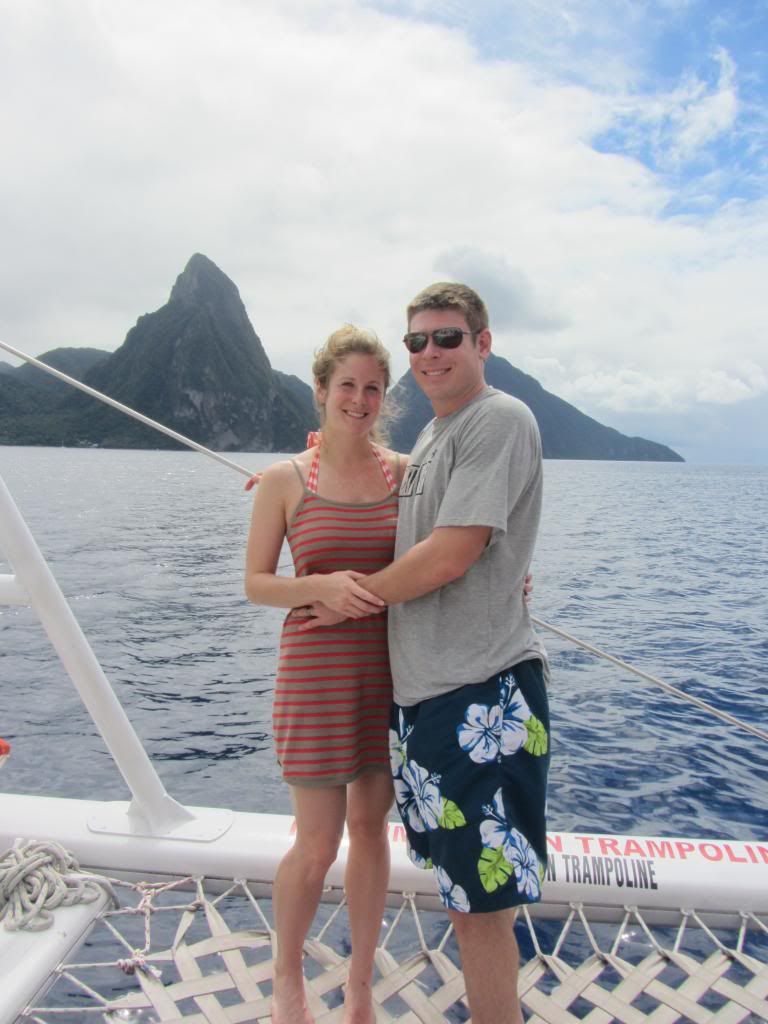 We hopped off of the catamaran in Soufriere and loaded into vans to take us to chocolate heaven!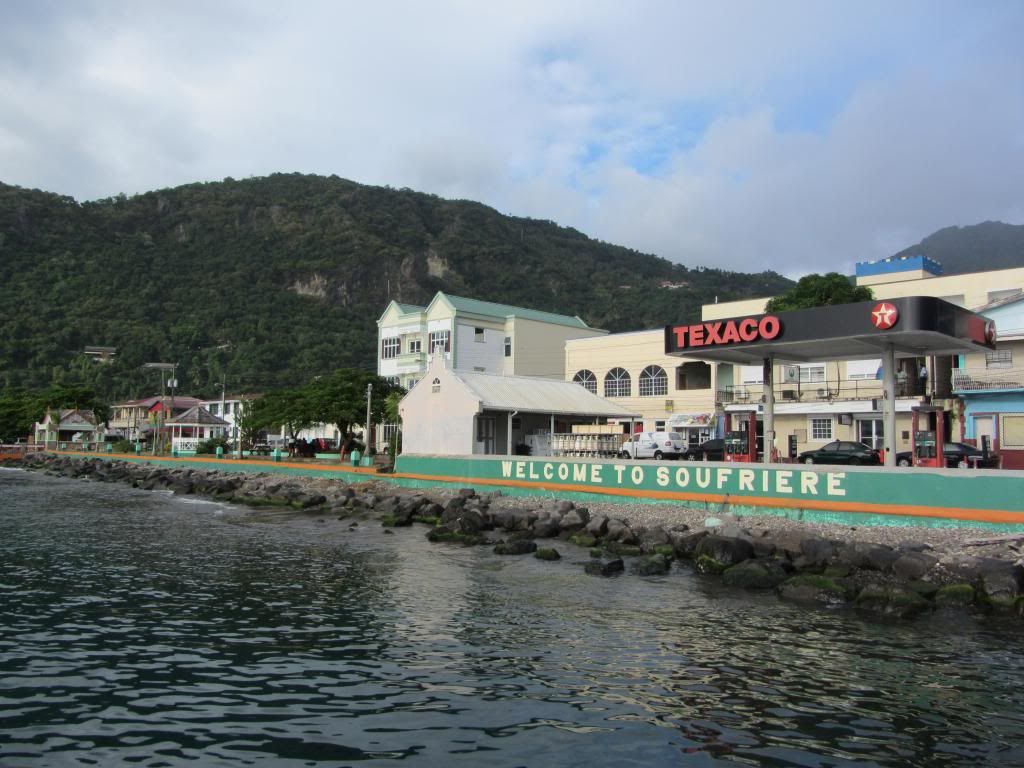 Once we arrived at the hotel, we were given some time to relax in Boucan Restaurant, while we waited for the chef to start our tour and chocolate making session.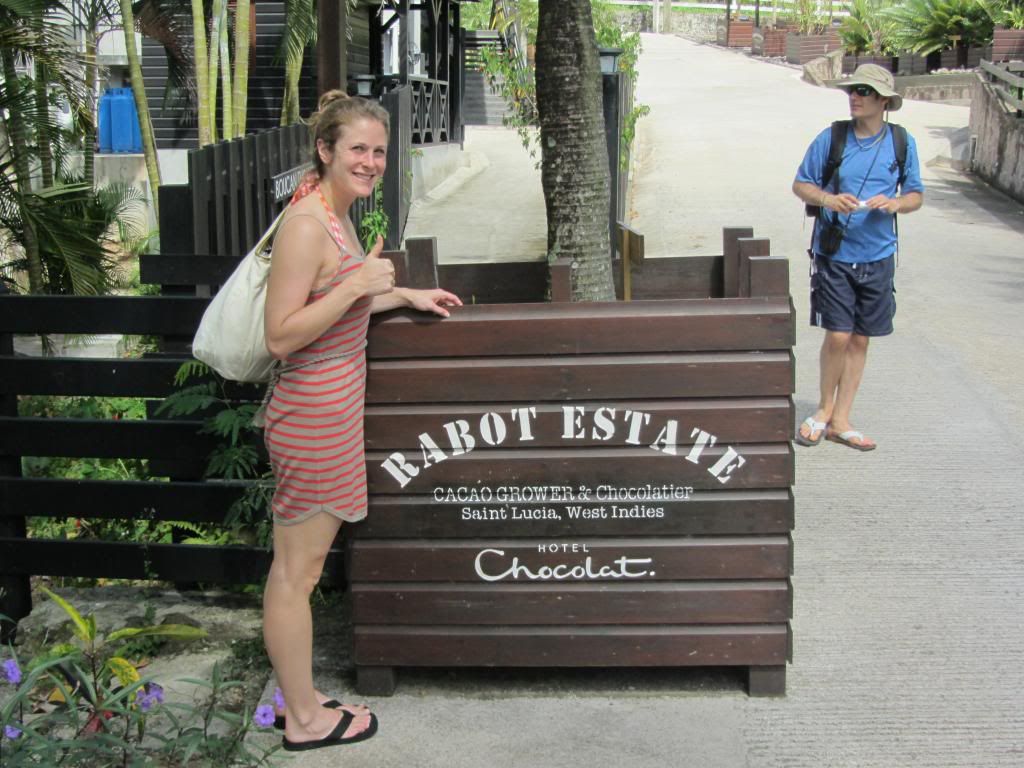 The restaurant had a fabulous view!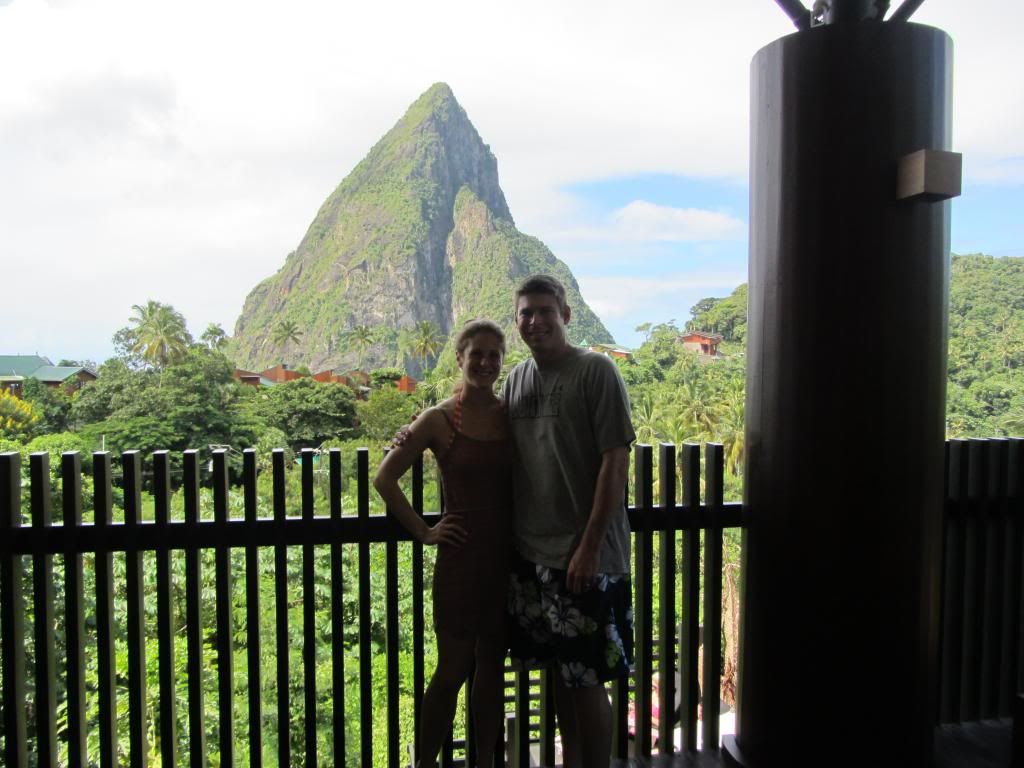 And an even better selection of chocolate based cocktails, which we sipped on during our wait.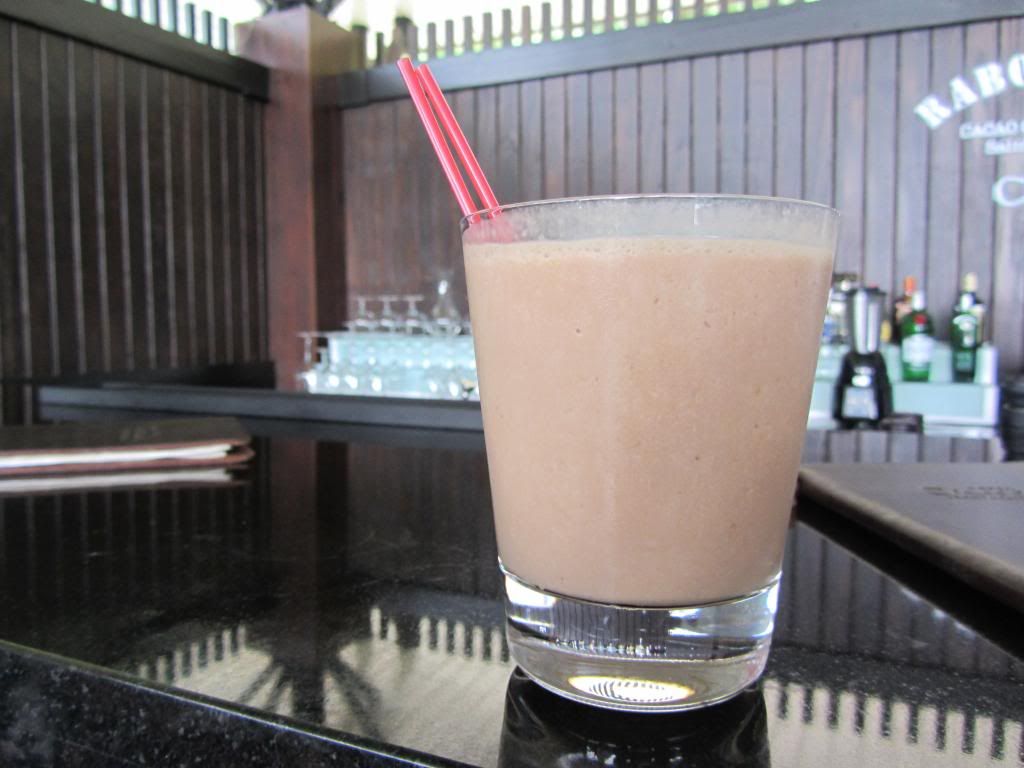 Before long, the estate chef joined us and walked up through the cacao trees on our way to the main house, where we would be making our chocolate bars.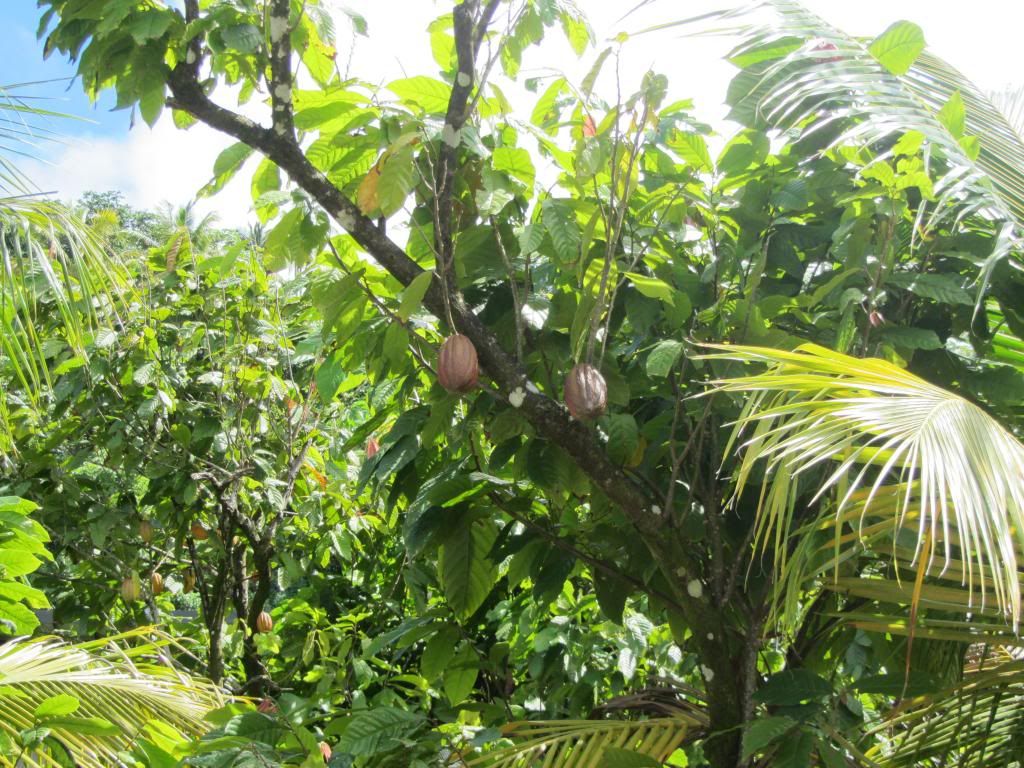 Now, when I say we made our own chocolate bars, I mean we MADE our own chocolate bars. From scratch!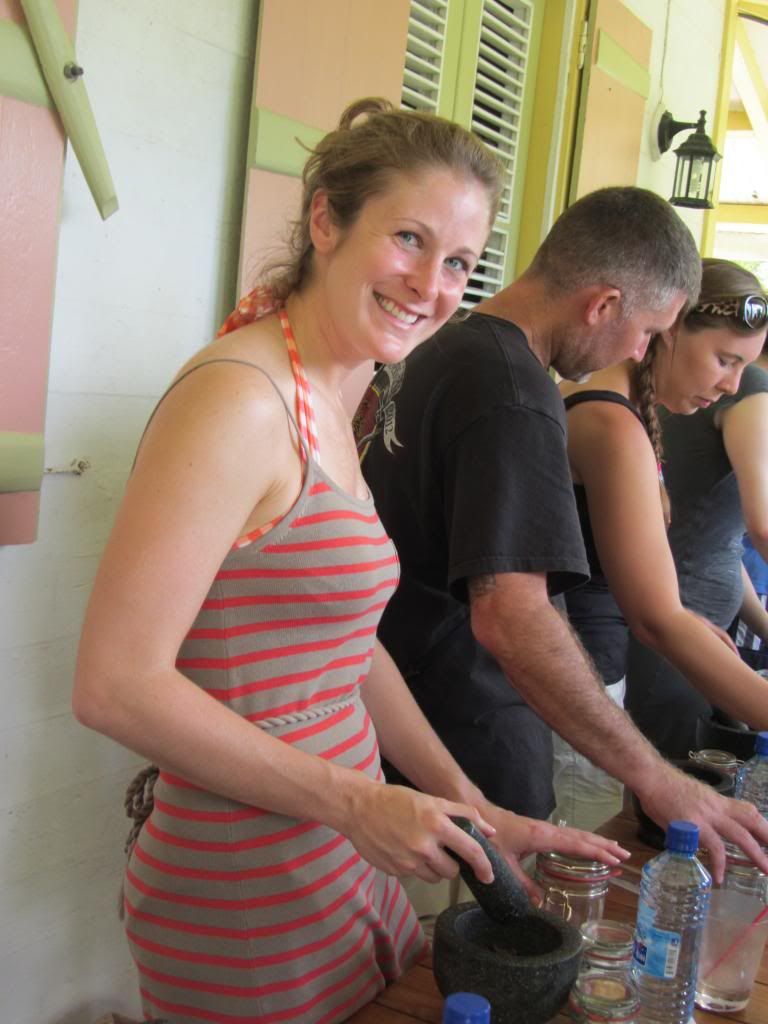 We started with a mortar and pestle that had been heated in an oven and began grinding roasted cacao beans. This took some serious arm action! Brian was a beast with this process and we eventually had to switch bowls so that my beans were even close to liquid!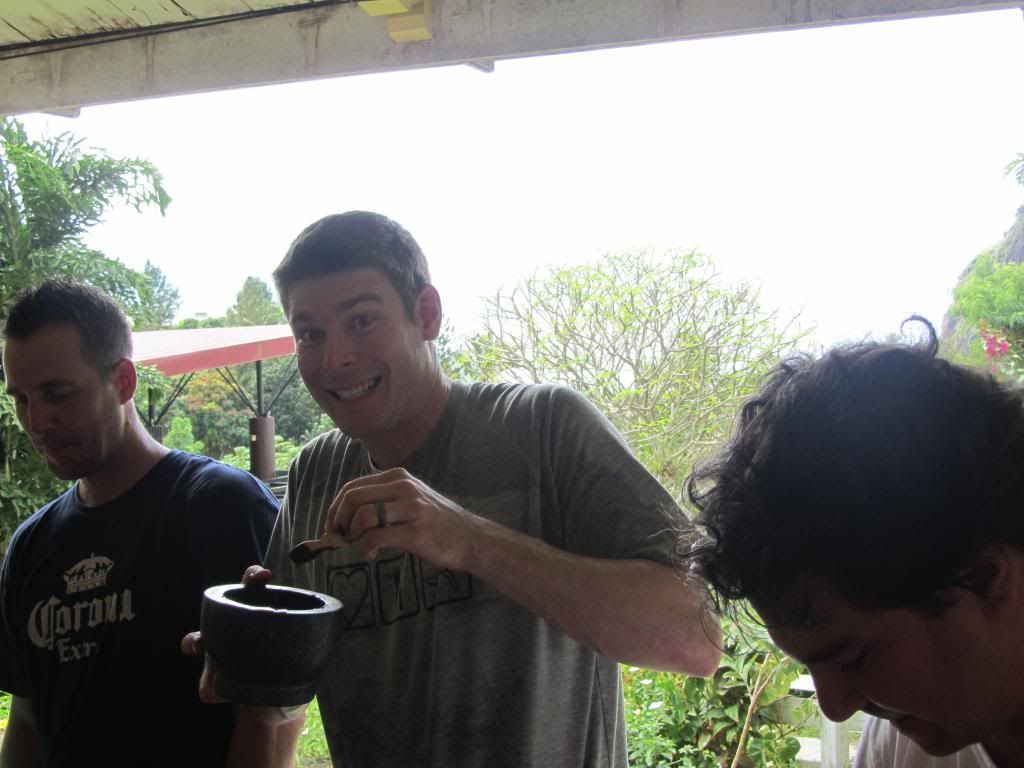 We added in cocoa butter to smooth the texture of our chocolate and sugar to help with the bitterness of the straight cacao and after some hard work and lots of sweat, we had chocolate!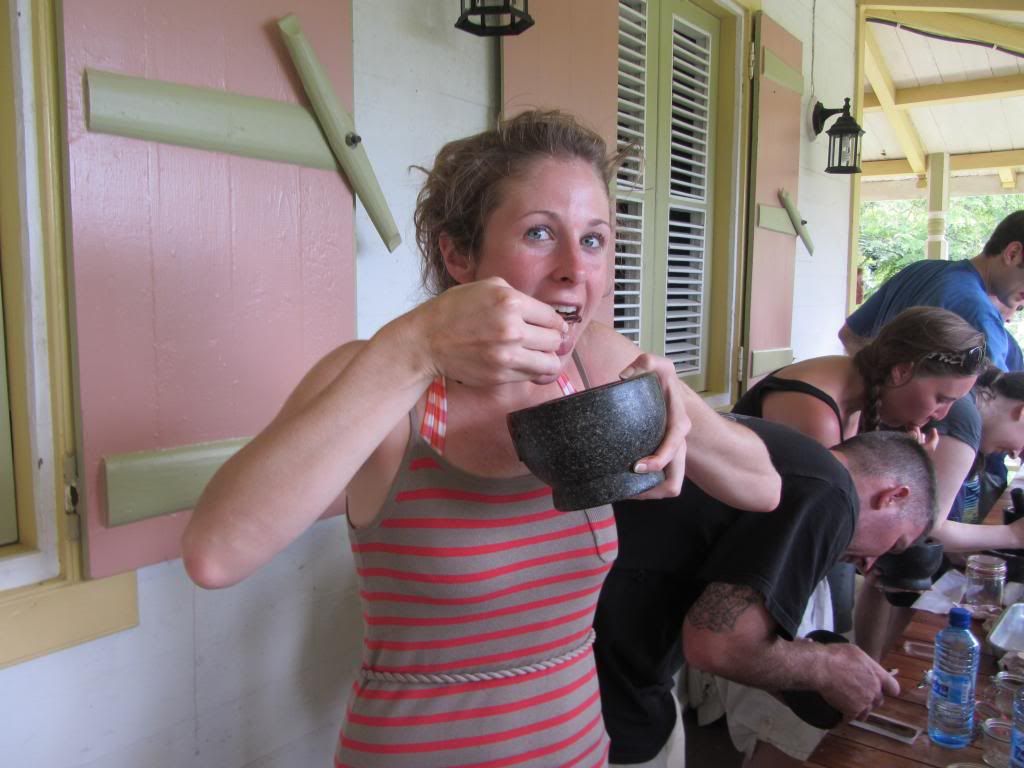 We poured the liquid chocolate into provided molds and by the time we were finished with our lunch, we had home-made, solid dark chocolate bars!
As we waited for our chocolate to harden, we were escorted back to the restaurant where we enjoyed a lunch that was full of cacao! Every item on the menu had cacao infused in one way or another and was absolutely delicious!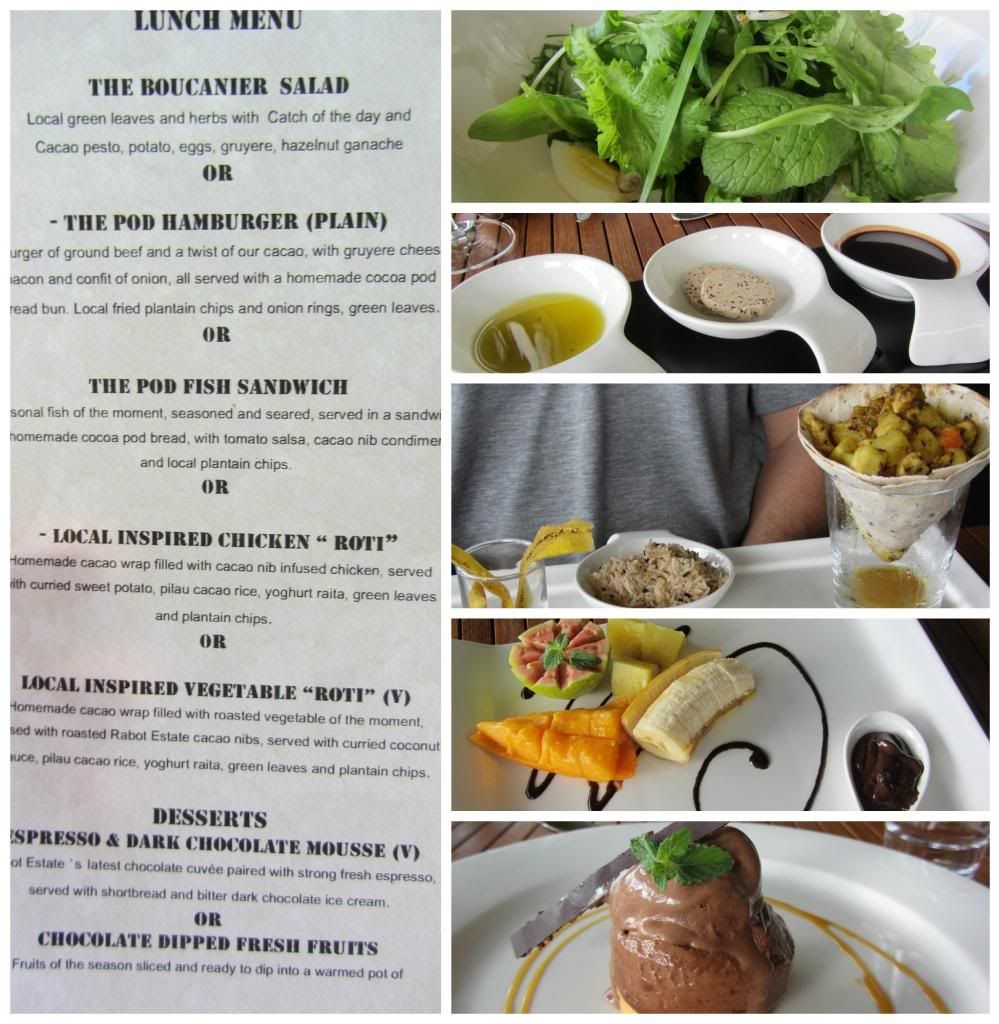 Once we all were well on our way to chocolate comas, the next part of our day took us to a drive in-volcano, Sulphur Springs, and the mud baths. The volcano consists of 24 steaming vents that discharge various minerals – iron, copper oxide and magnesium being a few.
Tours used to take individuals actually down into the springs but an accident than involved a tour guide falling in and suffering severe burns has since changed that.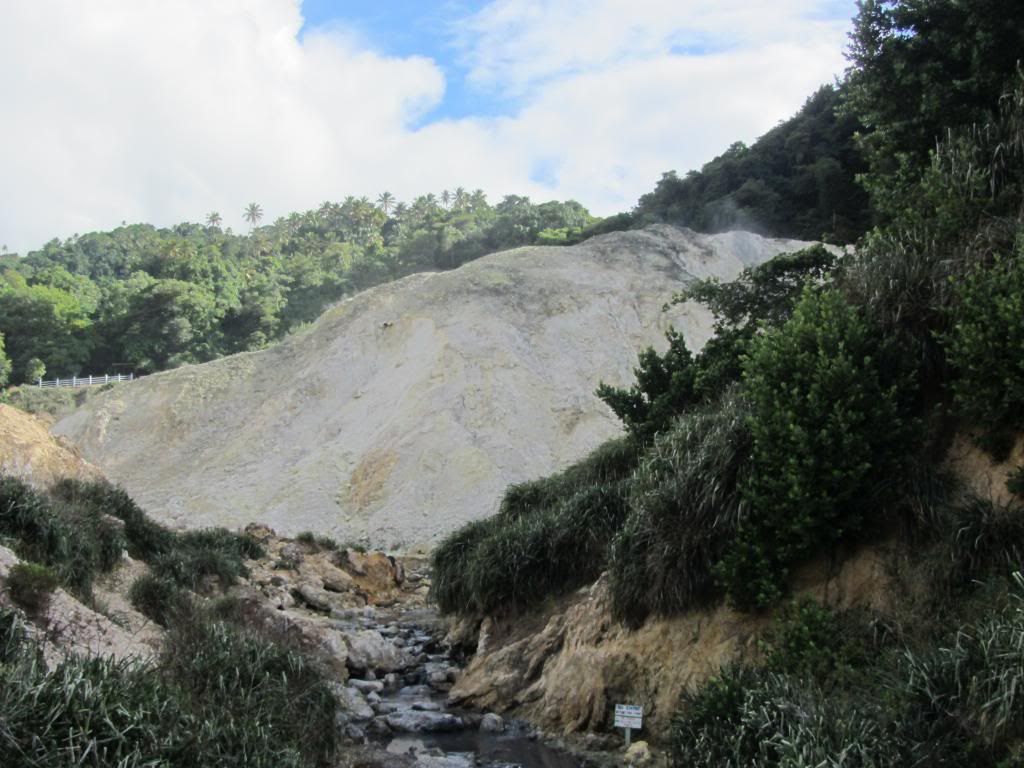 Instead we observed the springs from above, along with the lovely rotten egg smell from the sulphur, before heading into the mud baths.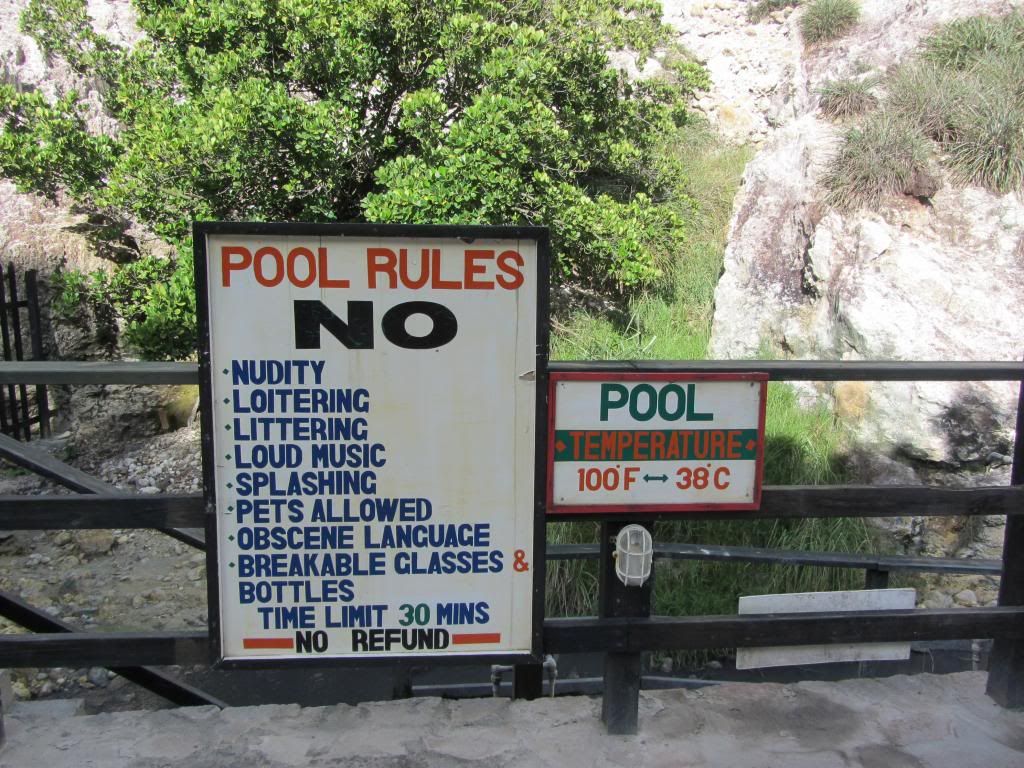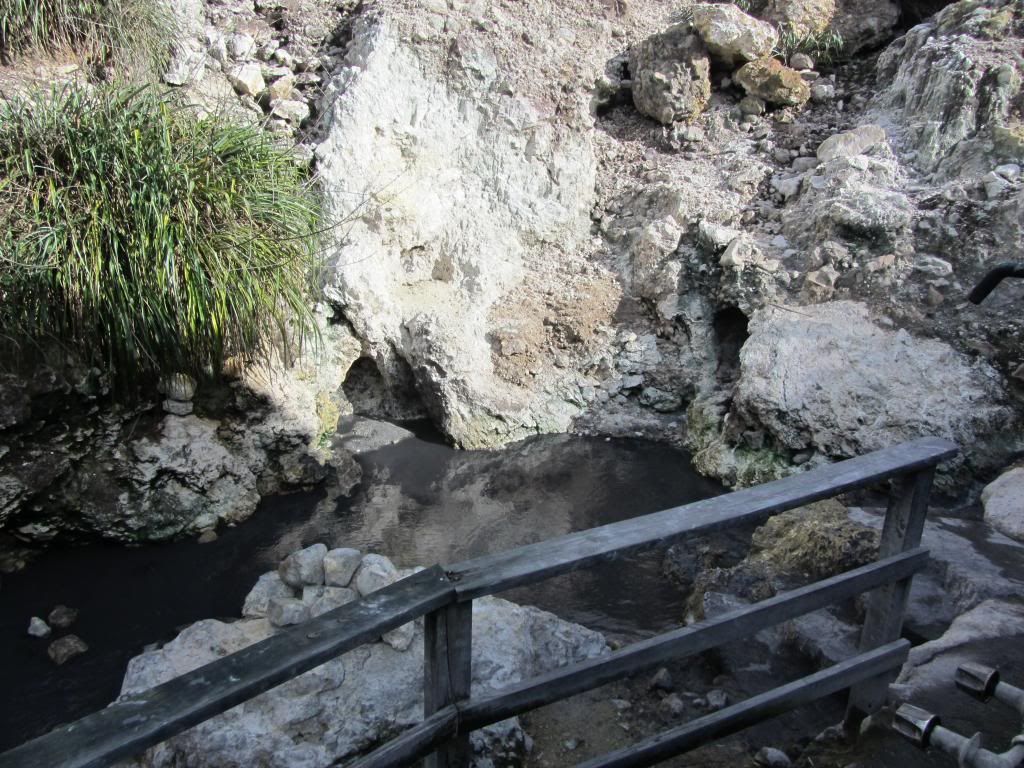 You first dipped in the HOT water to prep your body…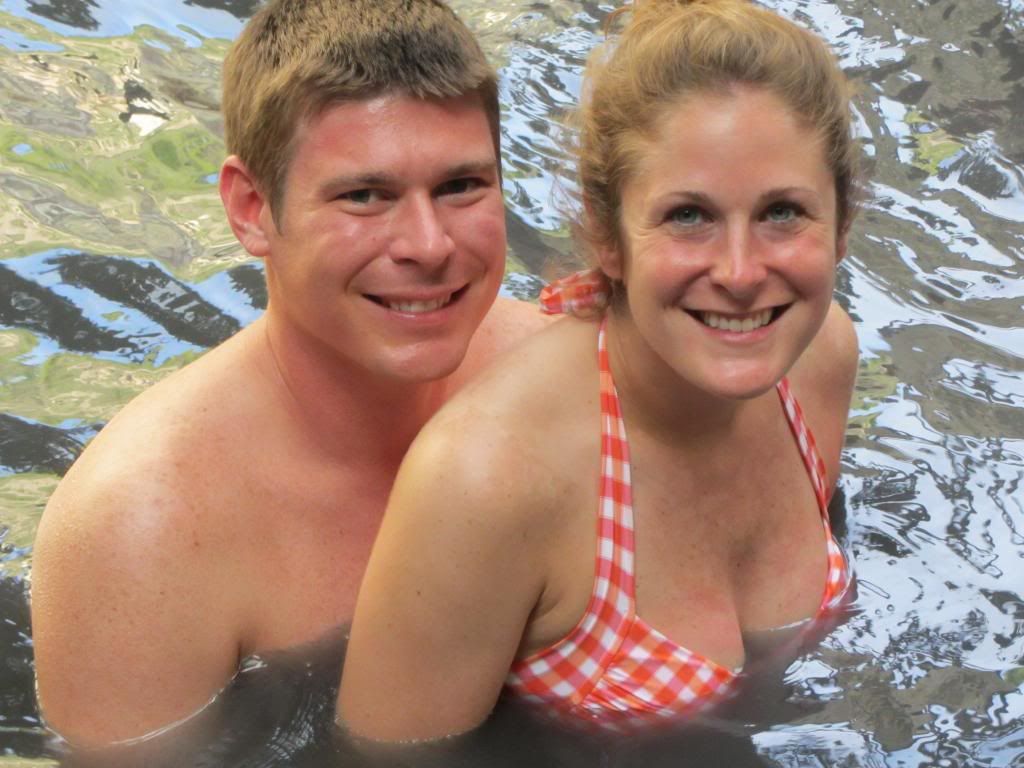 And then on the other side of the bath, you covered yourself in the mud!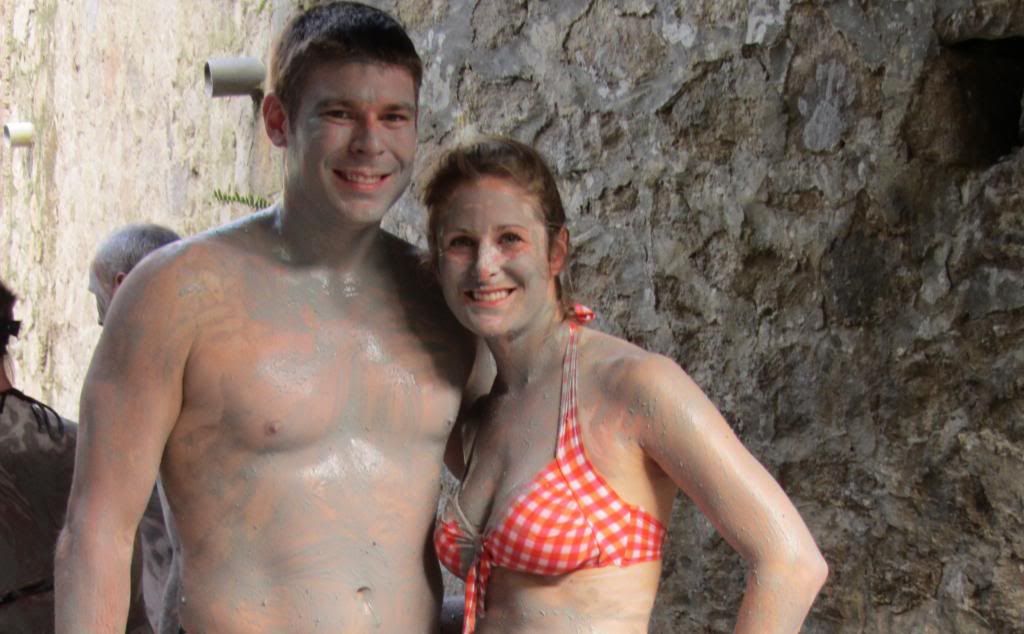 Once you let the mud settle into your skin, you reentered the hot water to rinse and came out "looking 20 years younger", as our tour guide liked to tell us.
Once everyone had a chance to rejuvenate their bodies, the vans took us back to the dock in Soufriere where we again boarded our catamaran.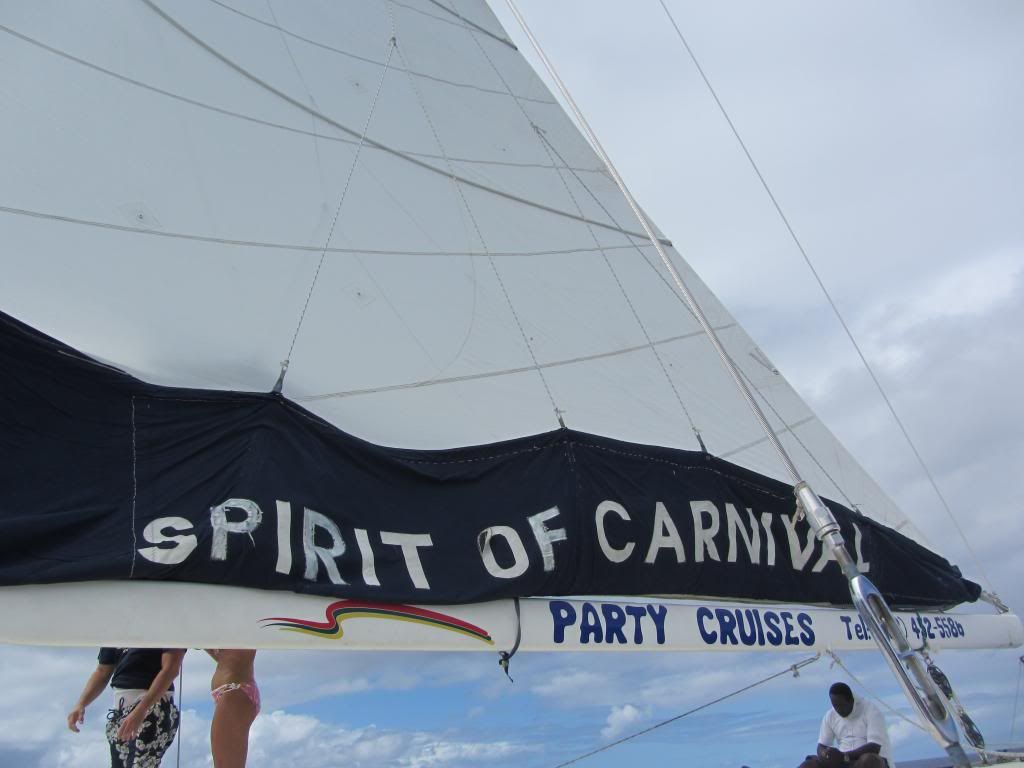 We headed to the base of the Gros Piton where we were able to snorkel.
Once our snorkeling time was over, it was just about sunset and our cruise back to our resort began.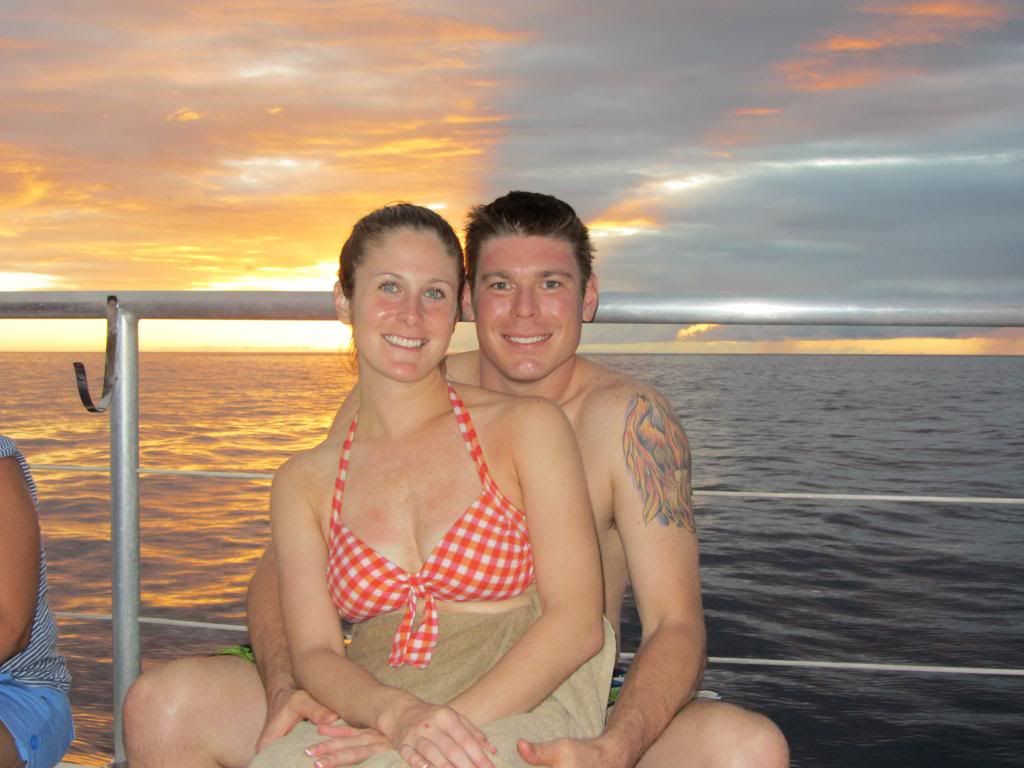 Before long the rum punch and piton beer was flowing and the relaxing sunset cruise turned into quite the party!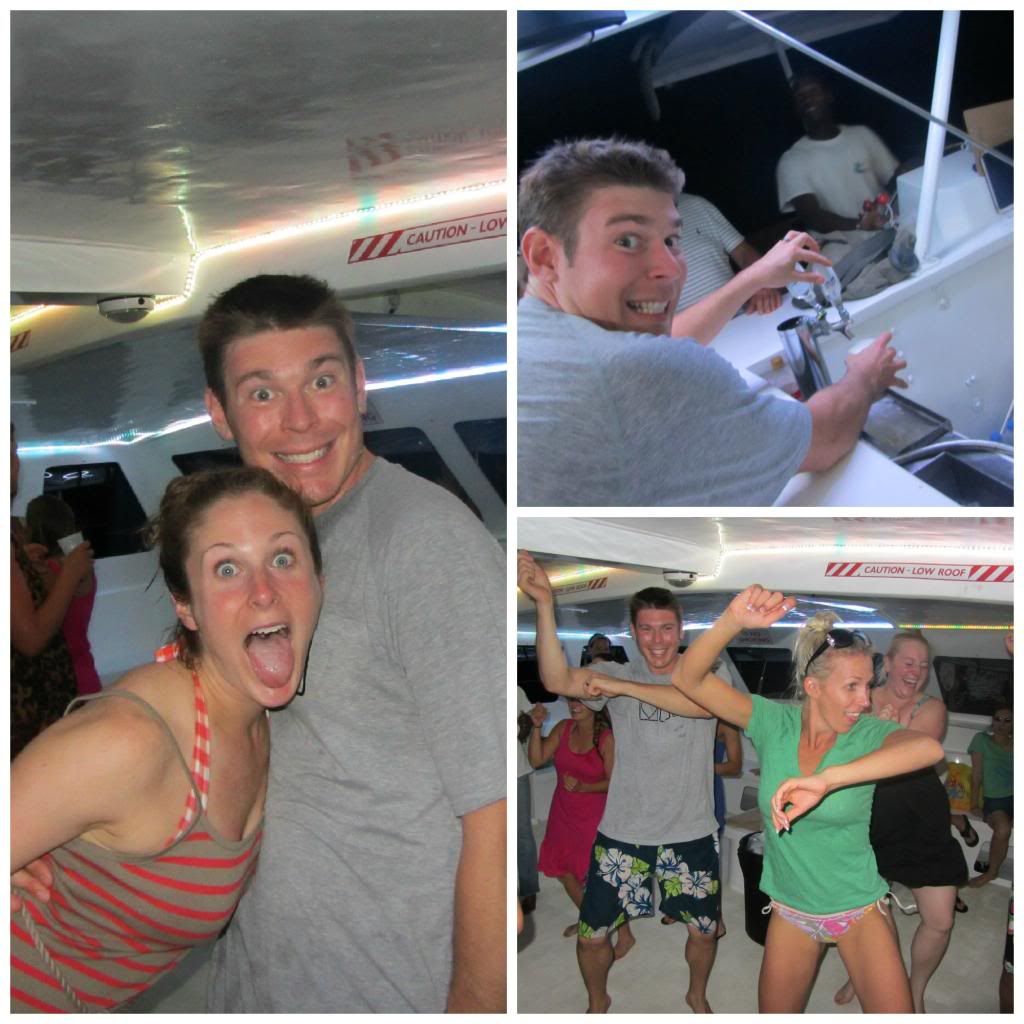 We made new friends (Hi Dan and Jan (below) and Tommy and Heather!) during the day and had so much fun on the cruise back with them.
I even found another couple from Baltimore – the Orioles shirt was the dead giveaway!
What a small world!
There was plenty of dancing, drinking and just enjoying having nowhere to be and nothing to do!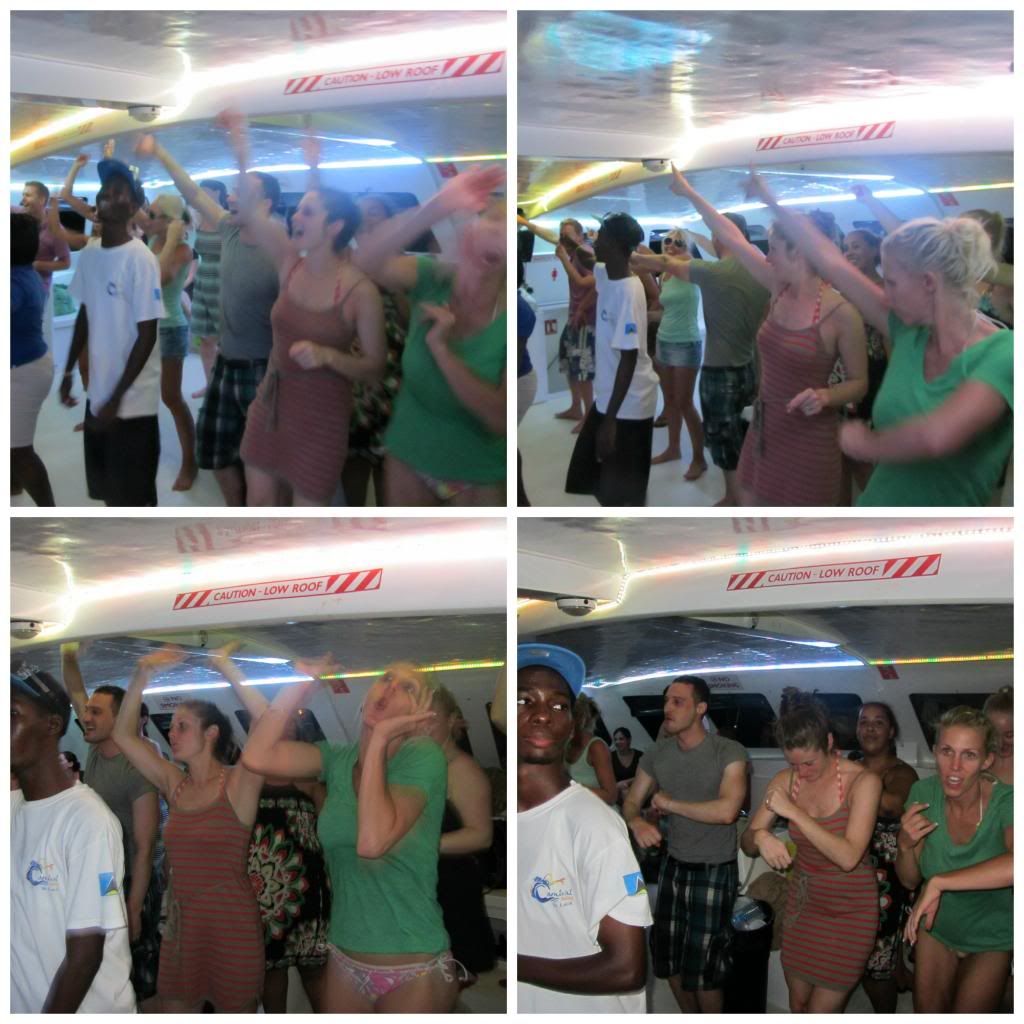 And we walked away having learned some new dances…anyone familiar with "Follow the Leader" and "The Wobble"?!
This excursion was an all-day outing and for as much fun as it was, it was also extremely tiring! You return back to resort late, so if you happen to be heading to St. Lucia and plan to participate in this excursion, make sure to plan dinner plans accordingly as well!
This excursion is not included in the all-inclusive aspect of Sandals.