Welcome back to reality for me! I guess today is kind of like my Monday since it's the first day back at the office this week.
Boo for being back at work but yay for a four-day work week. And another four-day work week next week. And another the week after that. How's that for a work schedule for the next three weeks?! Not to forget, two weddings this weekend, an overnight trip to Alabama AND a trip to California for the Disneyland Half Marathon all within those three weeks as well!
And what's even better? The day after I get back from Cali, Brian moves to Baltimore!! It's going to be a great (and hopefully super fast) three weeks!
Workout
This morning's workout was knocked out quite early. I set my alarm for 4:45 a.m. so that I could get in my cross-training before leaving Allentown to come back to Baltimore.
Most times when I leave Brian's in the morning, I put my workout off until the afternoon but by the time 5 p.m. rolls around I never feel like working out and its a struggle. So today, I resisted the snooze button and got my butt moving.
35 minutes on the elliptical before cashing it in for a quick shower and to get on the road!
It was nice that saying good-bye to Brian this morning wasn't all that bad. As he put it, it's the first time we really aren't sad to leave each other because after three (short) weeks we get to see each other every day!
Breakfast
I knew since I had already gotten my workout in, there was no way possible that I could make it all the way through my drive without breakfast so I held myself over with a Kashi GoLean Chocolate Malted Crisp bar.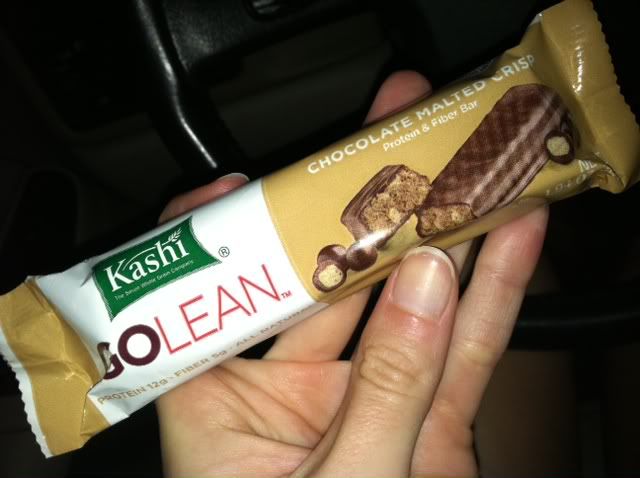 And for breakfast part deux once I was home, unloaded the car, changed for work and made it to the office…
A Banana Breakfast Hotdog.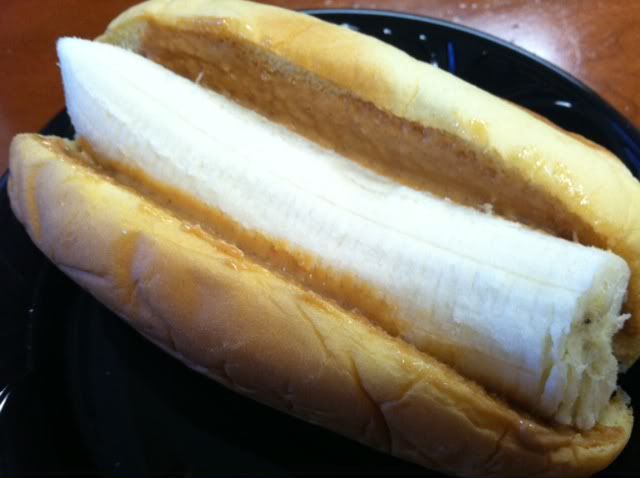 Complete with condiments and all.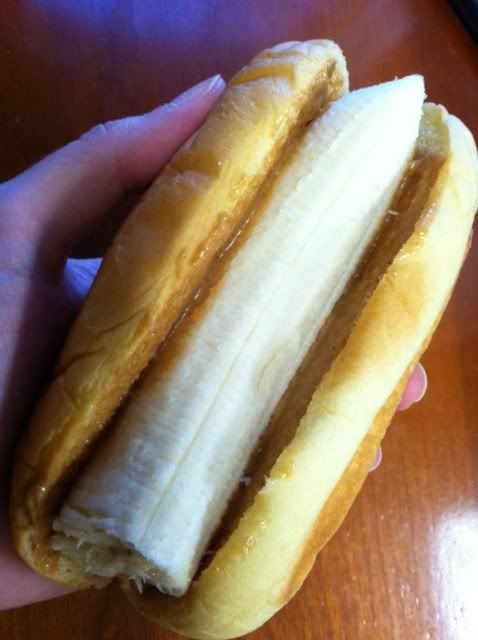 Peanut Butter. Duh!
Off to catch up on work from yesterday!
Question:
Would you rather wake up super early to get your workout in or push it off till the afternoon while still having to get up at an early hour?  I'm used to getting up early to work out so I don't mind the extra time of missed sleep to get in my workout if I'm already going to be up early anyhow.  I can already tell today is going to go MUCH better than usual days when I come back from Brian's and wake up at 5:30 with no early morning workout.  Not only did I wake up early but I didn't get that extra energy push so I'm pretty much done by 1 p.m.