Last night when Brian got home from the field around 9:45 p.m. he still hadn't eaten dinner.
But since he loves me so much, he opted to have ice cream for dinner so that we could make a trip to Ice Cream World!
I mean really, is that such a sacrifice anyhow?!
Let me just say that Ice Cream World should really be called Ice Cream Heaven!
We walked in and immediately I was overwhelmed by ice cream flavors, cakes, treats, toppings, the works…
There were three solid freezers devoted to scoopable ice cream and an additional five freezers holding desserts, ice cream treats, pre-made sundaes, chocolate and peanut butter covered bananas…you name the ice cream treat, they had it!
It took me a solid 10 minutes of standing there and taking it all in before I could even begin to make a decision on what I wanted to order. Brian was shocked at my indecisiveness. He said he had never seen me like the before when it has come to ice cream!
Brian of course went with his typical brownie sundae.
He wanted mint chocolate chip ice cream (per the usual) but they were almost out so he had to sub mint chocolate cookie ice cream.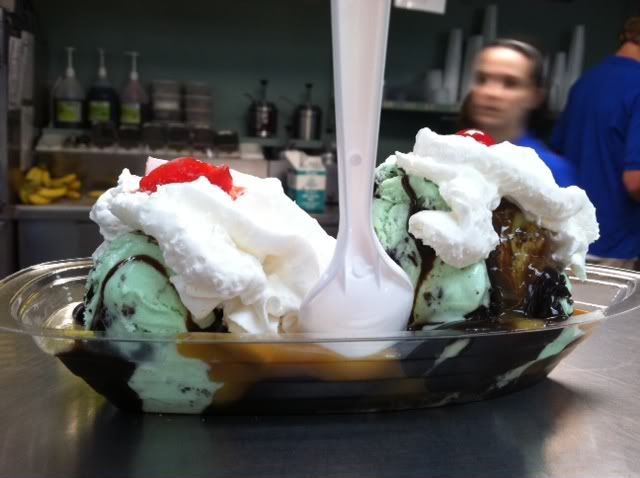 It was topped with caramel and hot fudge and the essential whipped cream and was delicious.  I obviously finished off the last of the brownie and the melted ice cream that he bowed out on.
After much debate over my own order I finally went with a waffle cone filled with soft serve peanut butter frozen yogurt.
I needed a touch of chocolate so I asked for the waffle cone dipped in chocolate and covered with chocolate sprinkles.
When I ordered, the girl taking our order asked if I wanted a small, medium or large cone.
A little confused, I asked if the cones came in different sizes. She let me know that it was the amount of ice cream that varied.
Brian told her to just fill the cone up, to which she replied that it would then be a medium.
Well, I would hate to see the large!!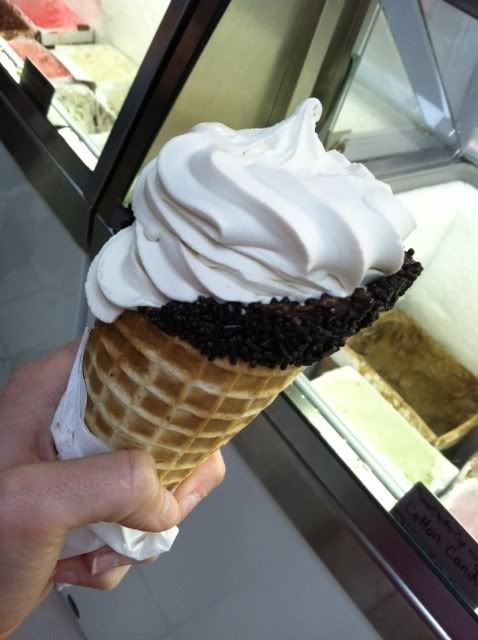 Look how big this sucker was!!! Filled to the brim with frozen yogurt.
I mean really, no complaints here, I probably would have devoured the large just the same but still…that's a lot of ice cream!!!
You know I'll be visiting there again!