This past weekend, Brian and I visited a good friend of mine from college in Ocean City, New Jersey.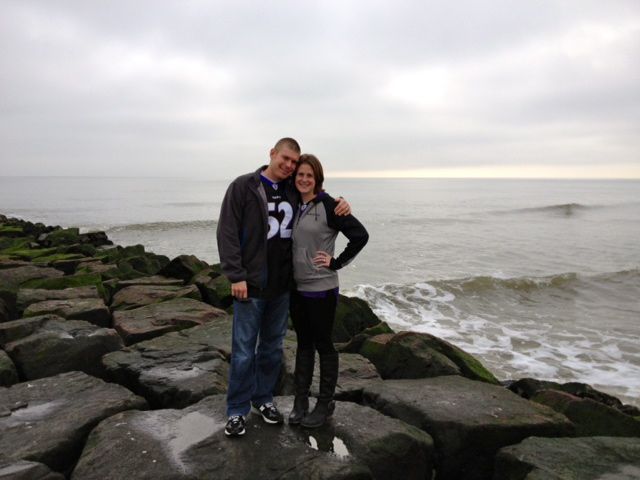 It was my first time on that part of the Jersey Shore, so Mary was kind enough to give us a little tourism action on Saturday morning.
We started our travels out with a breakfast stop at Uncle Bill's Pancake House.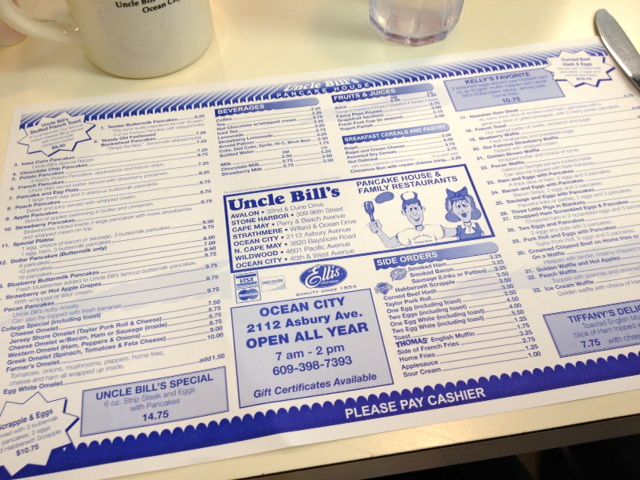 I was just about in heaven with the various selections of pancakes on the menu, not to mention the weekend flavor special – pumpkin!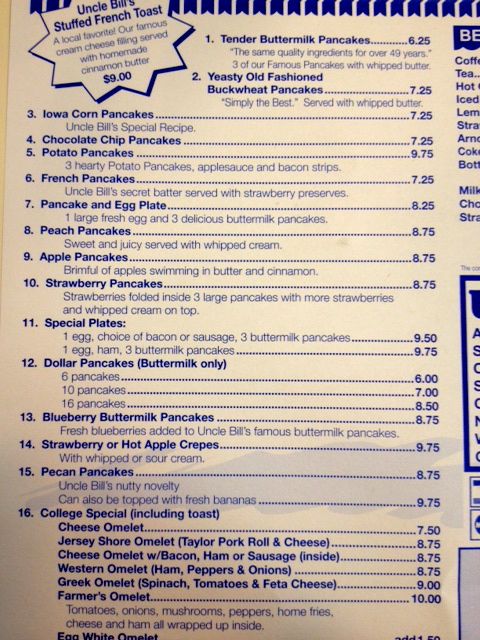 We shared an order of the blueberry buttermilk ones and they definitely didn't disappoint! However, on my next trip to see Uncle Bill, I'm pretty sure the peanut butter chocolate chip pancakes will be my cakes of choice!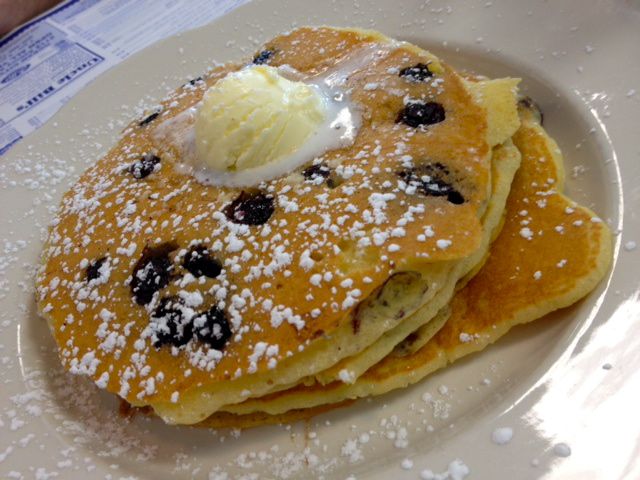 After breakfast, we did a little driving of the coast and stopped for a visit with Lucy the Elephant.
Not sure who she is? Yea, neither were we but apparently she is a Jersey Shore celebrity. We didn't go inside but her legs are stairways up to a multi-room landing in her body area. She was built as a tourism attraction in 1881 and I would have to say, she's doing her job well! She's been a hotel, a tavern, a cottage, a business office and a restaurant – busy little lady, she is!
After admiring Lucy, we did some shopping. We stopped in a local surf shop, where we bought the cutest baby Tom's for Noah and Grace, along with Wards Pastry bakery for butter cookies (yum!) and Rauhauser's candy store for, well, candy!
With our bellies full of chocolate and cookies, we made our way to the Ocean City Boardwalk.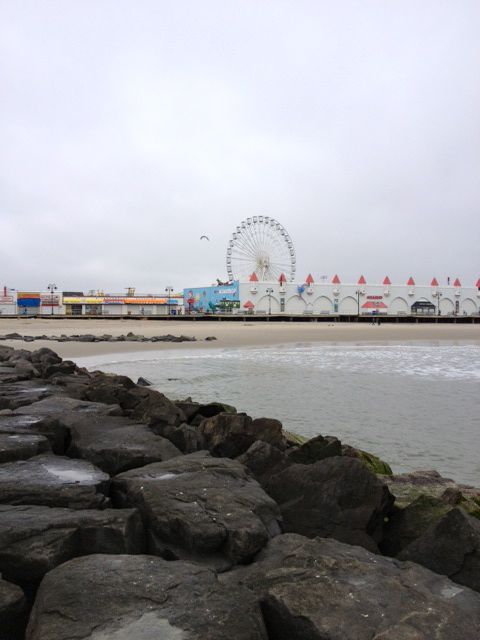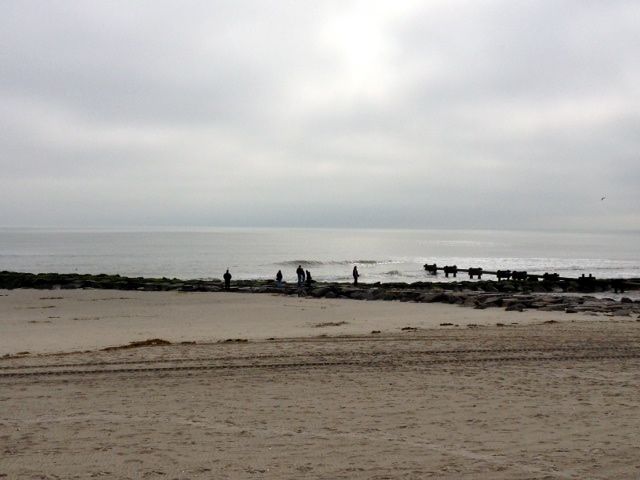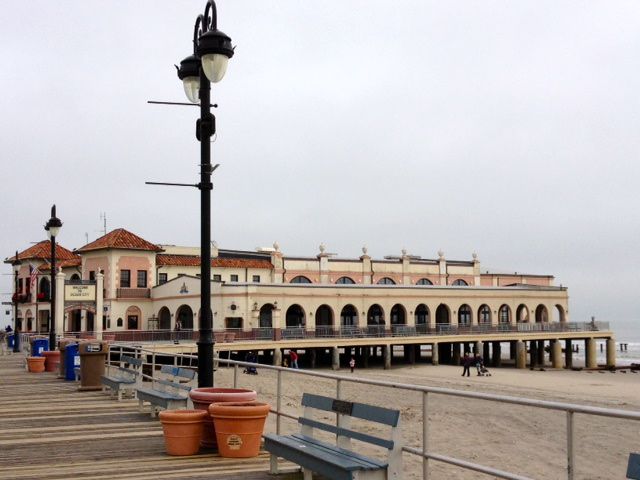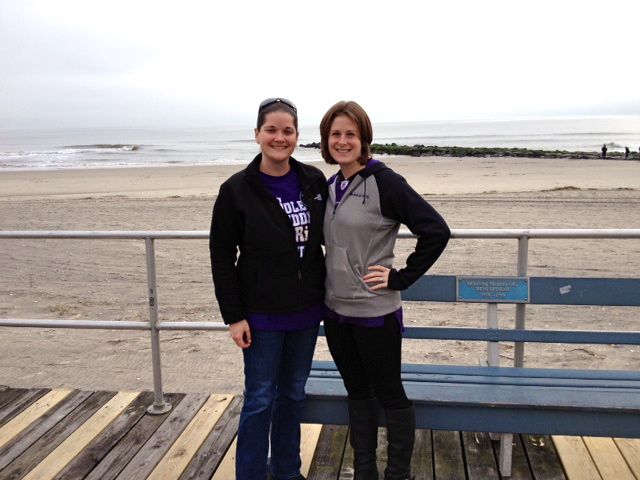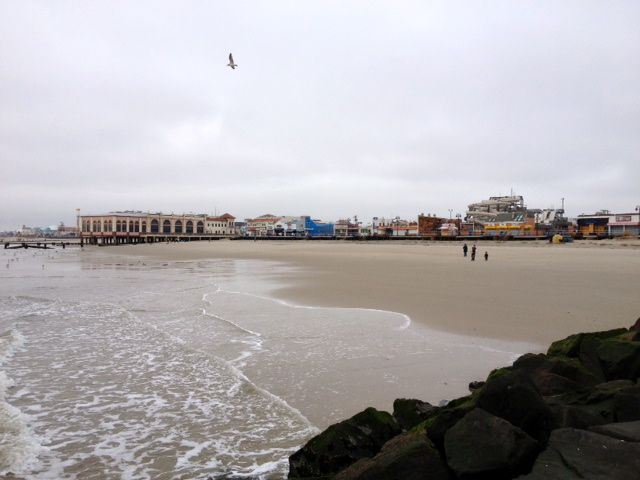 Once we had seen enough for the morning, we grabbed a pizza from Manco & Manco's, which I had heard about many times over the years from Mary, and went back to her house to rest up for the Ravens game.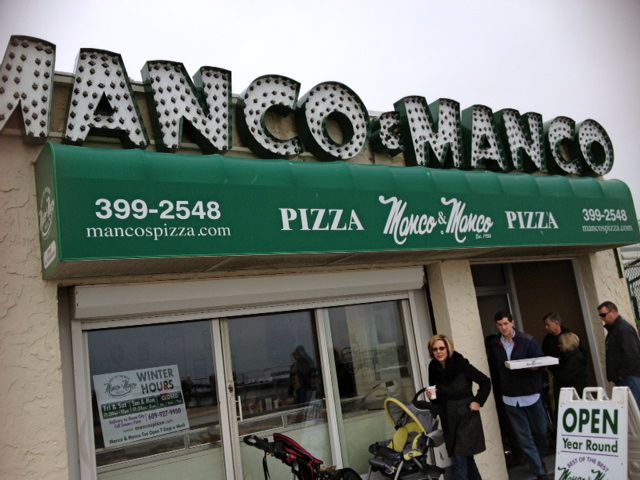 Unfortunately, my pictures from the weekend end here but I will say the remainder of our stay in Ocean City was a lot of fun. We watched the unbelievable Ravens win over the Denver Broncos at a bar called Yesterday's and by the time the game was over, I'm pretty sure the bartenders were more than ready for us to leave!
The Miller Lite was flowing and the cheers were getting louder and louder as the game got more and more intense! I think my heart stopped multiple times through the double over-time game and I left the bar exhausted and sporting battle wounds from clapping, jumping and banging my knees on the bar and just plain being crazy whenever a big play happened.
Such a great weekend!!
Workout
After a weekend of indulging, it was nice to get back to the yoga studio this morning. I actually stayed by my sister's last night with her and the babies (sleepover with Aunt Jenny – woop woop!), so I tried the Charm City Yoga studio in Towson for the first time today.
The class was a different pace and style than what I'm used to from my Monday mornings in Pikesville but regardless, the stretch and cleansing start to the week that I needed!
Question:
Which football game did you think was the most exciting this weekend?