In case you missed any LoveEatRun action this weekend, here is a little recap:
Since you are all caught up now and know Brian is in Baltimore, one thing I wanted to make sure I didn't alter when Brian moved here was my morning workouts. In the past when he has come to visit, I have skipped morning workouts here or there and would sometimes make them up in the afternoon, sometimes not. All just to spend a little extra time with him.
Before he officially got here, I made a promise to myself that I wasn't going to start regularly skipping my workouts to sleep in longer because I was up later than usual. And in the same, I promised I wasn't going to let my normal bed time slide and become later in order to prevent not wanting to get up in the morning.
So far, so good. Brian has been here for three nights so far and all three mornings I have gotten up and gotten in my early morning workout. Let's hope this trend continues!
Workout
This morning started with a 50 minute run that covered 5.6 miles. Only one more Monday morning run left on the marathon training schedule. The other two Mondays are scheduled off days. Ekkkk!! It's getting so close!
After my cardio session, I hit up the free weights area for the following circuits:
Chest:
Chest press x 12 (10 lb dumbbells)
Push Ups x 10
Triceps:
Kickbacks x 12 (10 lb dumbbells)
Bench Dips x 10
Shoulders:
Shoulder press x 12 (10 lb dumbbells)
Shoulder raise and outward extension x 10 (5 lb dumbbells)
Biceps:
Hammer curl x 12 (10 lb dumbbells)
Concentrated curl x 10 per arm (10 lb dumbbells)
I did each mini circuit three times through before moving to the next targeted area.
By the end of my final set of curls my arms was shaking. I think my left bicep hates me. Oh well, gotta catch it up to the right on in terms of strength!!
Breakfast
I couldn't wait to get into the kitchen for breakfast and I had been waiting ever since our trip to Target last night on the way home from dinner and football at my parents house. We stopped in search of Dunkin Donuts pumpkin spice coffee and had no luck finding it. But we did have luck finding these…
Brian laughed when I abruptly stopped mid-stride past these to grab them from the freezer box. He didn't even notice them as we passed and said that I can sniff out anything pumpkin. And talk about smelling, as soon as I opened the package this morning I got a huge whiff of fall, pumpkin, cinnamon and nutmeg…yum!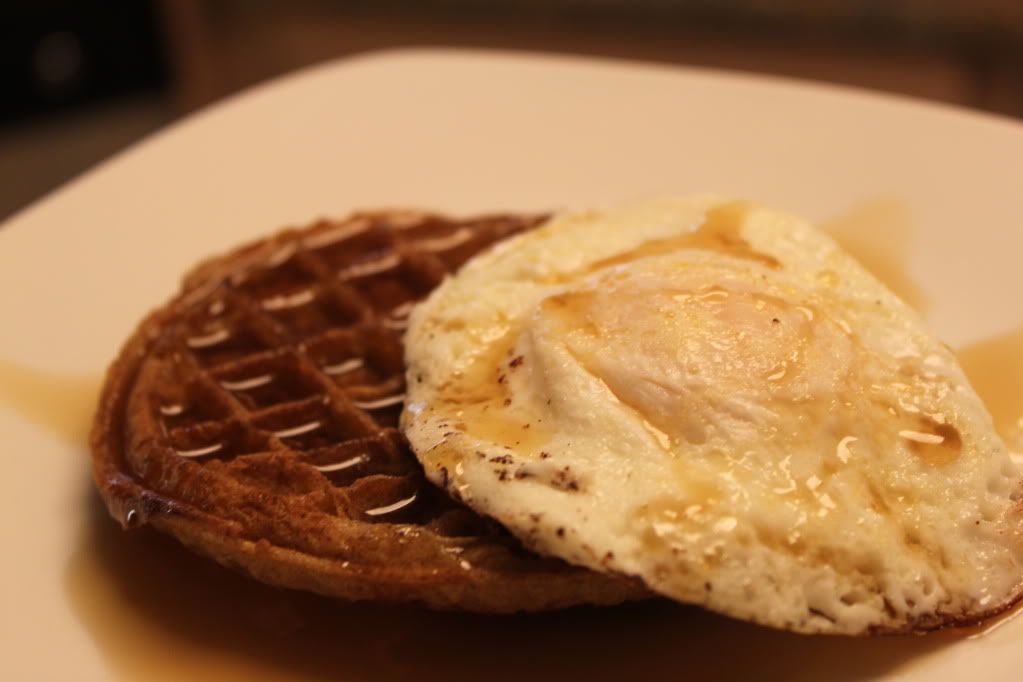 I ate one for breakfast topped with an over-easy egg and real Canadian maple syrup.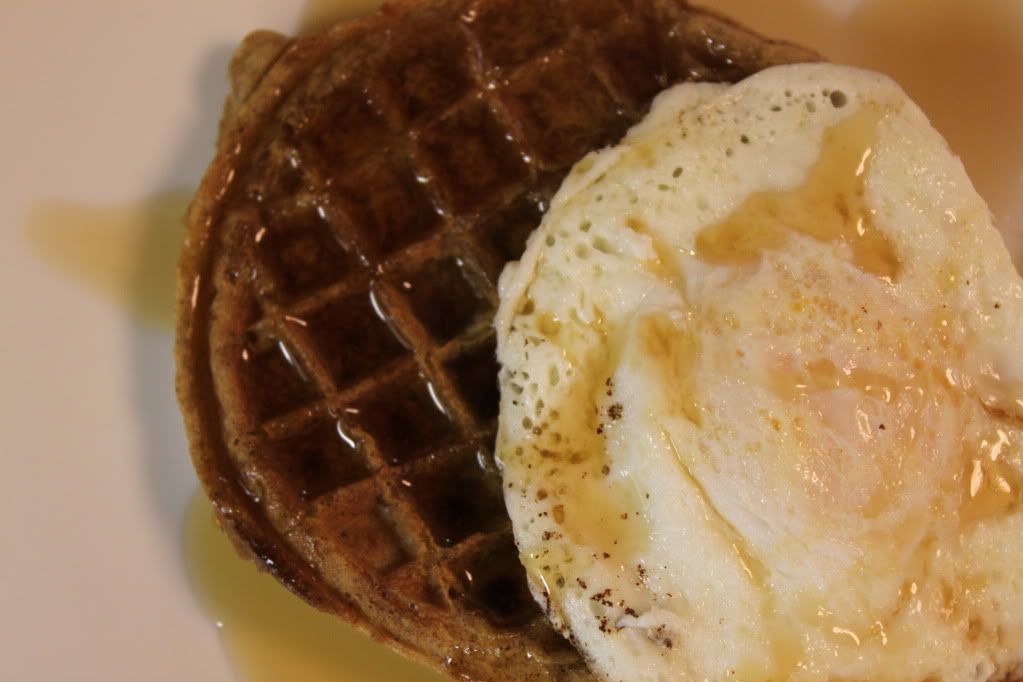 The waffle definitely had the pumpkin spice flair to it and I loved every bite. I'm so happy I was able to sniff them out last night!
Question:
Do you live with your significant other? Do you wake up at different times in the morning?