After sleeping for the majority of yesterday and from 8:00 p.m. until almost 8:00 a.m. this morning, I'm finally alive and way more coherent than yesterday. Thank God!
I spent all of yesterday curled up either in the bed or on the couch and only woke for a few hours when Brian got home from practice. Before I left Cheongju, Phil, our interpreter, went to the pharmacy to get me medicine which was so helpful of him, even though I'm not sure what I was taking!
He handed me this bottle and a packet of something that looked like a baggy of yeast and told me to eat the yeast like medicine down first and then chug this bottle of medicine.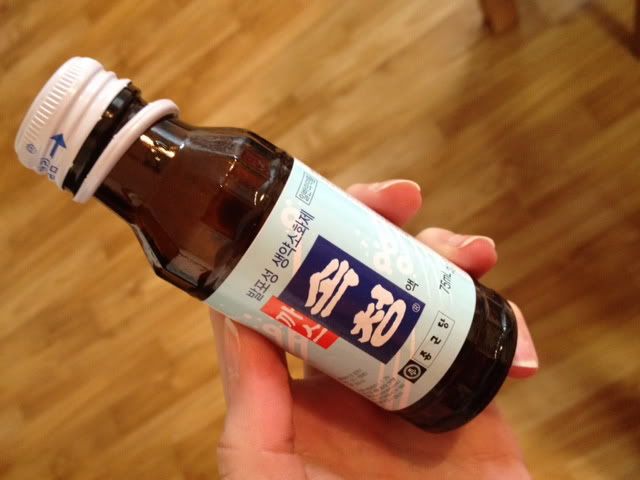 He also gave me pills to take after any time that I ate, which only ended up being twice yesterday anyhow.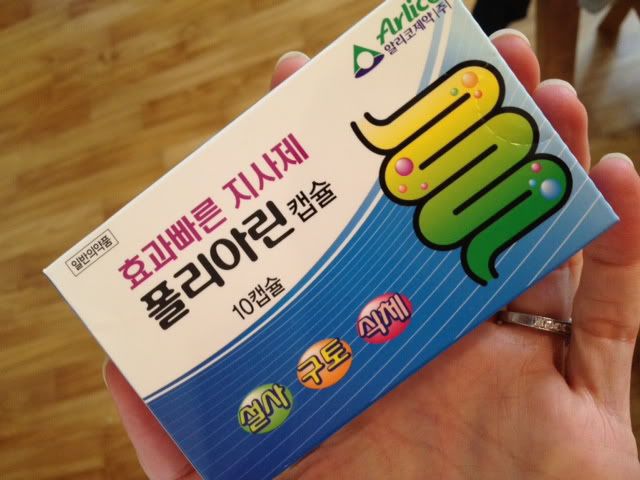 I did my best to stay hydrated with water and gatorade in my awake hours.
And when Brian got home he made me get some food into myself since the only thing I had all day was the bowl of cereal in the morning. I settled for half of a frozen banana, which was like heaven with how cold it was in my system and then a chicken "soup" mix that he put together for me for dinner.
He was making chicken and rice for himself for dinner so he ran across the street to see if he could find anything that was close to broth of some sorts to make me soup. He came back with beef stock, which I asked him to water down before adding some to my chicken and rice and it worked perfectly.
A pretty bland dinner but it got something in my system and fueled me enough to sleep through the night.
As for this morning, I'm up and moving (well from the bed to the couch for now) and have plans to rest up this morning and then hopefully get in a small workout and unpack from the last week at the hotel before packing again for tomorrow's road trip to Incheon and Seoul.
I'm feeling a lot better in the sense of the nauseous feeling has passed but my stomach is still cramping and my chest feels very similar to back in December when I had the ulcer/h. pylori issue…I'm hoping this isn't another flare up of those gastronomical problems!
Question:
Have you had to take foreign medicine that is completely different from any other American medicine you have taken? It was so strange to me to have the medicine in these different forms but I know they are normal medicines to those in Korea. Kinda crazy, the different remedies around the world.