Last week a co-worker of mine came to me and asked if I had read the newspaper that day. Bewildered, I looked at him and said, "no?".
He then handed me a piece of it that had a recipe for cookies on it and before walking out said, "oh, because I think these would be really good. I'm sure we wouldn't mind trying them if you wanted to bake them and bring them in."
Oh. Subtle hint, I guess.
Needless to say, I broke out the ingredients and put the recipe to the test, renaming it "Late Night Snack Cookies" since chocolate chips, pretzels and popcorn seem to fit the bill there. Only other thing I could have tossed in would have been ice cream but I'm not so sure how that would have held up in the oven.
Late Night Snack Cookies
Serves: 20
Serving Size: 2 cookies
Ingredients:
2 sticks unsalted butter
3/4 cup dark brown sugar
1/2 cup sugar
1 tsp. baking soda
1/2 tsp. salt
1 tsp. vanilla
2 eggs
2 1/2 cups flour
1 cup chocolate chips
1 cup pretzels, coarsely chopped
1 cup popped popcorn
1. Pre-heat oven to 350 degrees,
2. Mix butter and sugars together until brown and smooth.
3. Add baking soda and salt and stir well.
4. Stir in vanilla and eggs (one at a time), mixing until just combined.
5. Mix in flour a little at a time.
6. Stir in chocolate chips, pretzels and popcorn.
7. Shape dough into balls. After placing on baking trays lined with parchment paper, gently push down with the palm of your hand ontop of each ball to form into a disc.
8. Bake 12 minutes or until slightly brown on top.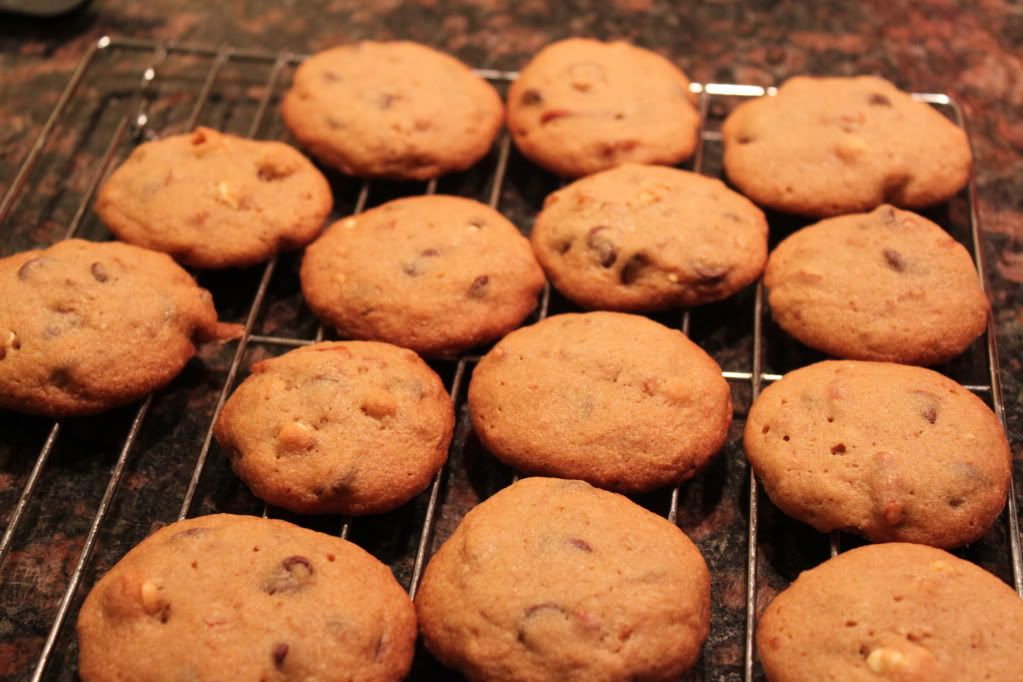 Since these initially went over well with Brian and me and everyone at work, I decided to also use them for The Second Great Sweet Swap. The original Great Sweet Swap was hosted a couple of months ago and I became aware of it when Lindsey at Morningstar Project participated. I loved the idea and took the contact info from her post to make sure I was involved in the next go-round of this delicious idea.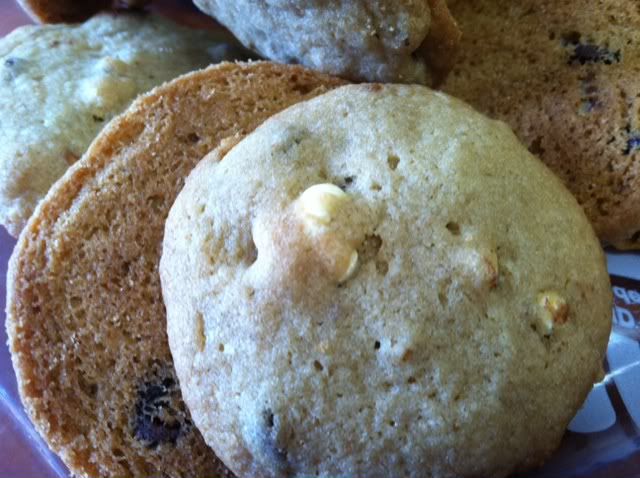 I mean, who wouldn't love the idea of baking one of your favorite treats and then sending it to another blogger in exchange for one of their favorite treats in return?!
Whelp, that second go-round just took place and I hope that Shelby enjoys her Late Night Snack cookies just as much as I enjoyed making (and eating) them!