We have a fig tree behind my dad's office building so this time of the year leads to plenty of figs in the house. Usually, we end up picking them late and by the time we get to tree, half of the figs are too ripe and bees are swarming. Ugh. This year, however, we've been diligently checking the figs everyday and have collected our fair share without an overripe one or a bee in sight. Score!
With this many figs at my hands, I obviously had to start putting them to use – which is how these stuffed pork chops came to be.
Maple Balsamic Stuffed Pork Chops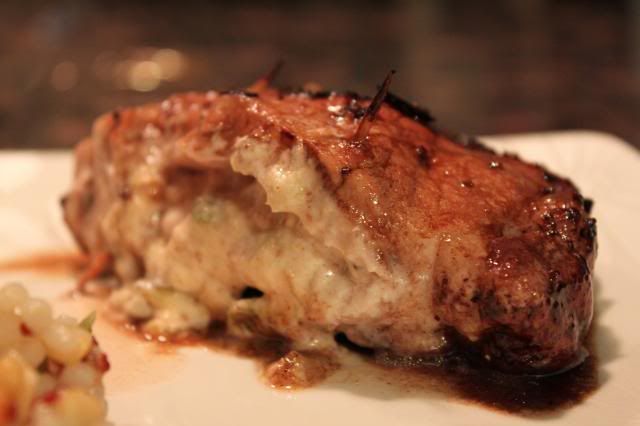 Ingredients:
2 boneless porkchops
2 large figs
2 Tbsp. goat cheese
1/4 tsp. cinnamon
pinch of ground black pepper
pinch of salt
1/3 cup balsamic vinegar
1/4 cup maple syrup
1 Tbsp. olive oil
1 tsp. minced garlic
Directions:
1. Preheat the oven to 425°F
2. Chop figs and mash with goat cheese, cinnamon and black pepper. Set aside.
3. Slice each pork chop from one long side, leaving about 1/4 inch trim uncut on the other three sides.
4. Stuff the pork chops with the fig and goat cheese mixture and close using two toothpicks. Sprinkle both sides with salt and pepper.
5. Combine vinegar, syrup, oil and garlic in a sauce pan and allow to simmer over medium heat until the mixture thickens. Stir almost consistently as to keep the sauce from burning.  Once the sauce has thickened, change heat to low.
7. Heat a frying pan over medium heat with a dribble of olive oil. Brown the pork chops on each side in the oil. About 2-3 minutes per side.
8. Add the pork chops to a baking dish and cover with the maple balsamic sauce before baking for 20 minutes or until the meat is cooked through.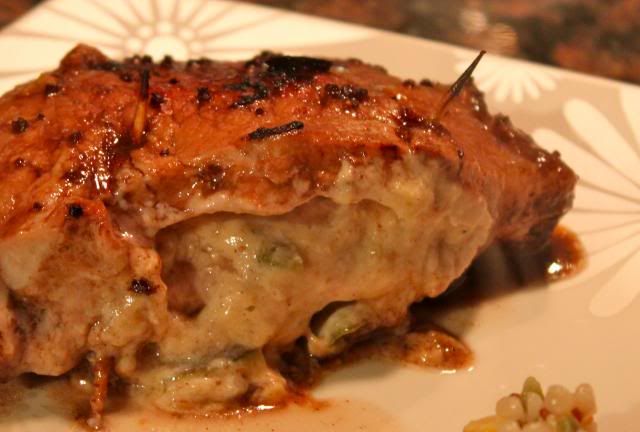 The goat cheese center is the perfect sweet and tangy mix to compliment the sweet and tangy combination in the maple balsamic glaze. Yum!