I have my next weekend full of races coming up at the end of October and since one of the three races is a half marathon, I needed to come up with a training plan to keep me on track for the 12 weeks.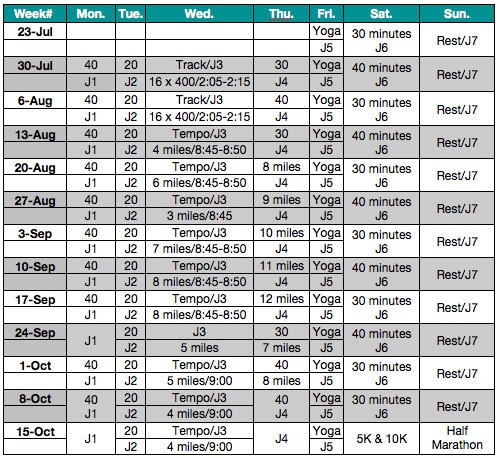 I made a plan that loosely follows my training plans in the past, a combination of previous half marathon training and training from my full marathon last fall. Running, yoga and cross-training all are included.
And just to throw in a different aspect to the tracking and training, I also downloaded the MapMyRun Training App as well. I like that the app keeps everything organized right on my phone and imports my workouts into my calendar as well. Not to mention that it allows you to pick the day you wish to complete your long runs on (Thursdays for me on this go-round) and also how many days per week you wish to run.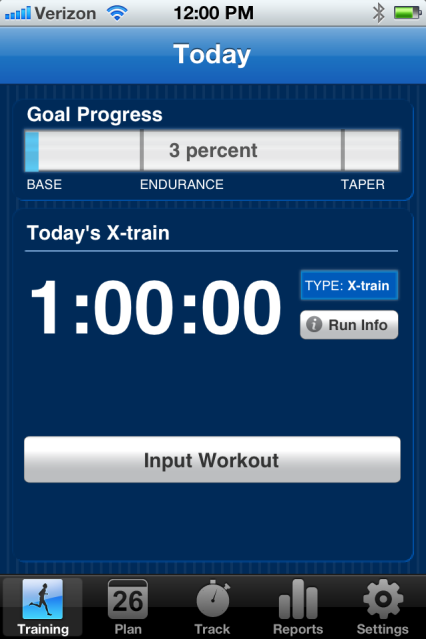 I've decided to do a little mix up of both my training plan and also the MMR Training plan. For instance, on the day before some of my long runs, I won't be doing only 30 minute easy runs, as I have to be prepared for 9.3 miles (a 5K and a 10K) on the day before my 13.1, so instead I'll be doing a moderately long run to make sure that my legs are used to the back-to-back days of high mileage.
Regardless of what plan I am following on each day, I'm excited to have a new plan in place and am motivated to get my legs and body back in prime running shape! Here's to yet another training season!
Workout
Today's was a scheduled cross-training day so I started the workout with a 25 minute walk through town with Telli and ended it with Jillian Michael's No More Trouble Zones DVD.  Strength training is going to again be prominent in my training and this is a great total body workout.
My hamstrings are hating me from the lunges upon lunges!
Lunch
Told ya that last night's pulled pork would make an experience in today's lunch.
I added a shredded jalapeno string cheese with the pork in a tortilla shell to make a taco.
While Brian made his usual burrito bowl with more of the leftover pork.
So. So. So. Good.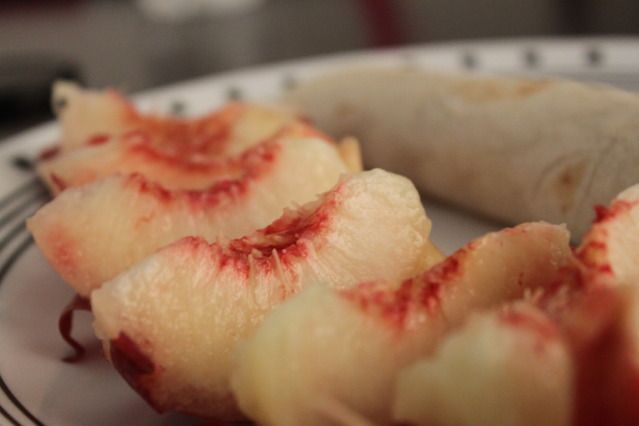 Oh yea, I also had a white peach on the side. Details, details.
Question:
Do you prefer to make your our training plans or follow pre-made ones?