One of my favorite nut mixes is the NUT•rition blends from Planters. I love the variety of options that they offer with different mixes of nuts, dried fruit and chocolate and haven't found one that I'm not a fan of just yet. I mean, with the selection that you have to choose from, there has to be something that appeals to you, if not all of them!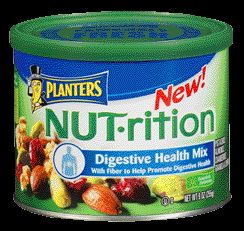 (click image for source)
And better yet, each is specifically put together with a different focus:
Men's Health Recommended Mix
Antioxidant Mix
Digestive Health Mix
Energy Mix
Heart Healthy Mix
Omega-3 Mix
Bone Health Mix
Wholesome Nut Mix
My all-time favorite mix is definitely the Energy Mix with almonds, peanuts, walnuts, pecans, dark chocolate-covered soy nuts and honey roasted sesame sticks – yum!

(click image for source)
So you can imagine how delighted I was when I found this same mix in a NUT•rition Bar, an instant favorite on-the-go snack!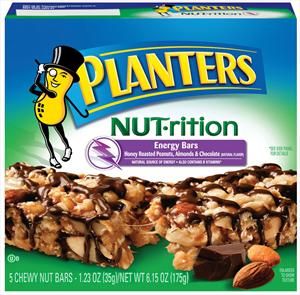 (click image for source)
And the Energy Mix isn't the only one that comes in a bar either. You can also find the Heart Health, Bone Healthy and Antioxidant mixes in bars as well.
Now, after hearing how much I like the nut mixes and the bars, I'm sure you can imagine my excitement when I came across the new Energy Mix NUT•rition Peanut Butters yesterday while picking up a few needed items from Walmart.
You can bet I picked up a jar of each flavor that I could find:
Cinnamon Raisin Granola – peanut butter with cinnamon, raisins, granola & peanuts
Berry Nut – peanut butter with cranberries & peanuts
Banana Granola Mix – peanut butter with banana, granola & peanuts
I've only broke into the Berry Nut flavor thus far and I loved the extra sweet touch that the cranberries added to my afternoon snack of animal crackers and peanut butter yesterday.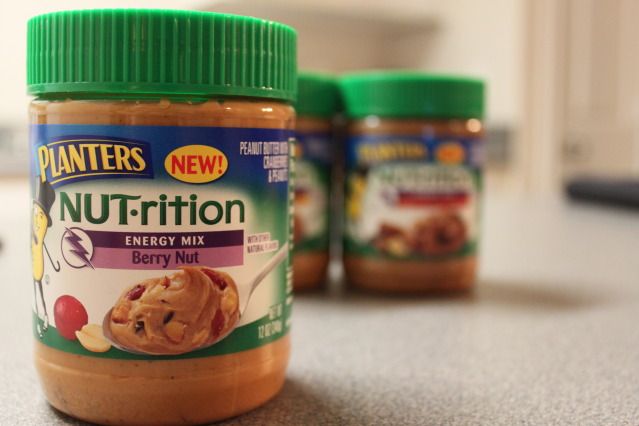 Now I can't wait to see how similar the Cinnamon Raisin Granola one tastes like my favorite Cinnamon Raisin Swirl peanut butter from Peanut Butter & Co!
(Disclaimer:  I did not compose this review in accordance with or as requested by Planters.  I am only recommending the products on personal preference.)