This morning I woke up way too early for a Saturday and headed to Custom Training Solutions in Oklahoma City to get my First Aid CPR AED certification which is required by NASM before I take my CPT Exam.
The first two hours of class focused on first aid – basic first and medical, injury and environmental emergencies before we moved on to the interactive stuff – CPR and AED training on the man and baby dummies.
I successfully saved both dummies AND saved the baby from choking! I'm happy that infant and child CPR and infant choking were all included in this class since my niece and nephew will be here in September. Hopefully I never have to use either on them but better safe than sorry!
Workout
Since I didn't get my workout in before class this morning, I knew I was going to have to lace up my running shoes for a HOT run sometime this afternoon.
I put it off as long as I could before I just wanted to get it over with.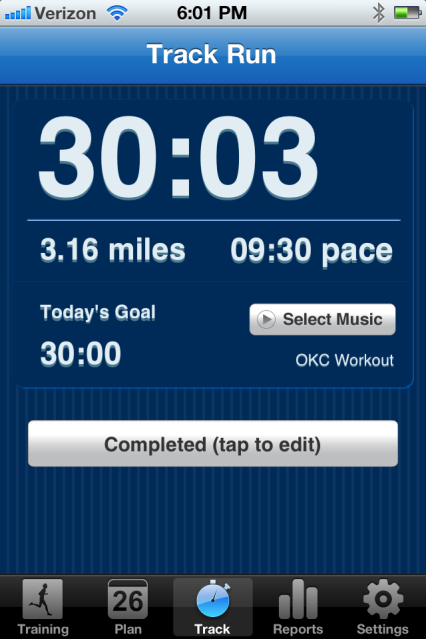 30 easy minutes later and this is what you get in the 107° weather we have going on here today.
All I could think about on my run was, "it's a good thing I just learned all of the signs of heat cramps, exhaustion and stroke but I better take it easy because I can't treat myself!"
I took water with me (that was boiling hot by the end of my run) and promised myself I would take it easy or even stop if I needed to. Some quick (not as obvious as things like drink water) tips for hot, hot runs:
Tip #1: Find Shade. The shade was definitely my friend today and anywhere that I saw it on the street, I would make a point to head in that direction. The simple break from the sun beating down on you really is instant relief. Overpasses may trick you though so be careful! You think the shade from them will be a comfort but the lack of air movement underneath can make you feel like you are in a sauna – no circulation and hot, HOT air.
Tip #2: Run on the sidewalk or grass – Avoid asphalt. Asphalt gives off a ton of heat in hot weather and you can sometimes even feel the heat penetrating the soles of your shoes. Staying on concrete doesn't turn your run into an Alaskan one but it offers a little less heat radiation from its lighter color and could be up to 10° cooler than running on asphalt. Doesn't make THAT much difference when it is 107° but I'll take any decrease in heat that I can!
If you are a hot weather runner or aren't used to the especially hot temperatures now, I hope these little tips help!
Question:
Any other tips for cooler runs in HOT weather?