Tonight, Brian and I made our way out into the lights of Incheon for dinner.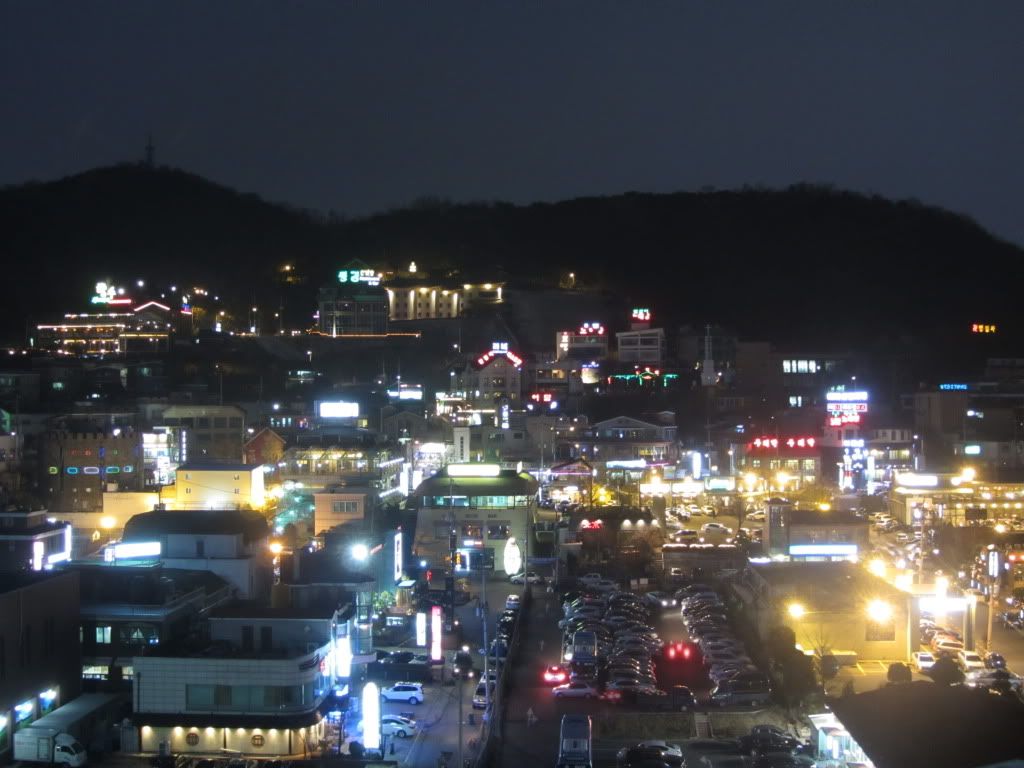 It was our first dinner out in Korea by ourselves with no one to translate or order for us and we chose to go to the Green Tomato.
Upon entering the restaurant, we were greeted by a floral scene and two birds pleasant chirping away in their cage.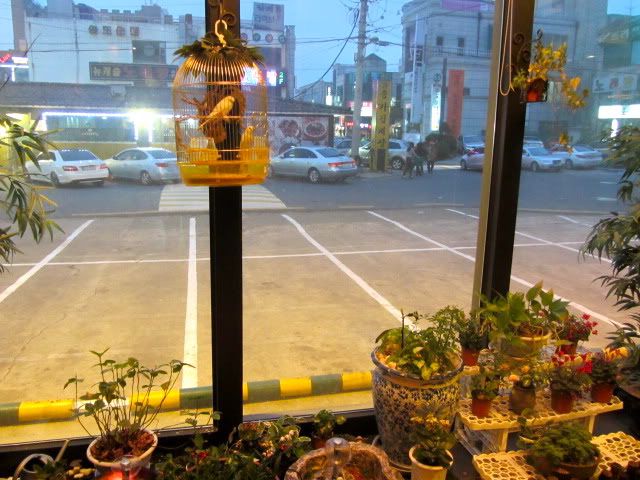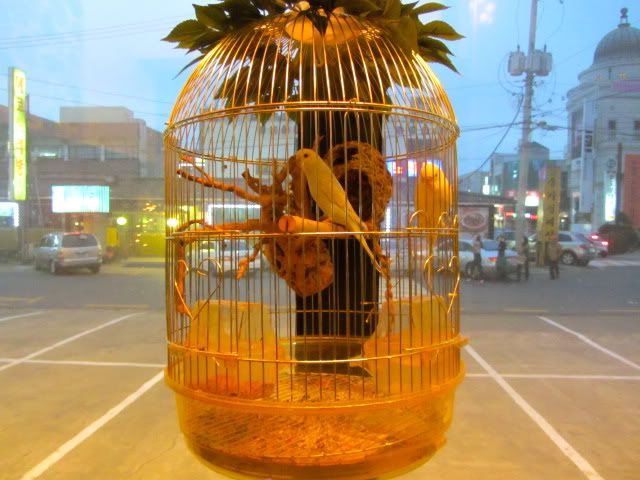 When we turned the corner into the restaurant itself, it had more of lounge feel to it with over-sized armed chairs at the tables in the main seating area.
And couches as the seats at the tables by the windows, where we were seated.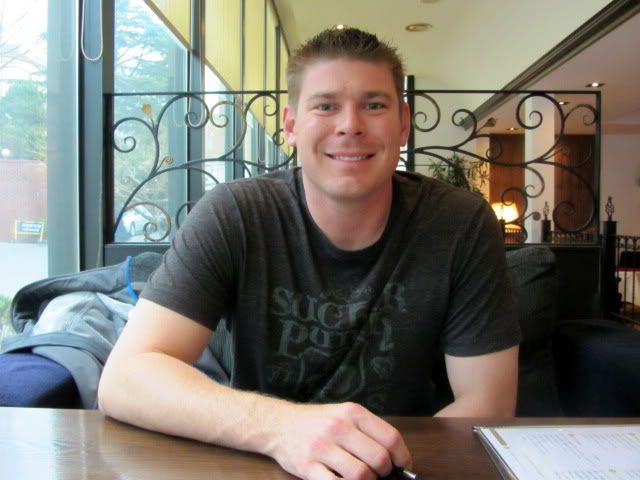 Perfect to just sit back and relax.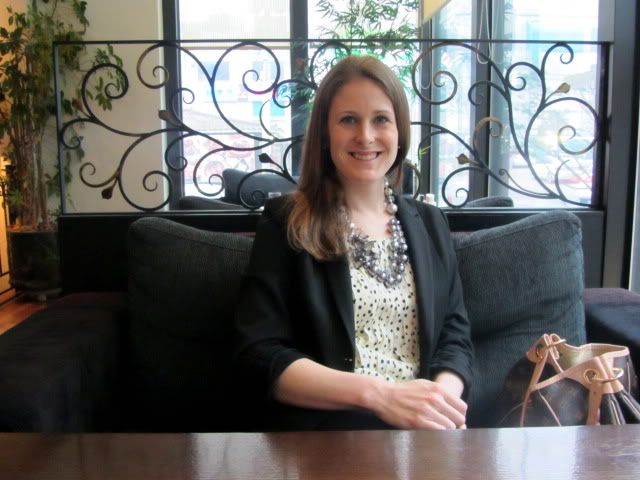 When the menu was brought to us, we both let out a sigh of relief when there was English descriptions under the items listed in Korean.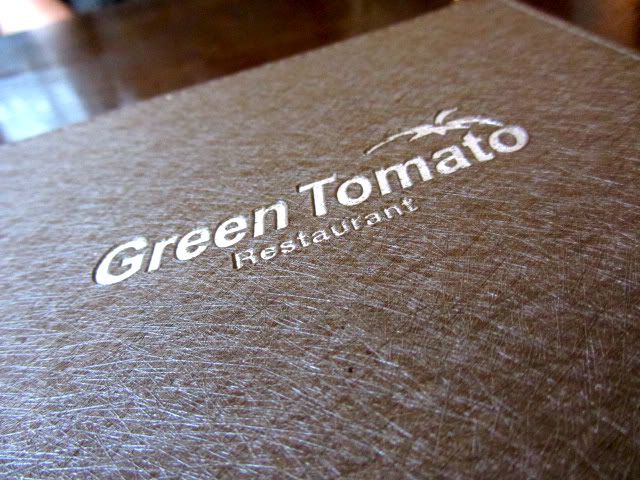 Like the majority of the restaurants that we have visited here, there was a few pre-fixe menus to choose from along with other meals and steaks. I decided to go with the tenderloin and salmon pre-fixe option.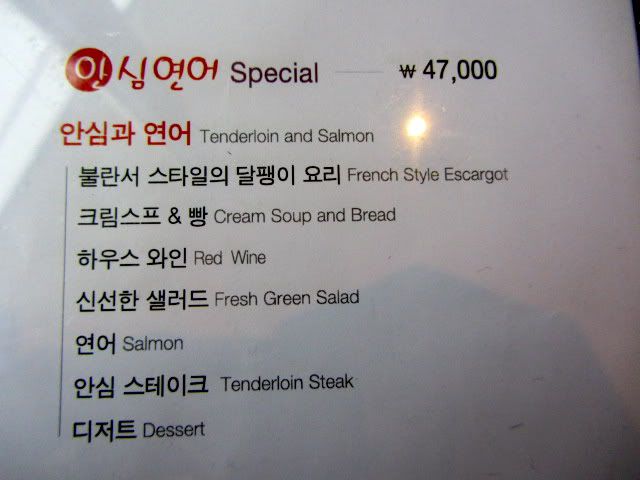 Brian ordered the chateaibriand cut of steak, which he was got all of the pre-fixe courses served to him with as well.
After we ordered, the server brought us our table settings. Forks, a knife, a spoon and an escargot tool?!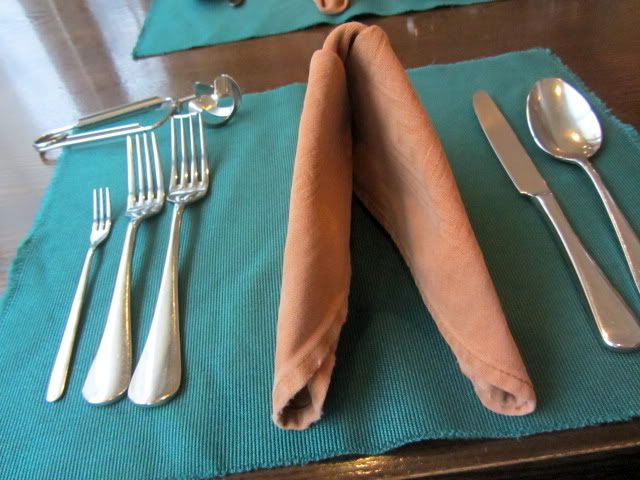 Neither of us were quite familiar with how to utilize the escargot clamp (?!) but Brian did his best to figure it out.
Hmmm…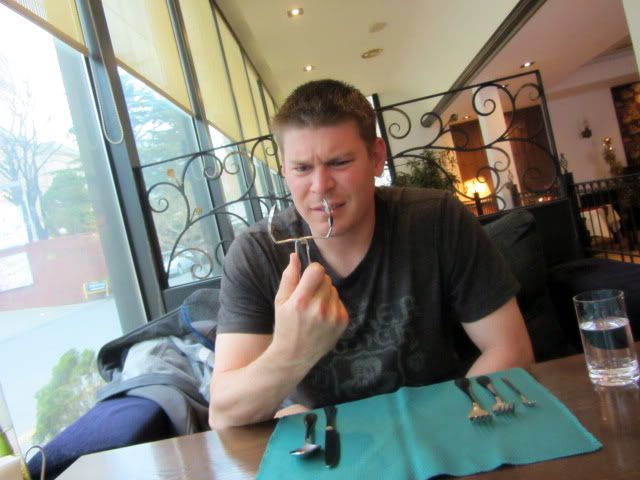 Ah hah!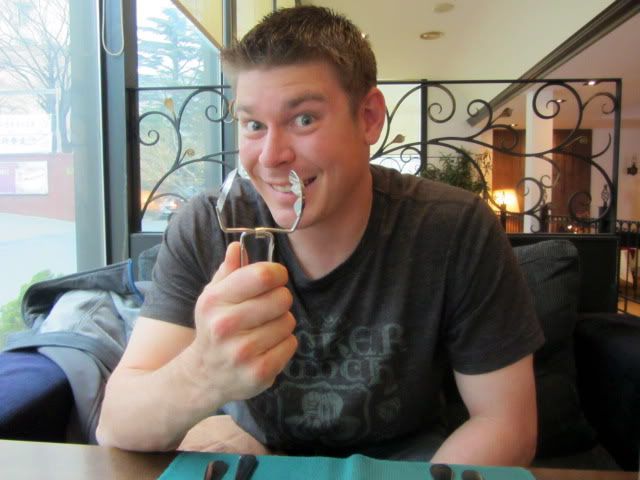 The first course to be brought to the table was our soup and salads. The soup was a cream of mushroom type and very light for a cream based soup. The salad had a load of dressing on the side but tasted almost like a kiwi flavored dressing, really good!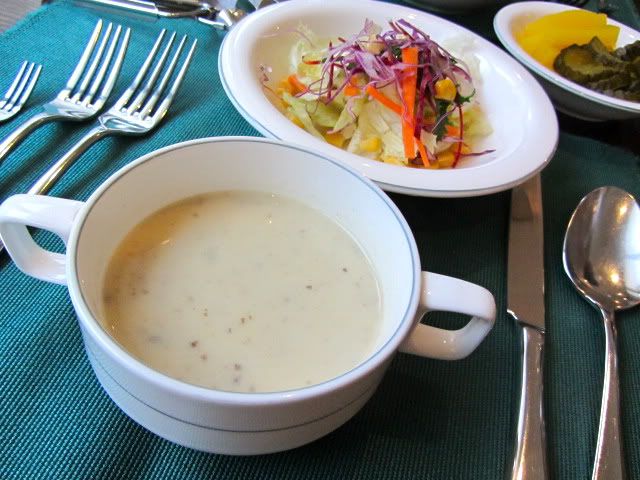 The soup and salad was accompanied by our red wine.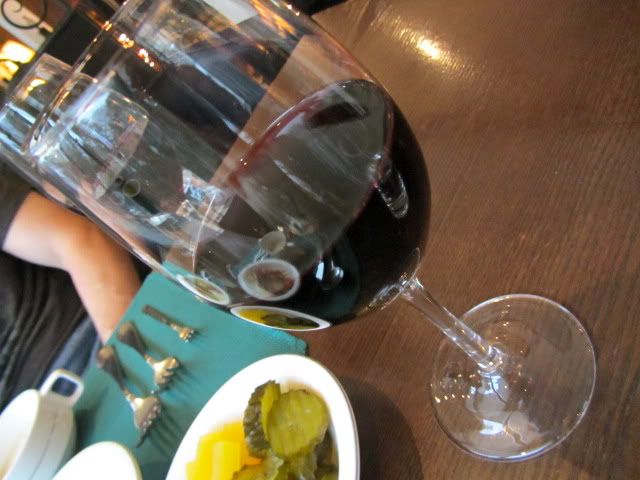 And taro root and pickles, of course.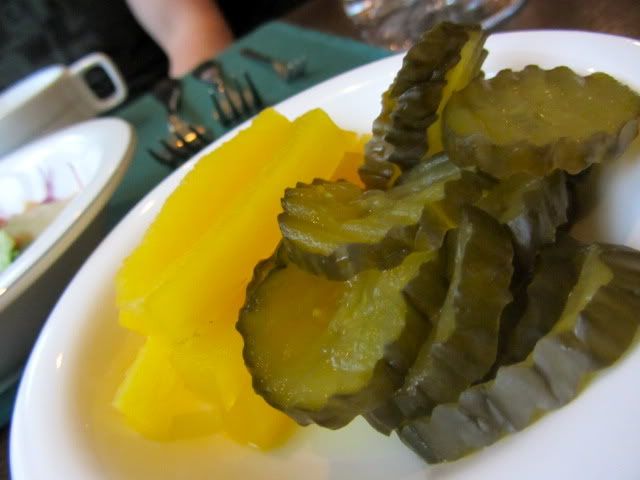 Next up was the escargot. Neither of us had ever had it before and you can bet Brian wasn't going to eat a snail.
I figured I would be a little adventurous and went for it.
I think I covered mine in a bit too much of the salt, hoping it would make me like it more, but the parts that weren't as salty actually weren't that bad – it almost tasted like clam to me.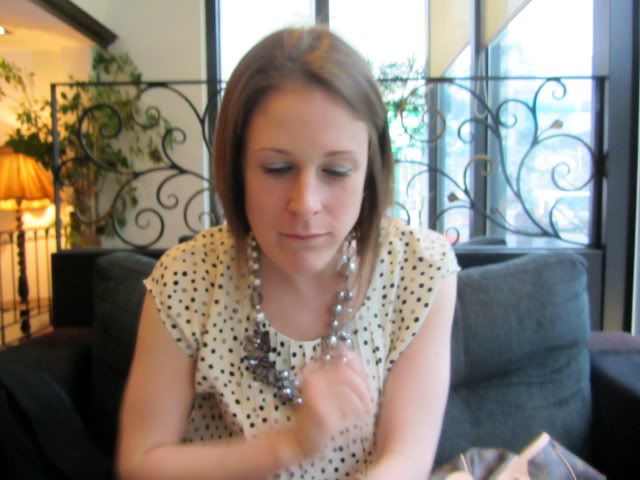 I still opted to pass on my second one though.
The next course was a mixed plate with half of a potato with melted cheese, some sort of dumpling, rice and broccoli.
And then finally it was time for our main courses.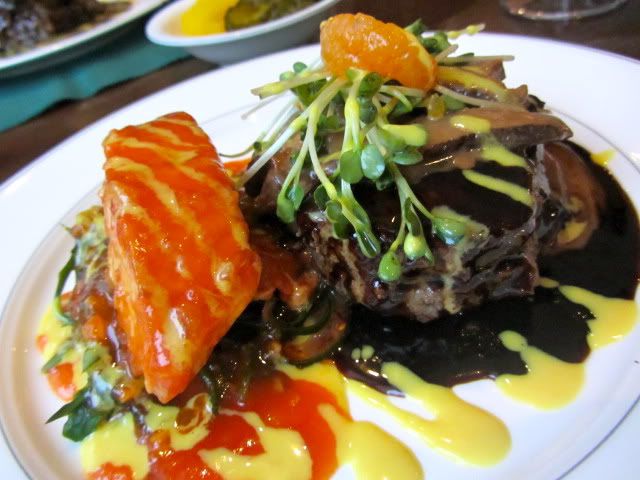 I knew there was no way I was finishing the whole plate after everything else that I had sampled before the steak and fish were set in front of me. Especially with the size of that tenderloin!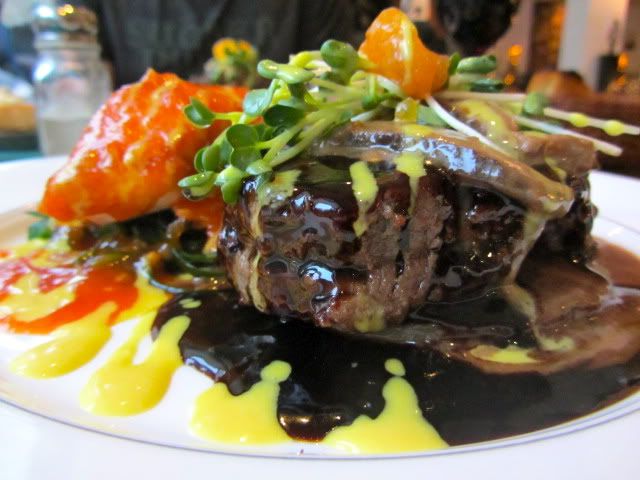 Both were cooked almost to perfection though and were extremely tasty. The yellow mustard sauce was a little too spicy for my liking but I managed to eat around it.
And if you think my steak was big, have a look at Brian's.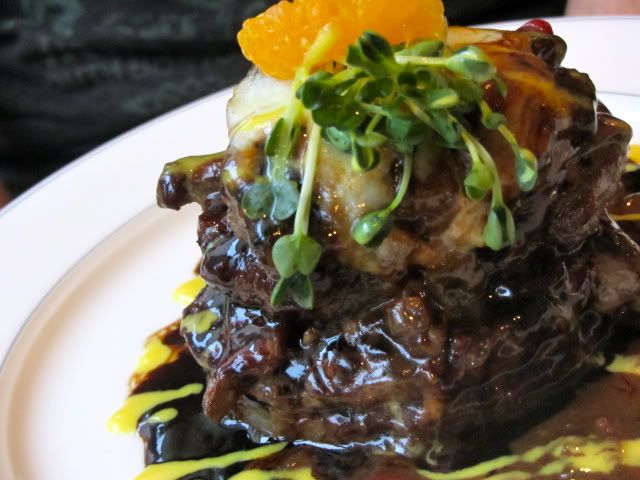 Brian vs. Food definitely happened. And Brian won. He was in the clean plate club, finishing all of his meat, the slice of pineapple served underneath of it and some of my salmon. He's definitely all fueled up for his start tomorrow now!!
Overall, it was a successful first dinner with just the two of us out in Korea. It was nice to be able to enjoy each others company not in a hotel room for a night and we already are looking forward to doing it again!
Question:
Have you tried escargot? Do you like it?