A few things can make a great fall weekend for me and this weekend included a number of them:
Family time
Racing in cool weather
Fall inspired activities
Saturday morning started off with the SHG FallFest 5K.
[source]
The race was part of the FallFest that Sacred Heart of Glyndon was putting on and participating in it was a no-brainer for me since SHG is not only the parish I belong to and was raised a part of but also because it is where I attended K-8th grade. The race started and ended at Farmer Tom's farm and was an out and back course on a hilly road in Reisterstown.
The race was very small in numbers (it was the 1st year for it!) and was not chip timed. I tried to get as close to the start line as possible and lined up behind a bunch of very anxious and excited youth that were ready to run.
As we started out of Farmer Tom's, I was listening to the conversation around me and was laughing to myself at the comments being made by the kids:
"I'm already tired!"
"My legs hurt from that hill!"
"I bet those boys out front end up walking! They are going too fast to start!"
"Let's pace ourselves so we don't end up slowing down later."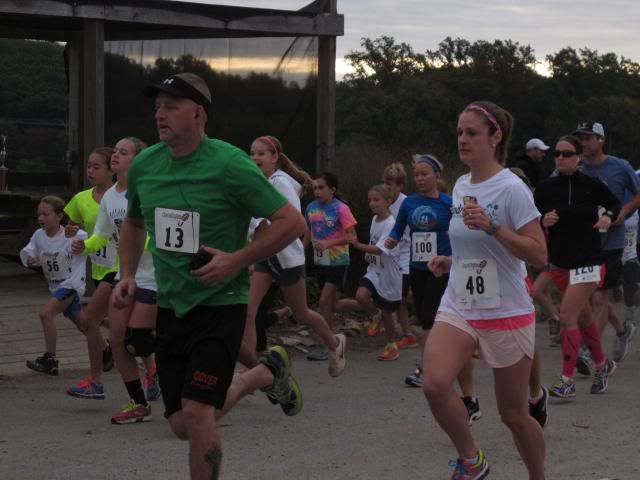 In the last .3 mile of the race, I was still behind two other females (a mother/daughter duo) but was gaining ground as we were climbing one of the final hills. I passed the daughter and as we were making the final turn onto the farm to get to the finish line, I made my move to pass the mom as well. I could hear her on the gravel behind me trying to catch back up but I made sure to dig deep and finish strong. My mental mistakes from past races weren't going to happen again!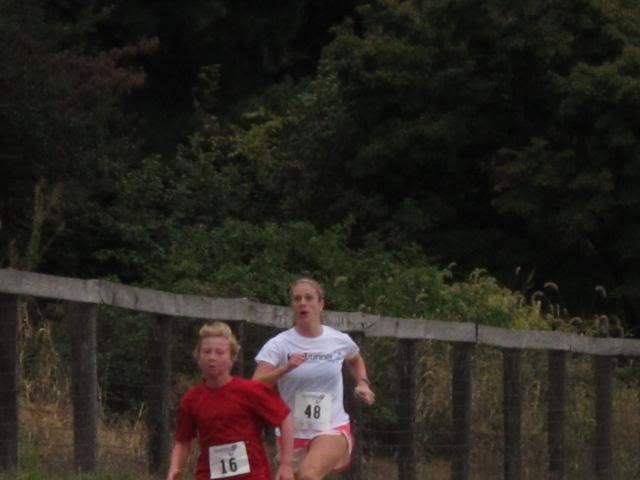 I ended up finishing as the top female and tied for 4th place overall!! Even though it was a small race, it was still an accomplishment for me!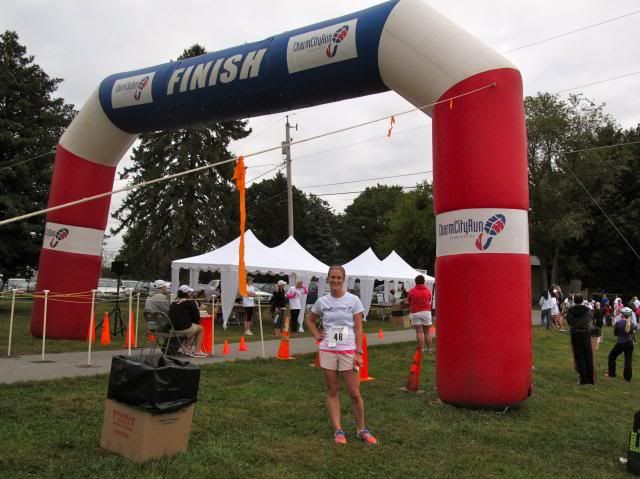 Final Stats:
Time: 23:57.5
Female Finish: 1st of 85
Overall Finish: T-4th of 139
After the race, I spent the rest of the afternoon with my sister and brother-in-law and the kids at the festival itself. The FallFest was held at Farmer Tom's as well and there was plenty to keep the kids interested for the afternoon.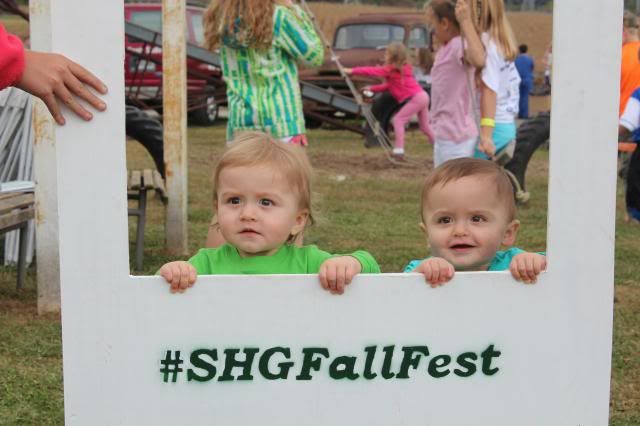 We had a great time allowing them to enjoy the outdoors and explore the farm.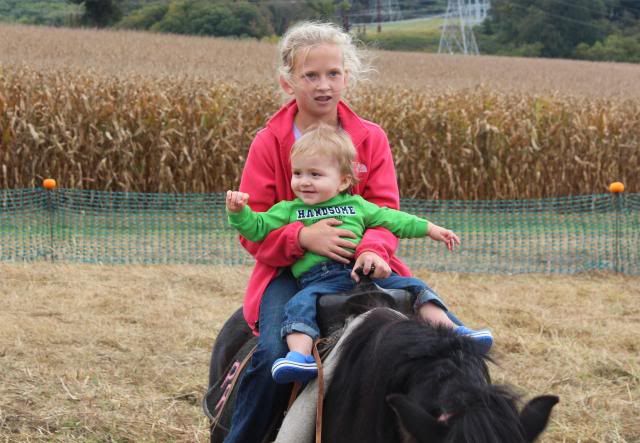 We think we may have a little farmer on our hands in Noah! He loves being outside and seemed totally in his element all afternoon.  So much so that he didn't want to be delayed in his exploring (or taken off of the John Deere tractor) as you can tell from his face below.  There's no stopping for pictures, Mom and Aunt Jenny!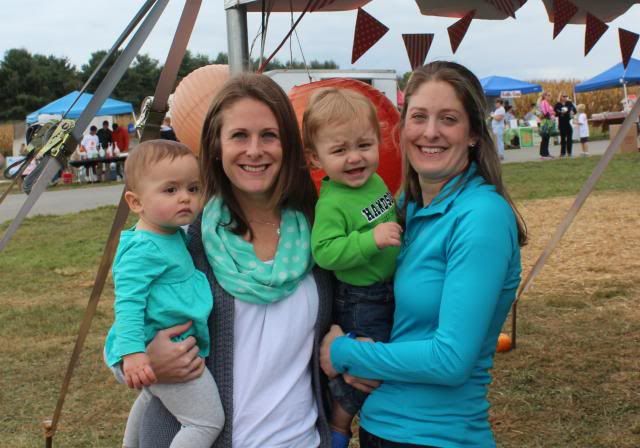 Sunday morning included more racing and family time! Katie, Brian, my mom and myself all took part in the Blazer Dash at NDP (my high school alma mater). I've run this race before (and actually hit my first 5K PR in 2010 at it!) and knew going into it that it was going to be another hilly, morning run. It was again not a chip timed race (which it used to be) so I lined up as close to the start as possible and took off at a steady pace. I ended up passing a fair amount of people and eventually made my way to a comfortable opening with a group of faster racers.
[source]
It was fun to pass my mom with the babies, who were doing the 1-mile walk! Even though they were pretty confused when I tried to get their attention and say hi to them – the babies, not my mom, that is!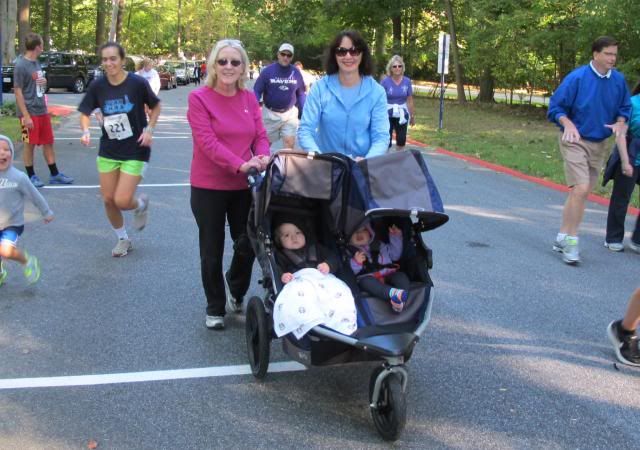 The course ends on a huge hill and, unlike the day before, I actually ended up getting passed in the final stretch of the race. I was pushing myself but that hill was killer!! I ended up placing 2nd in my age division – with a faster time than the day before! Two great races on back to back mornings – I'll take it!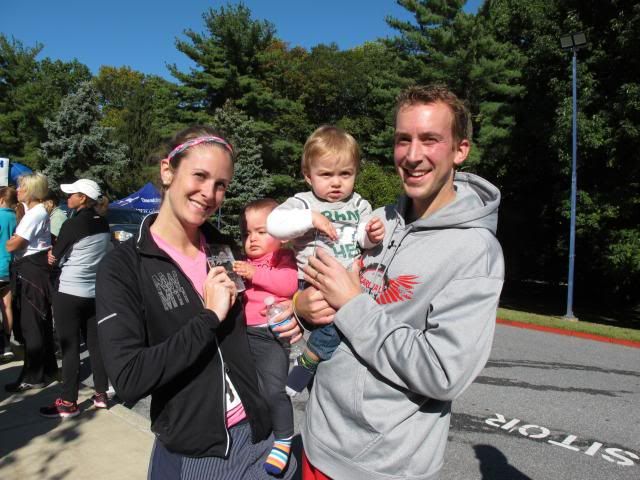 My brother-in-law came in about 25 seconds behind me and ended up winning his age division – way to go, Brian!!
Final Stats:
Time: 23:51.4
Female Finish: 15th of 85
Division Finish: 2nd of 23
Overall Finish: 37th of 379
Overall it was a weekend spent exactly how I prefer it! Running, cool weather and lots of family time (too bad my Brian was at a Bachelor Party and missed the fun)!