With yesterday being a bit crazy around our house, I didn't get to share the final workout in my new split-routine. Monday focused on Back & Biceps, Tuesday on Chest, Shoulders & Triceps and that left Legs & Core for Wednesday.
Since we are traveling today and I'm not sure when I'll be back in front of my computer, I figured it was a perfect time to give you all part III to round out the new routine. I did this workout yesterday and will share the specifics below!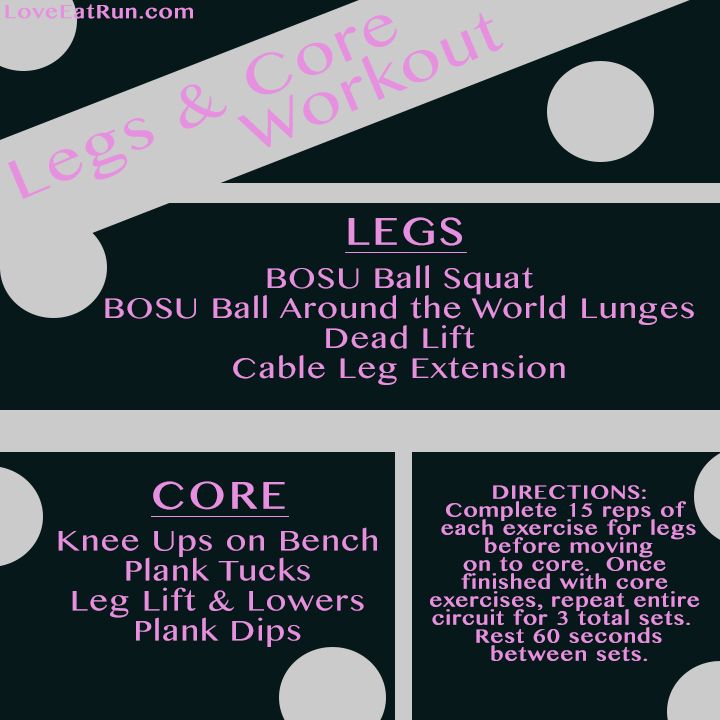 Additional Notes for this Workout:
With all the running that I do, I'm not into heavy lifting with my legs. I prefer to only use body weight while working them, unless I am targeting more than one muscle group, for instance lunges with curls, in which case I would only use light weights. For the squats, I had my arms extended in front of me, parallel to my thighs as I lowered; during the lunges and extensions, my hands were on my hips. An exception to my "body weight" leg-lifting rule is, however, deadlifts. I like to have weight (I used 8lbs. dumbbells) in my hands for resistance as my hands reach towards my toes. All of that being said, if you prefer to use weights with your leg exercises – go for it!
The squats and lunges can be performed on the ground – a BOSU ball is not necessary, it only adds a stabilization aspect to each exercise.
One other clarification on the specifics for this workout – you don't have to do 15 lunges in each direction on the Around the World lunges. I did 5 in each direction for a total of 15 on each leg per set.
Okay, so are you totally confused on what an Around the World lunge even is? Let me explain – you start standing on the BOSU Ball with your feet together – right foot planted. You first do a front lunge by stepping your left foot forward.  Bring it back to center and then step to your left for a side lunge. Bring that left foot back to center again and then step it back so you are in a back lunge. Finally bring your left foot back to meet your right foot and repeat the entire circle of lunges. Once you finish 5 cycles lunging with your left leg, repeat again with your right leg this time.  Ahhhh…makes sense now, huh?
Okay – go try this workout in combination with the other two for your complete split-routine! You can repeat them each twice a week, working each muscle set two times a week or you can keep your workouts to once a week and your routine to a M-W-F type pattern!
If this routine seems to work for me as planned, I will be changing this exercises for each muscle group after a given length of time and will be sure to share the updated workouts with you as well.
As always, if you need help with any other exercises not specifically described or have any questions, feel free to comment below or email me at LoveEatRun@gmail.com.