If you know me, you know that I like to be very organized to point of being OCD about some things and when life gets chaotic, I have the tendency to feel completely out of sorts. Let's use right now as an example…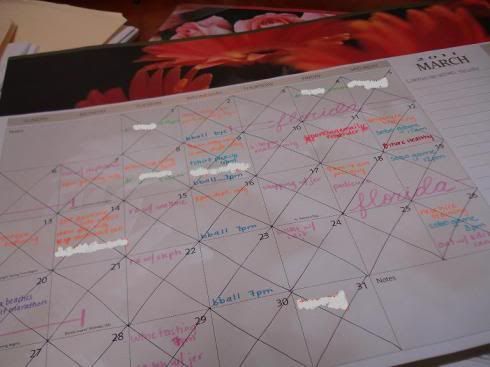 Since I stopped working, it has been hard enough to keep up with what day is what. Everyday runs together and feels like the weekend so I never know which of the seven days in the week it really is. When I arrived in Korea, things just got worse. Between trying to keep track of which day it is, which day it is back home and which city we are going to be in for the day, I'm going crazy. So today, I made an attempt to fix that.
I searched Home Plus for a calendar but couldn't find one so I settled on this little weekly planner. It'll do the job.
I started with this week and filled in which city we are in, who Brian is playing (with a notation if he is pitching), if he has any plans I need to be reminded of and anything else that may need to be noted.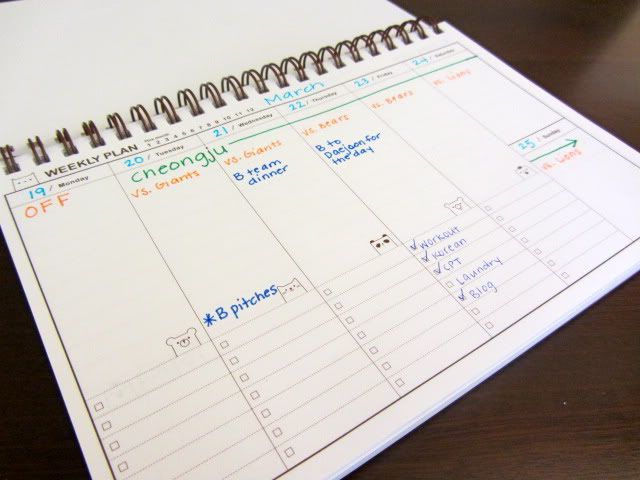 I've plan to continue this through for the rest of the time I will be here so I can simply look at a week ahead of schedule and know where I will be, how long I need to be packing for, what traveling I will be doing and if I am coming or going. Oh wait, it doesn't tell me that. Dang it.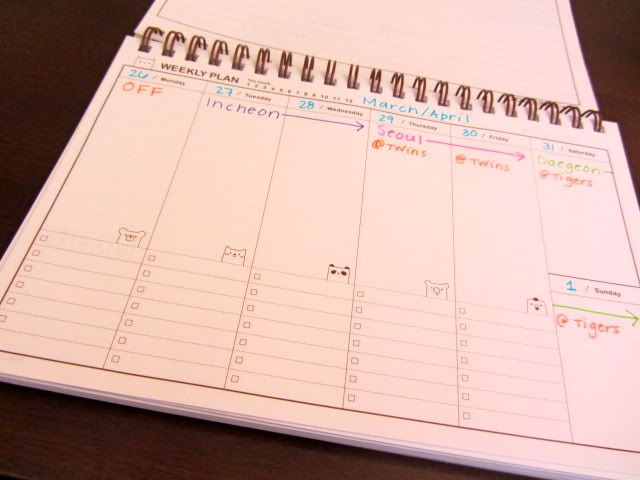 Hopefully this helps to keep me a little more organized!! The baseball life full of traveling and game after game after game is definitely setting in now. I thought it was crazy working for a baseball team but at least then I was stationary and only had to worry about home games!! Oy vey!
Dinner
One of the front office staff members from the team who is fluent in English offered to take Brian and me to dinner tonight and we obviously jumped at the chance to have a night with a fellow English-speaking individual who is familiar with Korea and the lifestyle. This individual was born in Seoul and moved to Washington, DC when he was twelve years old and just recently returned to Korea seven months ago so conversation with him was extremely helpful and informative.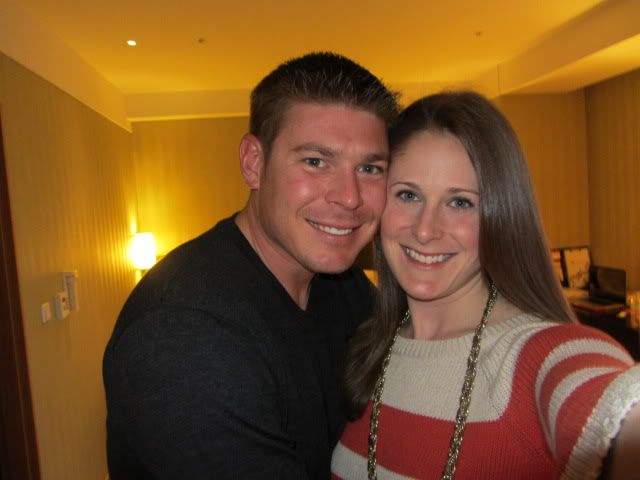 While waiting for him to arrive at the hotel to pick us up, we sat in the lobby and enjoyed some drinks. Authentic green tea for Brian and my first Korean coffee!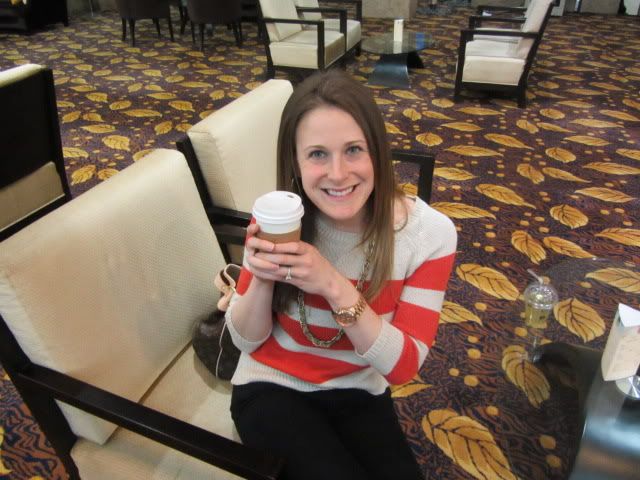 I was so happy to be drinking some, even if I was drinking it black!
For dinner we went to a local restaurant for a traditional Korean meal. Traditional meal = sitting Indian style on the floor for two and a half hours while nonstop food is put in front of you.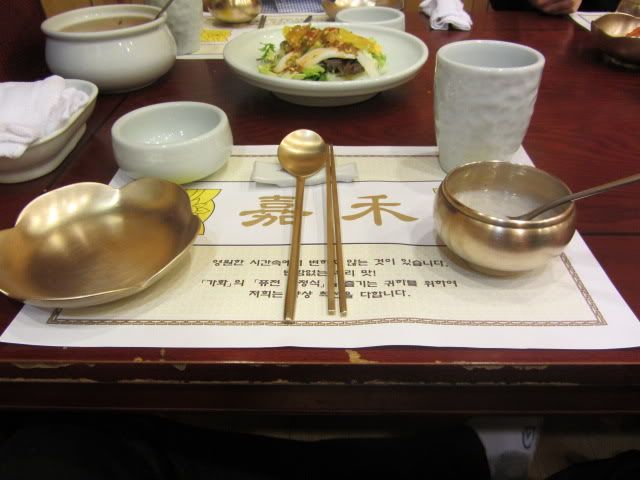 We started with a porridge made from some sorts of grains that was really good. Sort of reminded me of an oatmeal-like dish.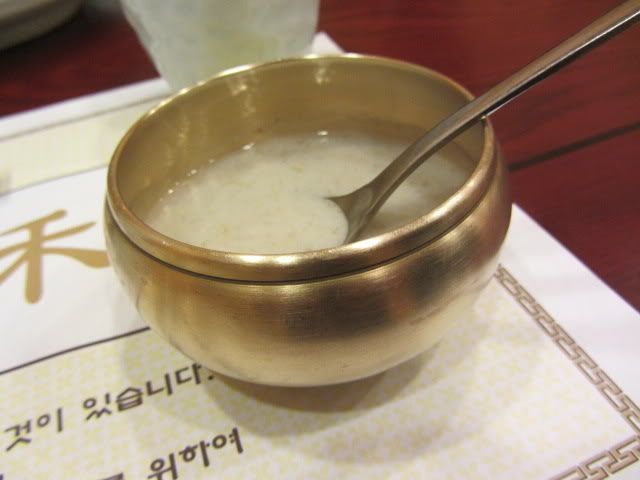 Not long after an array of other foods flooded the table…
Thick rice cakes with bean inside.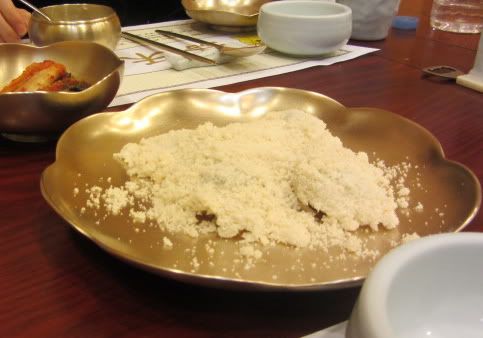 Mushroom and sausage egg-like patties.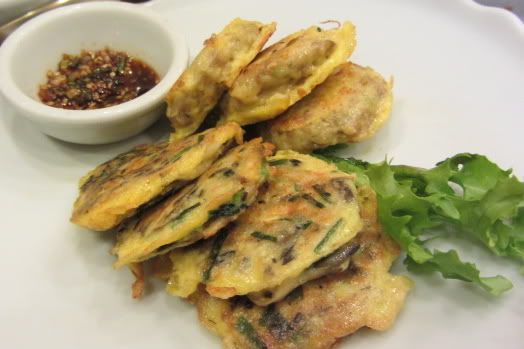 Sashimi behind the patties.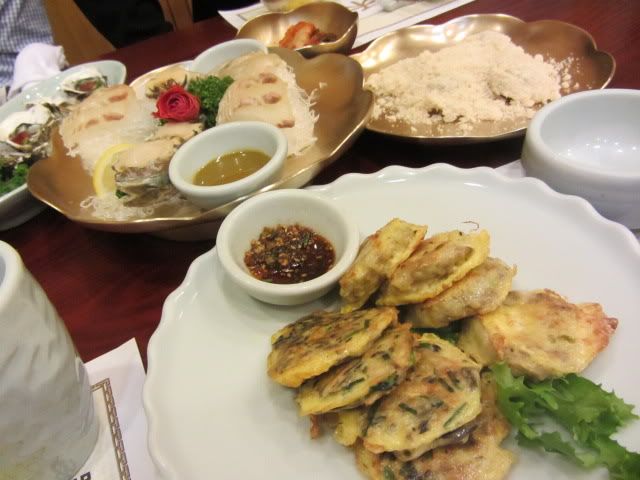 Oysters.

Beef.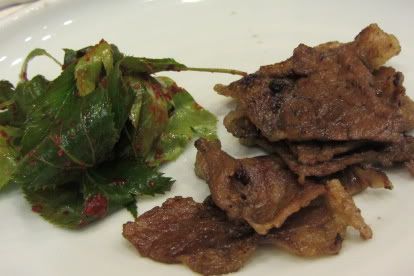 Some sort of stuffed shrimp, which ranked high on my list of likes!
Two different sorts of noodles. The clear ones are made from vegetables and have a sort of soft, mushy texture and the others are actual noodles with meat mixed in as well – my favorite thing of the night!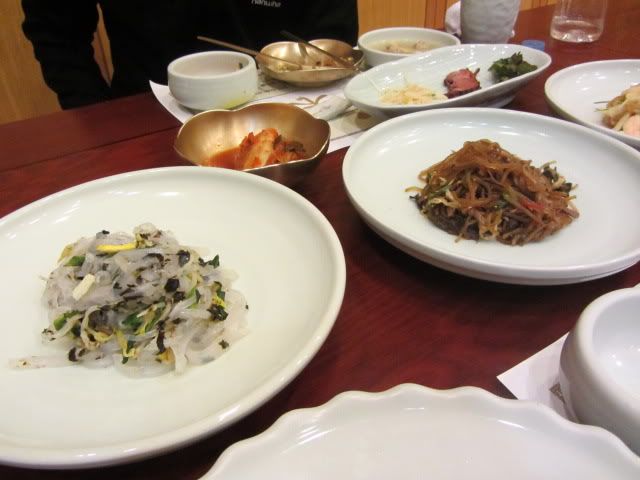 A soup with a mix of egg, seafood and I'm not sure what else but I ate everything out of the broth!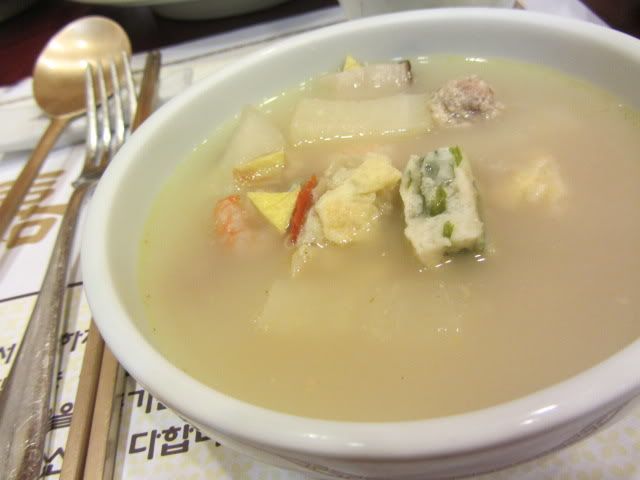 Jellyfish – ekkk! Brian loved this. Me, not so much.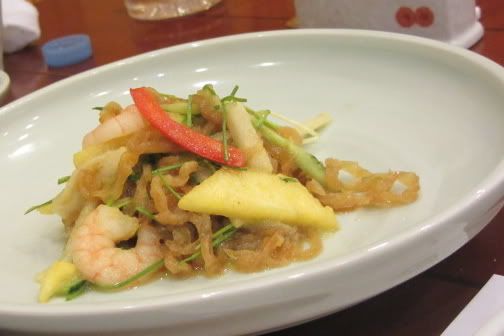 Whole fried fish. You had to pick through the skin to dig the meat out. I had a small bite of what Brian dug for and it was actually good but too much work for me, especially with chop sticks!
Another tofu based soup.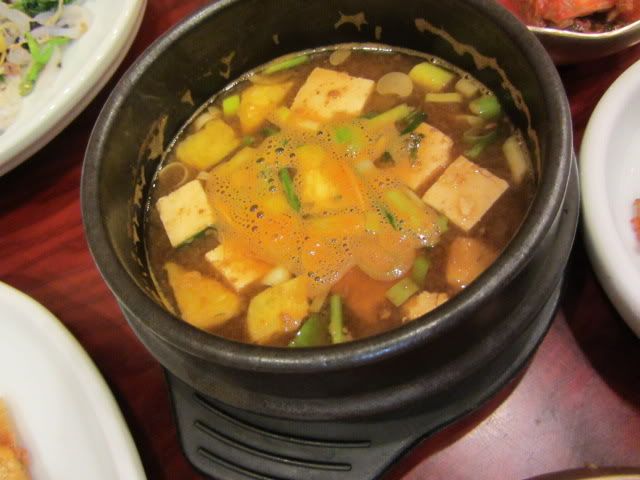 Rice (obviously).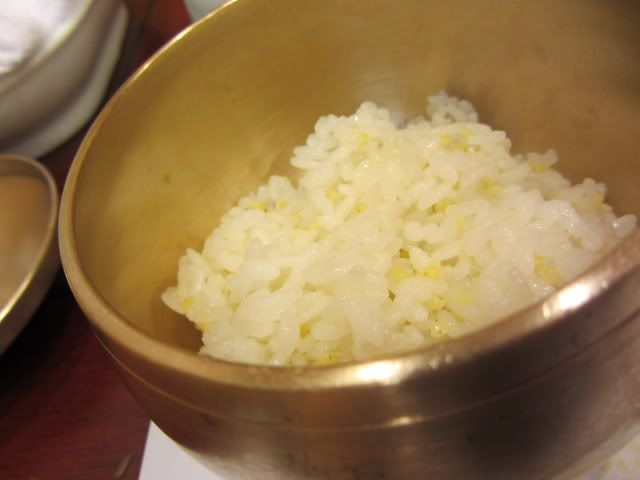 And a bowl of the boiled leftovers from the rice pot (?!).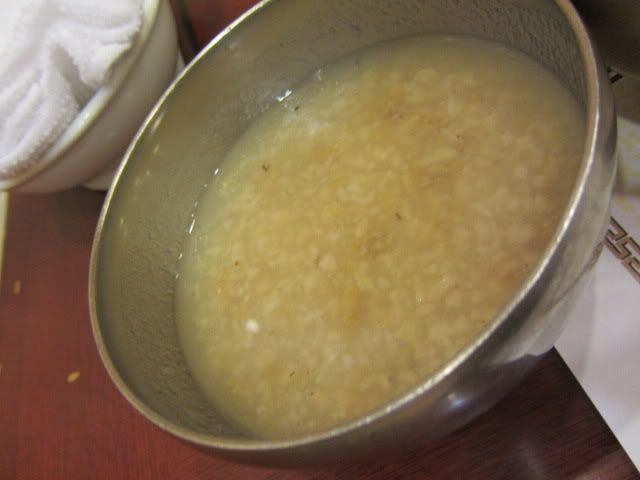 Another soup with some sort of cabbage in the broth.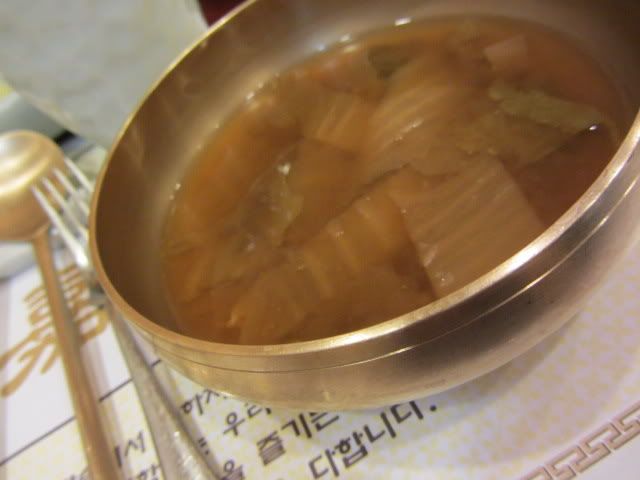 And finally a cinnamon dessert drink that was my second favorite thing on the night!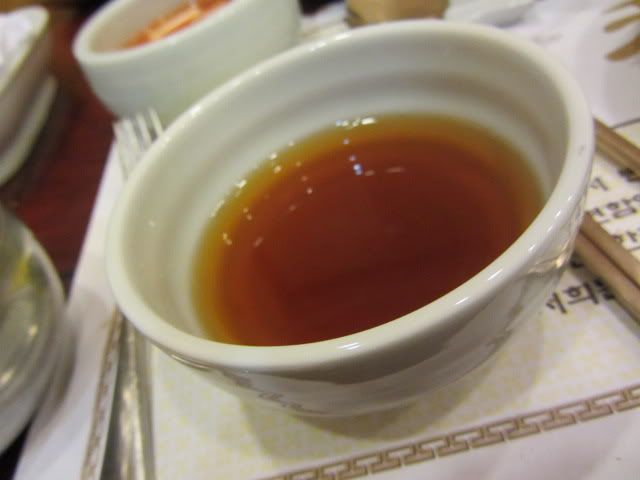 With fresh fruit.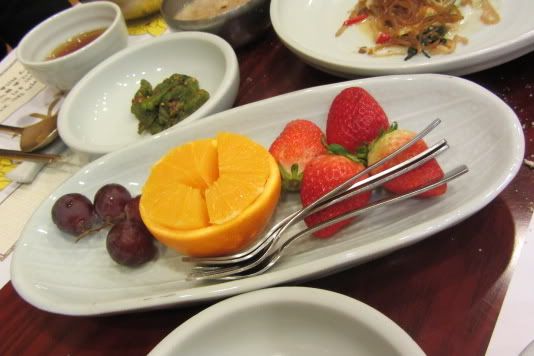 This isn't even everything that was put on the table. I missed pictures of the kimchi (which I ate and liked!), the second variety of beef, the duck, other vegetable side dishes and the beef ribs. I'm telling you, we had a packed table the entire time we were there!
Like Korean BBQ, the majority of the plates were served family style and everyone picked their food from them. Some of the soups, the rice and the dessert drink were all served individually though.
And now I am not only stuffed to the brim, I'm beyond tired with very stiff legs!!! The bed is calling my name!
Question:
Are you adventurous with trying new foods or do you stick to things that you know?