Today's lunch break was a hot one!
I walked home and enjoyed leftovers from last night's dinner of Vegetable and Tofu Stir-fry and then turned right back around to start the walk back to the office.
The only downfall to walking back and forth for lunch is that I pretty much have zero time at home once I make it there.
No complaints here though!
Sunshine and exercise?  And a break from my desk?
I'll take it!
I took the second part of my lunch, homemade trail mix (dried cherries, crushed pretzels, dry-roasted peanuts and chocolate chunks), to-go and enjoyed it along with the scenery along the route back.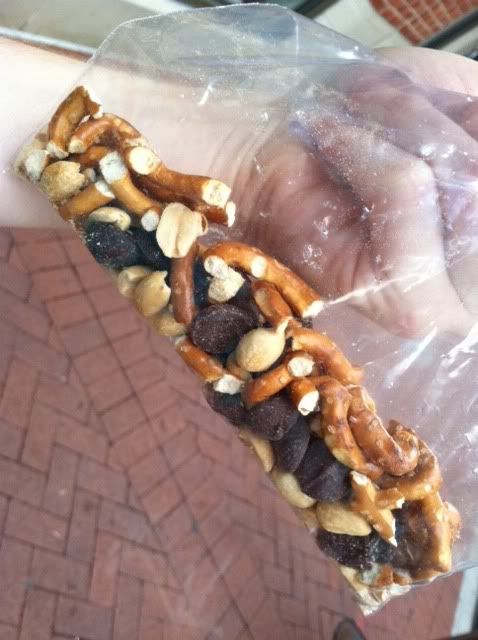 Once I made it back I had to steal my co-workers fan to cool off!
Good thing I was smart and packed shorts and a t-shirt for the walk home!
Now I won't have to strategically cut through buildings to steal a second of air conditioning or duck between two tall ones to catch a breeze on my way home!!
Questions:
If you could go home for your lunch break every day, would you? I love being able to go home for lunch.  I love not having to pack it in the morning and also being able to use the stove or whatever else I may want/need to prepare my lunch.  Although, walking back and forth at lunch time doesn't leave me much time so it definitely makes more sense on days that I drive.
Can you/do you walk to work?  I love that I'm close enough to walk, especially on my "off" days from the gym – I still get hidden exercise in!