I get daily emails from Hungry Girl and usually browse them for recipe ideas and then store them in a recipe folder in my email. Sometimes I will remember about a recipe I saw in one of the emails and search to find it again but today, a crockpot recipe caught my eye and I instantly knew I wanted to have it for dinner.
One of the things I liked best about this recipe from Hungry Girl is that there are no artificial ingredients added. A lot of her recipes are low-calorie but contain ingredients that are made from a ton of fake products and aren't the healthiest for you. However, this recipe is basic, low-calorie, easy to make and delicious.
Quadruple Bonus!
Sweet Apple BBQ Chicken
(Hungry Girl recipe)
Serves 6
Ingredients:
1 1/2 lb. raw boneless skinless chicken breast, cut into 1-inch cubes
3/4 tsp. salt
1/4 tsp. black pepper
3 cups chopped Fuji apples(I used Gala)
1 1/2 cups chopped onion
1/2 cup BBQ sauce
2 tsp. chopped garlic (I used 1 tsp. minced garlic)
1 tbsp. cornstarch
Directions:
Season chicken with 1/4 tsp. each salt and black pepper and place in a crock pot. Top with apples and onion.
In a medium bowl, thoroughly mix garlic into BBQ sauce. Pour sauce mixture over contents of the crock pot, and lightly stir.
Cover and cook on high for 3 – 4 hours or on low for 7 – 8 hours, until chicken is fully cooked.
Turn crock pot to low (if needed). In a small bowl, stir to dissolve cornstarch in 1 tbsp. cold water. Stir mixture into the contents of the crock pot, along with remaining 1/2 tsp. salt.
Let sit, uncovered, until slightly thickened, about 10 minutes. Stir and enjoy!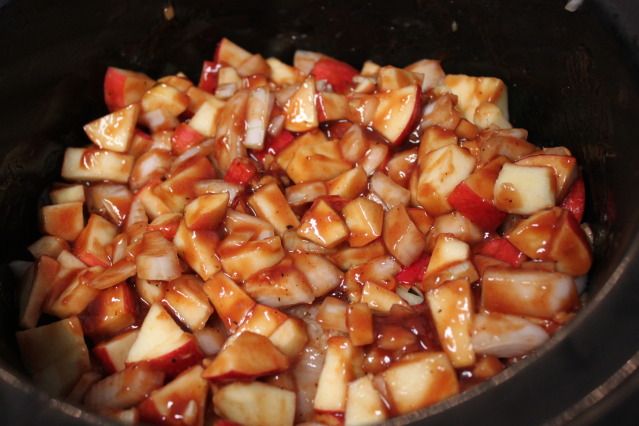 Instead of cubing the chicken before putting it in the crockpot, I left the breasts whole and shredded them once they were cooked through.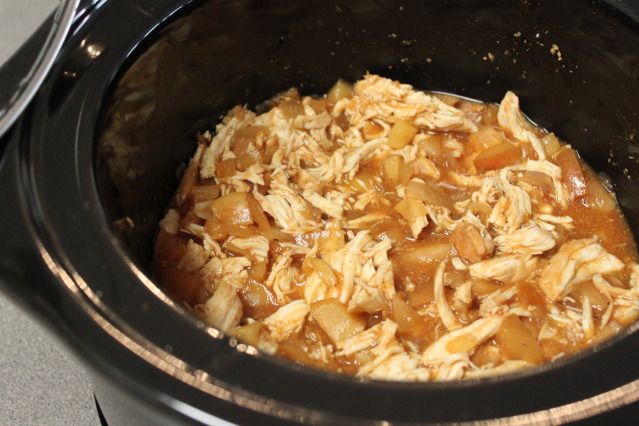 The apples were perfectly cooked and almost melted in your mouth – it reminded me of a baked apple dessert in that sense.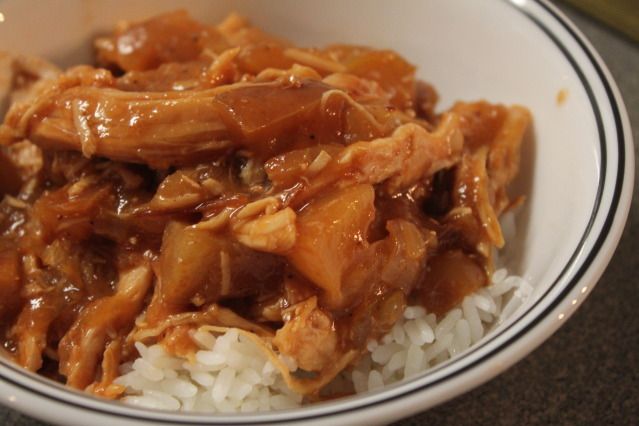 Served over rice this was a sweet and savory meal that really hit the spot!
Question:
Do you ever make recipe from Hungry Girl? Do you adapt them to keep the ingredients healthier?