February 27, 2013
The boxes on wheels are back…I am so sad!!! My whole world is coming to an end! Yep they have both of their boxes on wheels out. I want a box on wheels too. I will ask Grandma Bern for one! Mommy and Daddy are leaving me again so Daddy can throw balls at men holding sticks!!! I love sticks!!! I love baseballs!!!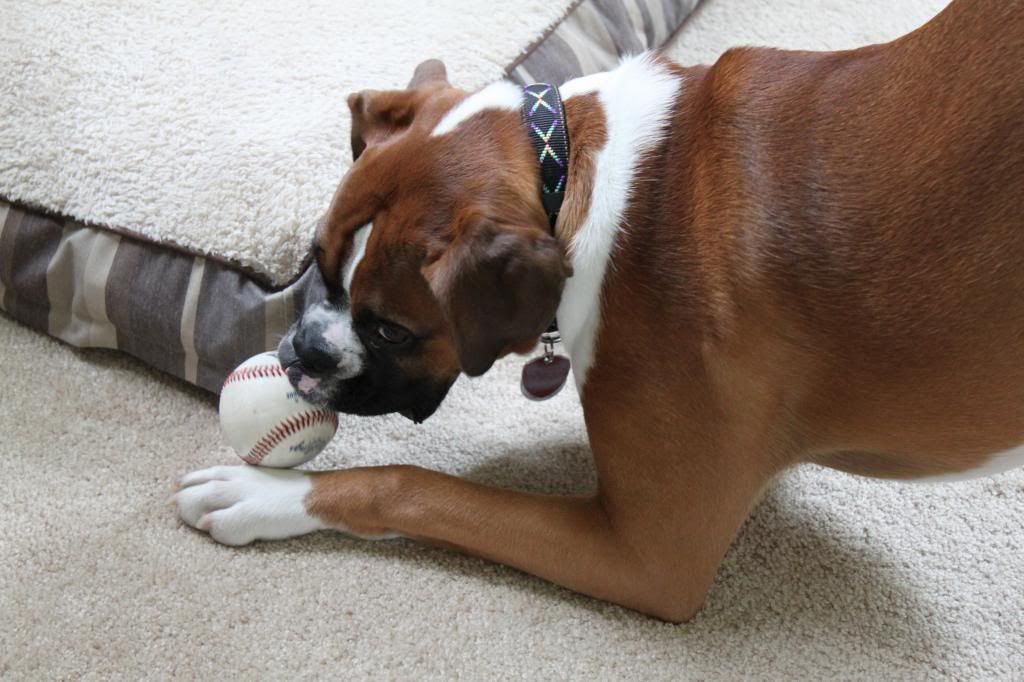 Off to Grandma Bern's I will go!
February 28, 2013
I told you my world was coming to an end! I am at Grandma's and Big Mike's for a mini vacation…Yeah right! Mommy and Daddy left me this morning. I don't know when I will see my best friend again. Angie and Grandma are in the kitchen and Uncle Wulfe and I are in the den. I was telling Uncle Wulfe how sad I was to be left at home. I asked, "How far away is Flor-ree-da?" And Wulfe told me, "Not as far as Kor-ree-a! Let me show you on the globe!"
You have to understand that Uncle Wulfe is a big German shepherd and is much taller than me. I am shrimp, but not the kind you eat while watching the Ravens football. (I am not steamed or seasoned.) So I stand up on my hind legs to take a look. I am so excited that I started to jump up and down and spin around…I spin so hard that I knock Wulfe over and "accidentally" bump into the globe. The globe starts to spin off of its axis and there is a large crash.
Angie and Grandma scream and jump. "Oh no!" says Grandma and Angie is shaking her head. "Telli don't move"! Who knew that the center of the earth is filled with crystal decanters and brandy snifters? Well that is what they were before the world came crashing down.
I froze where I was and I don't even try to eat the floor sucker because I sorta think it will not help the situation. I think I am right!!! I am a smart Boxer!
What a mess me and Uncle Wulfe decide to slink off into the game room. We know when we are ahead of the game!